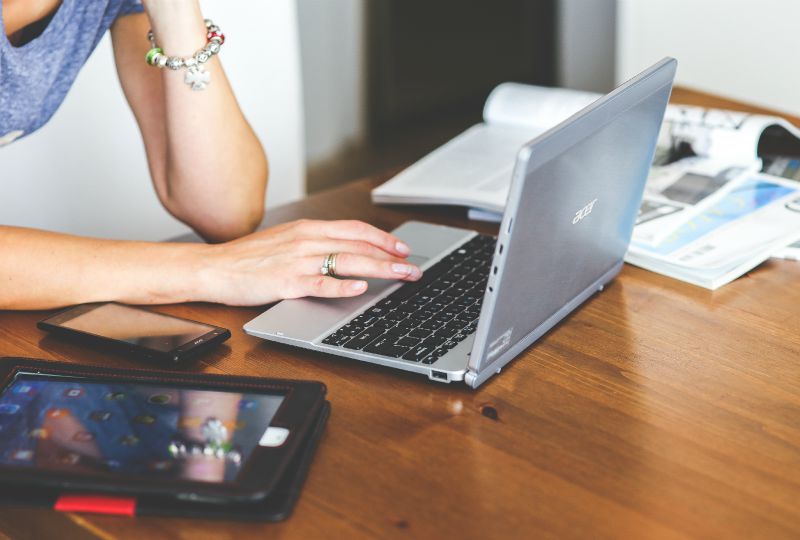 Living in Australia, one of the biggest expenses when it comes to travel is booking a flight. A flight to the other side of the country can cost anywhere up to $800, so you can imagine how expensive it can be to travel to other side of the world.
For this reason, I am pretty particular about how much I am willing to spend on flights and I really do my best to find cheap flights online.
Thankfully we travellers have a lot of options when it comes to buying cheap flights. We can head along to our travel agents in advance and look out for deals and specials, or we can do the work ourselves and find specials and deals online.
How to find cheap flights online
There are some tips and tricks that I have discovered over the years, which can help you save hundreds of dollars when buying your tickets. I have saved more than $1,000 on flights to Colombia just because of using some of the steps I have detailed below. If you're a regular traveller (or you want to be!) then it is definitely worth keeping some of these points and tips in mind. Here are my top tips on how to find cheap flights online.
1. Change your online location when you can
Web pages are getting increasingly smart (and sneaky!) in the ways they read their online visitors and, especially with flights, they can detect where in the world we are booking our tickets from and adjust tariffs and fees accordingly. Where you have the option to choose where you are booking your ticket from, always choose the destination country, this is particularly important if you're booking domestic flights for a country your are travelling to. For example, I've been booking my tickets to Colombia and when asked where I am located, I chose the Colombia option. I read about doing this on another website ages ago and I finally got the chance to give it a go this month.
2. Book in advance
Plan your travel escapes in advance and you're sure to save on your flights. By looking for quotes well in advance, you can take advantage of special deals and discounts that might not be available if you were booking a little bit last minute. If you're flexible enough with when you're travelling, then you can make the most of the situation and save.
3. Be flexible with your destination
If you want to head away somewhere, but you're not too fussed about where in the world you'd like to go, think about being flexible with your destination. This will allow you to look out for different deals and specials and jump on them when the opportunity arises. If you have a specific destination in mind, then you might miss out on other deals and specials for other locations. Be flexible with your destination and make the most of the cheap flights online. You  might just discover a new destination that you hadn't thought about visiting before.
4. Refresh your search history and cookies
Remember how I said that websites can be pretty sneaky when it comes to monitoring our online behaviour? Well, this is another example of that. Have you ever tried to look for a cheap flight online, clicked away from the site and checked back a couple of hours later only to find out that the flight price had increased? Well, companies are now using very sneaky tactics to try and rush people into flights products online and they do that by mapping your behaviour. To avoid this, just clear out your cache in your browser settings and make sure you do this before looking for flights, to make sure you're getting the best possible price.
5. Sign up to mailing lists
One of the best ways to keep up-to-date with deals and specials being offered by airlines and companies is to actually sign up to their mailing lists. This ensures that you're first to know when they have sales, competitions and special discounts. When you know you're going to be ready to go on a trip soon, pay special attention to your inbox and look out for those emails.

6. Follow travel bloggers
Travel bloggers are a wealth of knowledge and information when it comes to all elements of travel, that's what they do, it's their profession. So, if there are bloggers that you know of that specialise in particularly regions or countries that you're interested in visiting, then like their Facebook pages, follow their blogs and sign up to their mailing lists, too, because they share deals and specials that they come across with their communities, as well.
7. Buy around the end of the end of the financial year
One thing that I learnt this year was to buy your tickets around the end of the financial year. I bought tickets in June this year and found the tickets to Colombia were much, much cheaper around this time than they were around January. Many agencies have an end of year sale, too, so keep an eye out for that.
8. Use cheap flight search engines
I used SkyScanner
when I made a short trip from Colombia to Costa Rica. It was super simple to organise and the website gives you the option to view months of flight prices at once. If you're flexible with your flight times then you can really get a fantastic deal. And thankfully, you can now find and book your flights using the app. Initially, you could only find the flights and then have to book the flights through an agent who were willing to match your price or offer the same flight route.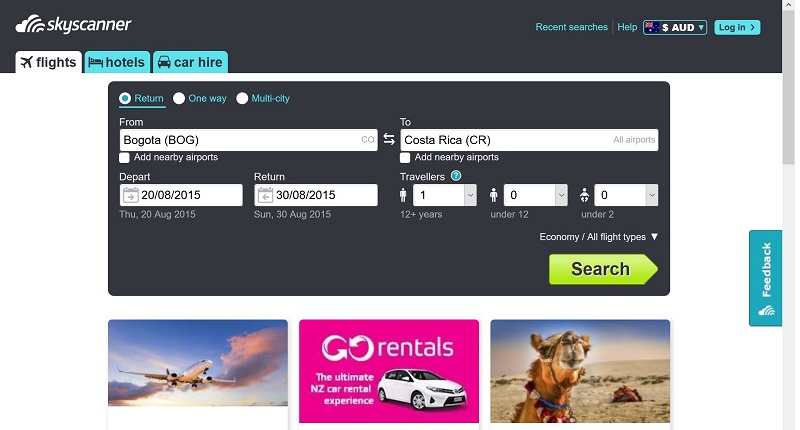 9. Cut costs by managing how you pay for your flights
Before you go reaching for the credit card, do your research and make sure you won't get hit with a nasty credit card fee when you book your flights online. Instead, opt for bank transfer or pay with BPAY or other online methods instead. We want to keep those prices down as  much as possible.
10. Go the long way round
Often the less direct flights are going to be a lot cheaper than your direct flights. If you're not too fussed about how long it takes to get to your destination, then this is a good option. That flight I bought from Bogota to Costa Rica was extra cheap because we had to stop in another country on the way up. Lucky for me, though, that flight ended up being delayed by a few hours which would have meant that I'd miss my connecting flight, so the airport staff put me on a direct flight to Costa Rica instead. Search for cheap flights online here:
11. Don't travel during peak holiday seasons
Basically because everyone is thinking just like you and the flight prices are bound to go up and really quickly. Travel during low season and you'll have cheaper flights to take your pick from. Do your research about your destinations, though, some areas might be low peak because of monsoon or wet seasons. The flight might be cheap, but you might not be able to do much when you actually get there.
12. Make use of your age and student status
Are you a student? Well, when it comes to buying your tickets online, you can certainly make use of that. There are sites that cater especially to students and they pass on some pretty great discounts, too. Make sure you have your student identification at the ready though, these companies don't just hand out discounts willy-nilly.
13. Join a frequent flyer club
It is free to become a frequent flyer and you don't actually need to fly all that regularly to build up your stash of points. If you do one or two trips overseas a year, then make use of the points and sign up. You might just be able to use your points to save when you buy your flights.
Pin it for later!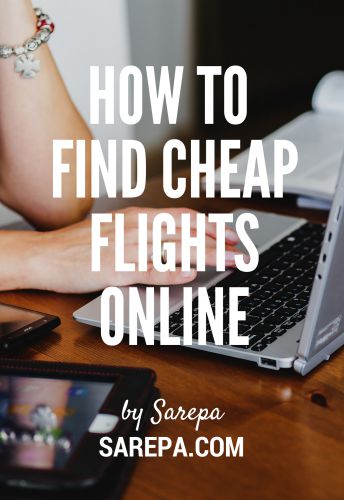 If you have any questions at all, be sure to get in touch with me via the comments section below or via email at info at sarepa.com. Do you have any other tips for buying cheap flights online? Let us know!