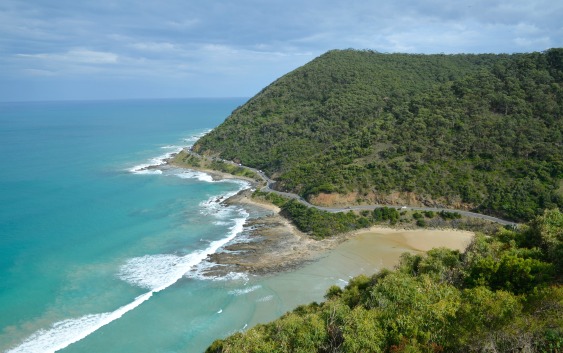 I was born in Victoria but it seems I've seen a lot more of the world than my own backyard. So, during a recent visit to the southern state I decided to make like a tourist in my own country and travel Australia like I was seeing it for the first time.
At first I thought it would be difficult to write about my own country from the perspective of a traveller. So often travel writing is about seeing, really seeing, a country, a new place, a new people; and I thought I would have difficulty seeing these local destinations when I was familiar with the culture, the people and the locations, since I'd grown up with them and identified with them my whole life.
But therein lies the challenge, to see the world as if looking at it for the first time.
I'd once come across a quote by author Dagobert D. Runes which read, "People travel to faraway places to watch, in fascination, the kind of people they ignore back home," and how right Mr Runes was, how easy it is to glaze over beauty and magic when it is what you've always known.
So, I've considered it a challenge to trek through my own backyard, to travel Australia and get to know this sunburned country as if I am seeing it for the first time.
I was in Melbourne visiting friends and family recently and on our very last day – before making our way back home to Brisbane, – we'd all decided to take a long road trip along The Great Ocean Road. We'd only left ourselves one full day to explore the winding roads which looked over the deep blue, but we managed to tick quite a number of things of our to-do list.
While we didn't quite make it to the 12 Apostles – I'm hoping to head there in August, instead – here are 10 activities you must do while in this part of the world.
Watching kids riding their bikes along a rickety pier, seemingly unafraid of how close they were to teetering along the edge, families spending hours fishing into the brisk, clear-skied night, and stopping for a bite to eat at a café which claimed to sell some of the best pies in the country, were just some of the things I saw, really saw.
1. Visit Geelong
Photo credit: Visit Geelong Bellarine
There are two main routes that you can take through to The Great Ocean Road, there's the scenic route which takes you through the city of Geelong and along the Surf Coast Highway, and then there's the Princess Highway route which bypasses most of The Great Ocean Road but takes you on a more direct route to the 12 Apostles via the Tomahawk Creek Road exit. We wanted to take the scenic route,  of course, and decided to soak in the sites of Geelong on our way through. The seaside town is Melbourne's largest regional city and has become a burgeoning food and wine region. Wander along the beach-front esplanade and have a coffee at one of the many restaurants.
2. The Great Ocean Road sign
Just past Geelong, you'll come across the perfect opportunity for a photo as you drive toward the sign signalling the very beginning of The Great Ocean Road. We quickly, and safely, made our way across two lanes of traffic to snap this shot – obviously looking pretty excited about the adventure ahead.
3. Torquay
Photo credit: ASP / Kelly Cestari
If you're hankering for a good dose of Australian surf culture, then you really cannot go past the world surf capital city, Torquay. This is one of the places where surf culture in Australia really began and where iconic brands including Rip Curl and Billabong were created. On the day we were passing through the Rip Curl Pro Bells Beach comp was on, but unfortunately Kelly Slater was nowhere in sight. Now one of the biggest surf comps in the industry, Bells Beach comps began in the '60s when surf sponsorship, and even a surf industry, was completely unheard of.
4. Anglesea
With the chill of the sea breeze in the air and just a mere 15 minutes up the road from Torquay, it was time to stop off for a bite to eat as we approached Anglesea. We popped into Ocean Corner Café, which is directly across from the beach on the main drag. While we were all rugged up in our jackets and scarves, a young family sat at a table outside in their wetsuits, digging into their morning tea after an early morning surf. The Ocean Corner Café is everything you want from a beach-side café: homemade food, relaxed vibe and friendly staff. "You've ordered two of our award-winning pies," the woman behind the counter said as we asked for a beef, mushroom and red wine one as well as a curry variety. And pies worthy of their praises they were, too, as we went back for seconds.
5. Aireys Inlet
While I began to realise the hype and the lure of The Great Ocean road from Anglesea, it was the view from Aireys Inlet lookout point near Split Point lighthouse, that really resulted in some wow moments. About 120km from Melbourne, Airleys inlet was a suggested stopover from my dad, who used to come here to fish on the weekends when he was young. While some of the other towns can be full of life throughout the year, Aireys Inlet is a quiet alternative. We walked up to the lighthouse, which is affectionately known as the White Queen, and while tours of the building are available, we decide to discover it from the outside. As beautiful as it was to see it at the point of the cliff, it was these views that kept the camera clicking as we dodged other impressed tourists from making their way into the shot.
6. Lorne
This was my first trip to Lorne but I'd often heard of it as a go-to weekend destination in Victoria or, for Queenslanders reading this, Melbourne's Noosa equivalent. There are the boutique stores, the beach-side café culture and the national parks and forests which make this coastal town a laid-back destination worth wandering. I would have opted to stay here overnight before heading toward Apollo Bay and the 12 Apostles the next morning, if we'd had the time. But, we had a limited schedule so made the most of the destination before making the two hour drive back to Melbourne the same night.
7. Late lunch at Lorne Beach
Image credit: Lorne Beach Pavilion
Whether you want to watch the waves roll in as you eat a casual lunch, or you'd prefer an elevated view while you nosh on your gourmet meal on a restaurant rooftop, there are many options when it comes to finding somewhere for lunch or dinner in Lorne. We decided to take a seat at the beautifully decorated Lorne Beach Pavilion which is right on the water in the centre of town. I went for a generous-sized Greek salad (still full after those pies in Anglesea) while my partner and friends opted for calamari and chips and hamburgers. With nothing but the beach in front of us, and a beer in hand, it was a particularly nice way to spend time in the last town on our map.
8. Trampoline time

If you're taking advantage of Lorne and staying longer than the mere hours we was there, then a trip to Lorne Sea Baths and Leisure and Recreation Centre is a must. I strolled in only briefly to muscle in on someone else's trampoline time (I didn't realise you had to hire a trampoline and thought they were free-for-fall), but the centre also has a lap pool, gym, Segway hire, salt therapy sessions and massage services. Instead of accidentally using up someone else's precious trampoline time, rent out your own for $5 per 10 minute session.
9. Chasing waterfalls
Surrounded by lush forests, there are a number of different hiking trails within Lorne. We had a mother-to-be on our trip, so an intense walk like the 7km return trek to the Cora Lynn Cascades was out of the question. Instead, we opted to take a look at Erskine Falls which was just a 700m walk to the second of two lookouts, the other was just 300m return, but the longer walk is the much more impressive of the two. For eager hikers, there is a Erskine River Track which is 7.5km one way, takes approximately 3 hours and is considered strenuous in difficulty, according to the Visit Great Ocean Road website. But for those travelling with small families, the Erskine Falls are a great pit stop and just a short drive out of Lorne along Erskine Falls Road.
10. Teddy's lookout
If, like us, you can't manage a trip to the 12 Apostles, which was more than 2 hours further along The Great Ocean Road, then be sure to visit Teddy's Lookout, a scenic point in Lorne. A quick drive along George Street there is a viewing platform which looks over the beach and the Great Ocean Road which winds off into the distance. I'm looking forward to seeing what else is just around that bend.
Have you driven along The Great Ocean Road? What have I missed from my top 10 list? Is there anything you'd suggest travellers see and do? Let me know in the comments.