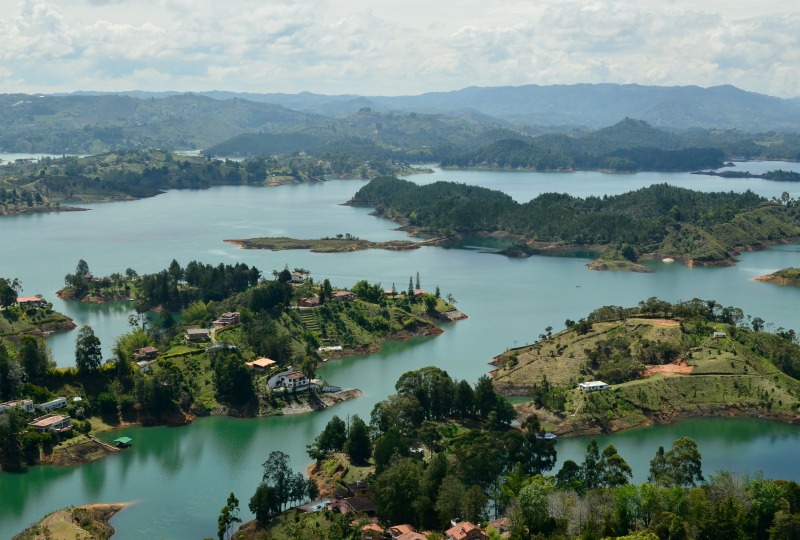 Our trip to El Peñol, Guatapé didn't start off on the right foot. We caught the Metro to the Terminal de Transporte del Norte where the buses to Guatape leave from. We bought our tickets, which were $25,000COP for two people, made our way to door 13, we jumped on the bus but then Pej, my partner, decided he was thirsty and a bit hungry and probably needed to go to the toilet."I'll be right back," he said. "Give me two minutes," he said.
So he jumped off the bus while I waited on board. But then the bus driver turned on the ignition and began pulling away from the curb. Of course, I jumped up and told the driver sorry that my partner had just jumped off the bus for a quick minute and that he'd be back in a sec. As patient as ever, the bus driver and the ticket-checker waited a good couple of minutes for me while I ran out into the terminal looking like as crazy lost lady.
No luck. Pej was nowhere in sight, and I waved to the bus driver through the glass doors and told him not to bother waiting for us. One of the other ticket collectors came up to me and told me that we'd have to go buy another ticket, while one of the security guards told me he'd seen Pej go to buy a couple of bottles of water.
More: The best way to get to know Medellin
By this stage I have decided to continue running around like a headless chicken, worried that we've missed our bus and missed our chance to get to El Peñol and Guatapé on our only free day while in Medellin.
Deep within a sea of travellers and Colombian commuters, I see a familiar face. It's Pej, walking slowly through the crowd with his two bottles of water, some snacks and probably an empty bladder. He looks relaxed and happy, unawares I've been pulling my hair out trying to find him. I stand back and watch the horror on his face as he realises that the bus is gone and I'm probably on it. It's strangely rewarding.
Eventually, he spots me in the crowd and I cause a bit of scene and I tell him that we've got to buy new tickets because we missed the bus.
But that's when Pej's Persian negotiating skills come into play. He chats to the ticket vendor, we get our shiny new tickets from the booth without paying an extra penny and then we hop onto another bus. Pej points out it is much nicer than the last one and that actually he did us a favour by missing the last bus.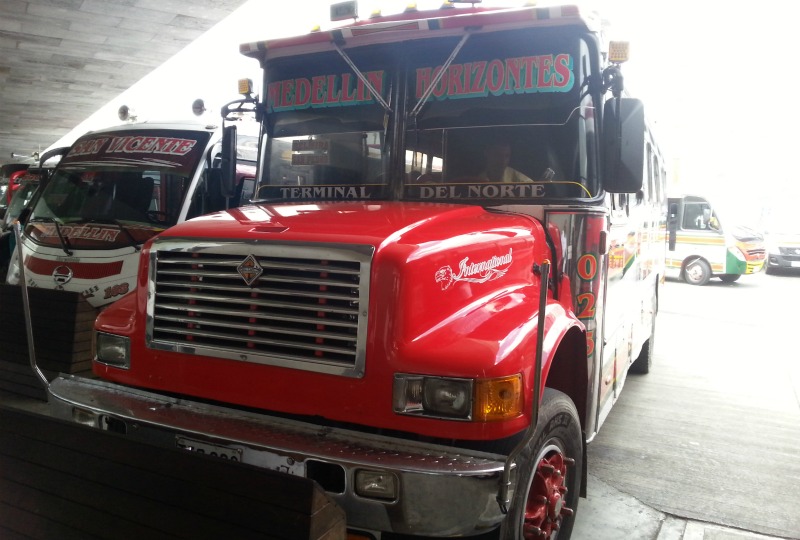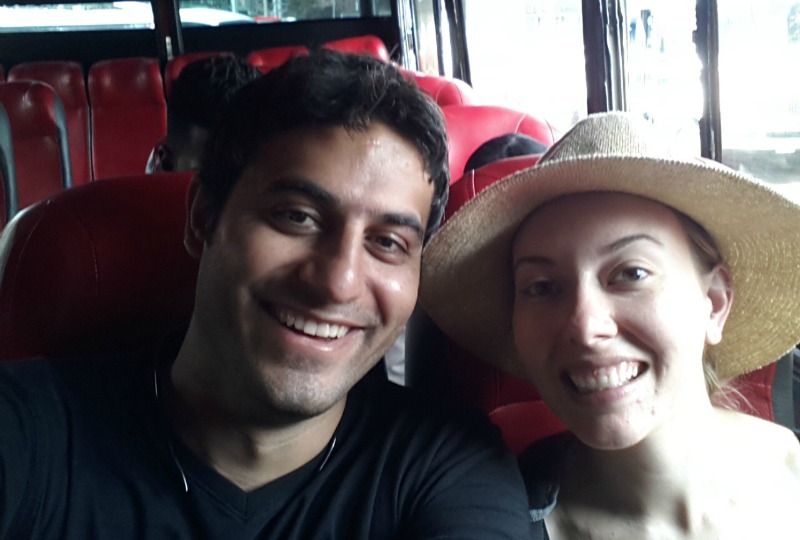 Two hours later we make it to the bottom of the road that leads up to the big rock, El Peñol. Here we were swarmed by about 5 tuk-tuk drivers who were offering tourists a drive up to the bottom of the rock – prices varied between $5,000-$10,000COP for the one-minute trip.
Pej and I, as well as an American dude and a woman from (I think) Norway or the Netherlands (ok, I can't remember), decided to walk up the pathway instead. What was a couple-hundred metre walk when we knew we had at least 700 steps to get to the top?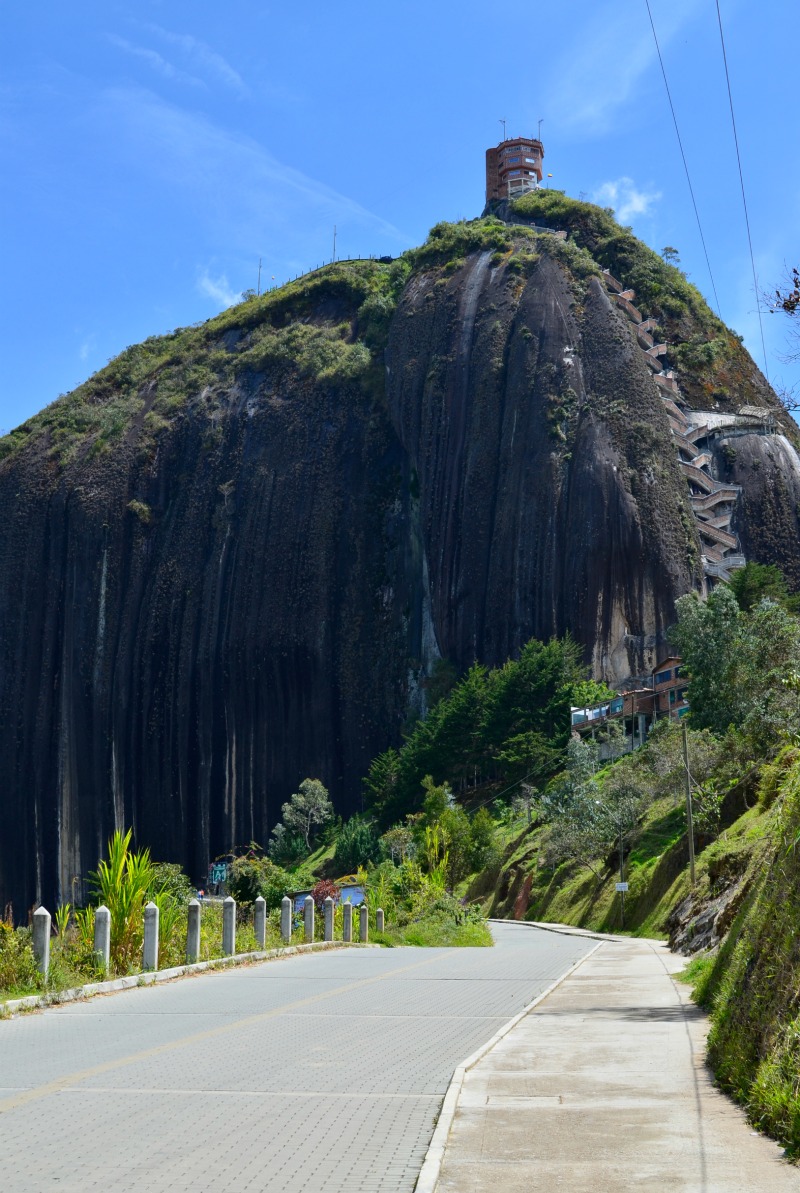 Out the front of the El Peñol, there's a sign that says that there are 659 steps to get to the top. But that's not the top top, it's the almost-to-the-top top. There's another stairwell that takes you to the absolute top of El Peñol and the painted numbers go up to the 700s.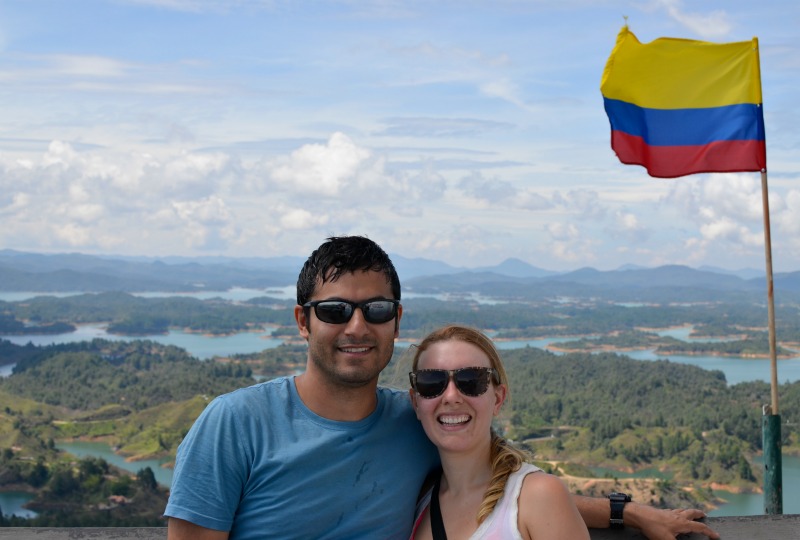 The entry fee to scale the rock is $10,000COP which is about $5. And the hike is actually a pretty good workout. I'm reasonably fit (sort of) but by the time I'd reached the first "top" I was red, sweating and ready for a cold drink. There are a couple of little outlets up there too, and I had to think long and hard about whether I wanted beer or water once I got to the top.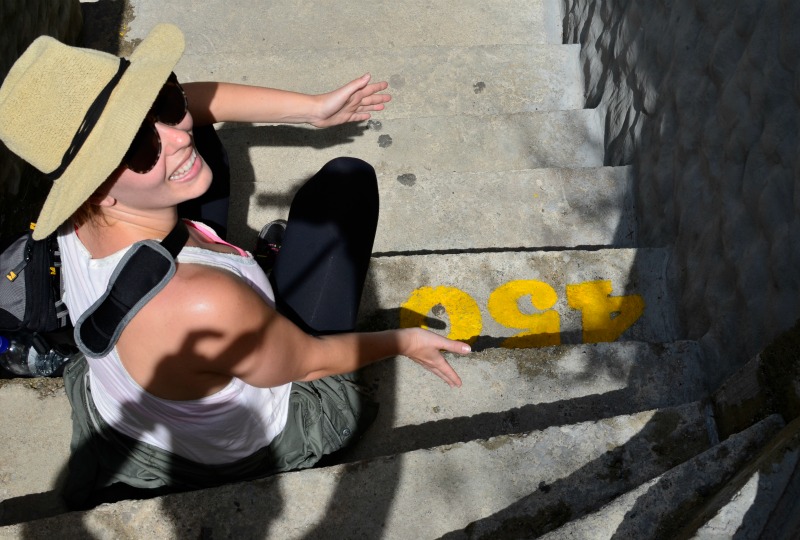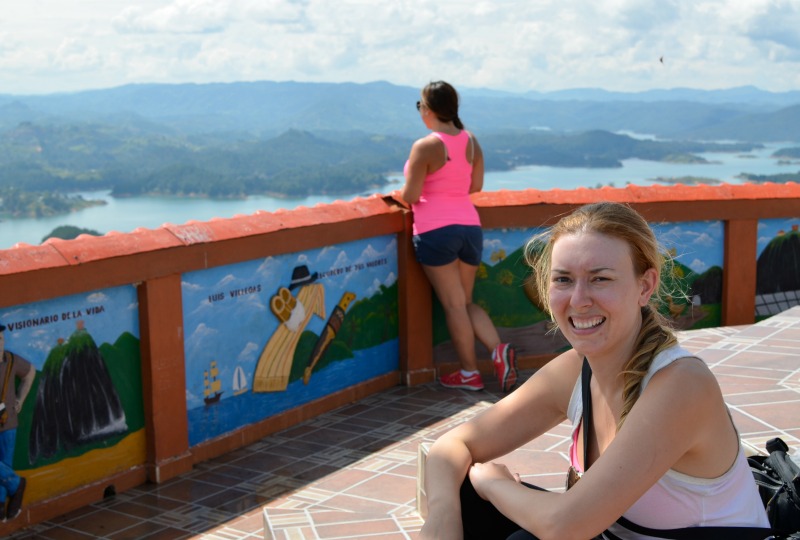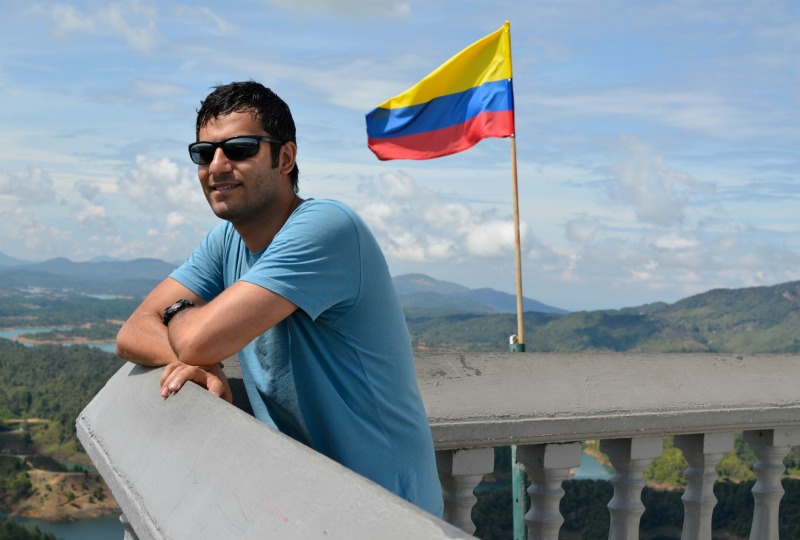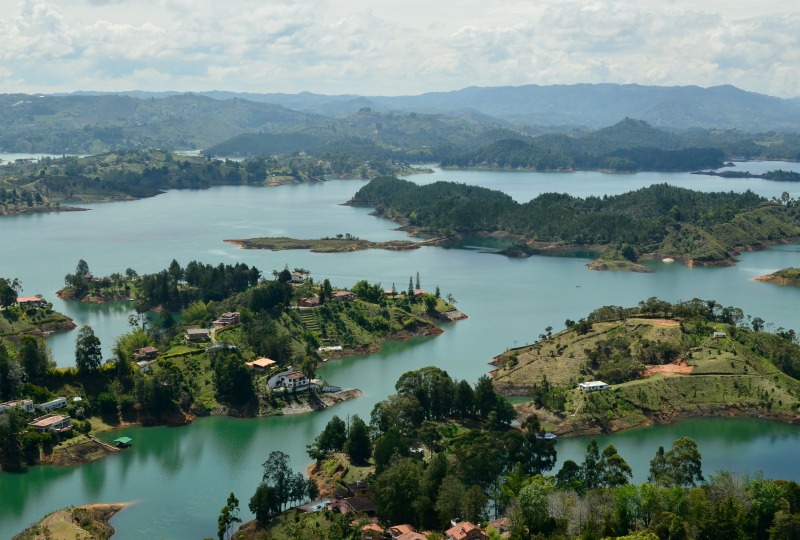 History behind El Peñol, Guatapé
El Peñol is a rock which formed natural millions of years ago, and with it's imposing form it's not surprising that the local indigenous community would worship the stone structure.
On one side of the rock you can see a giant 'G' and what looks to be an 'I' painted with white paint. I've heard different stories about why these letters are painted on the rock.
On Wikipedia it says that there was an ownership dispute over El Peñol and the residents of the town Guatapé decided to put their stamp on the rock by writing 'Guatape' across it. They only got through a G and half a U before they were stopped.
The town of Guatapé
About a five minute drive away from El Peñol there is the small and colourful town of Guatapé. Here you'll see buildings with colourfully-painted frescoes called zócalos depicting daily life in this part of the country. We saw images of livestock, sailboats and musical instruments among others. To bring more tourism to the town and to celebrate the town's 100th year, all the zócalos were repainted in 2011. Don't they look beautiful?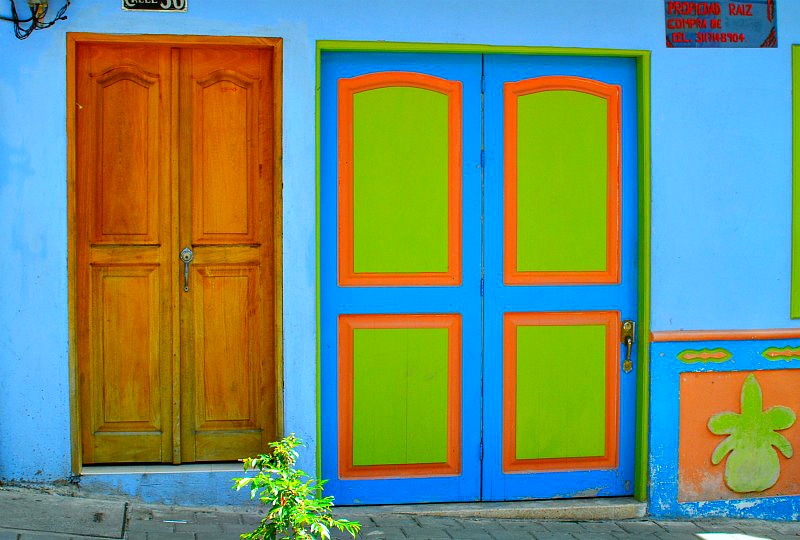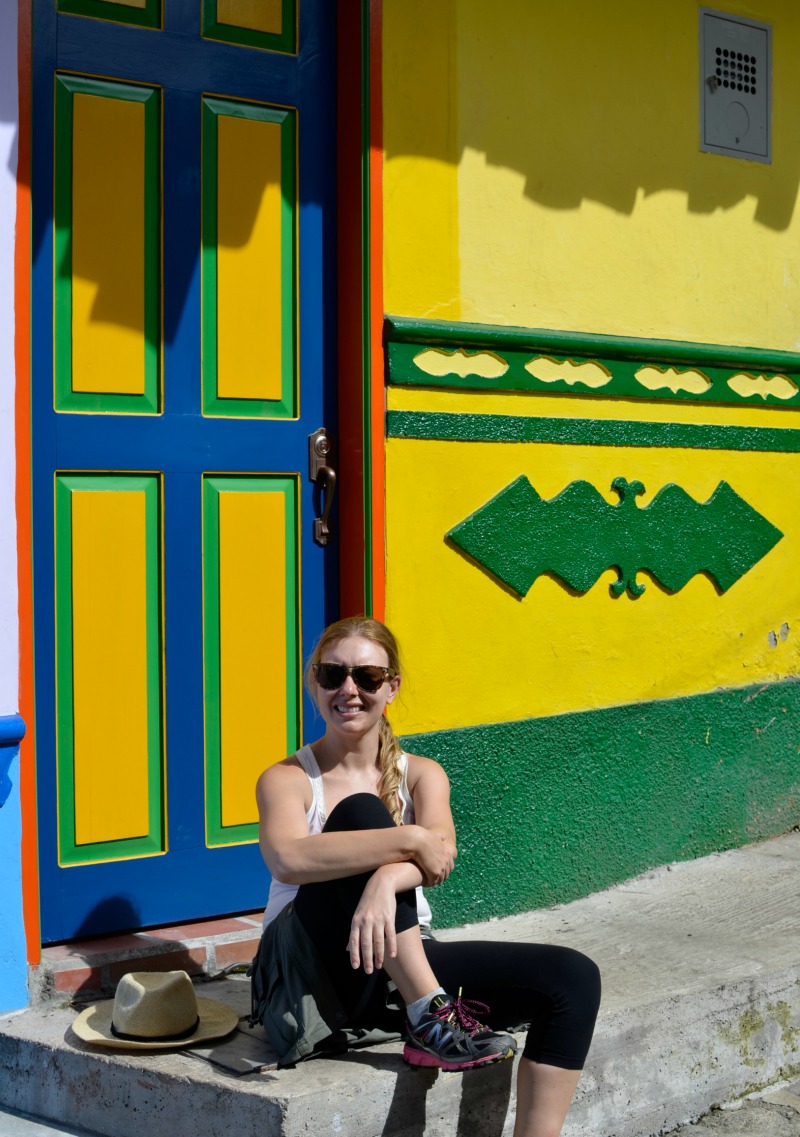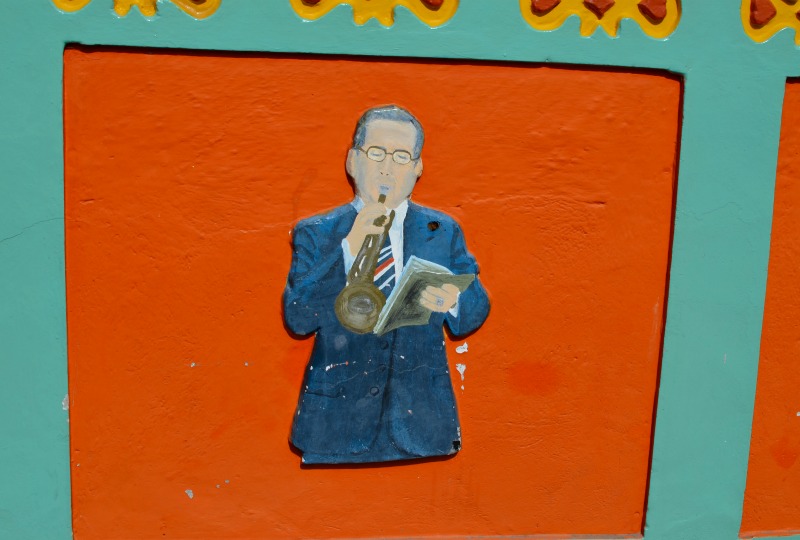 How to get to El Peñol, Guatapé: Head to the Terminal de Transporte del Norte in Medellin (you can get there by train) then head downstairs to where all the ticket booths are. Look for the booth that says 'Guatape' or ask one of the security guards to point you in the right direction.
Where to stay in Guatapé: We ended up heading back to Medellin after spending the day in Guatape but we were intending to stay at Mi Casa Hostel which is run by a Colombian/English couple. Next time!
How much will it cost: The bus to Guatapé is $12,500COP per person, the entry to El Peñol, Guatapé is $10,000COP, the tuk-tuk up to the rock can cost between $5-10,000COP and the same to the town of Guatapé, then the bus back to Medellin is $12,500COP. All up around $45,000COP not including food, snacks and souvenirs.
Extra tips: When your tuk-tuk driver drops you off in Guatapé they're likely going to drop you off in front of a restaurant that they've got a deal with. Don't feel pressured to eat there if you're not digging it. Also, the restaurants on the water are more expensive than those in the main square, so keep that in mind if you're travelling on a budget.
Pin this post for later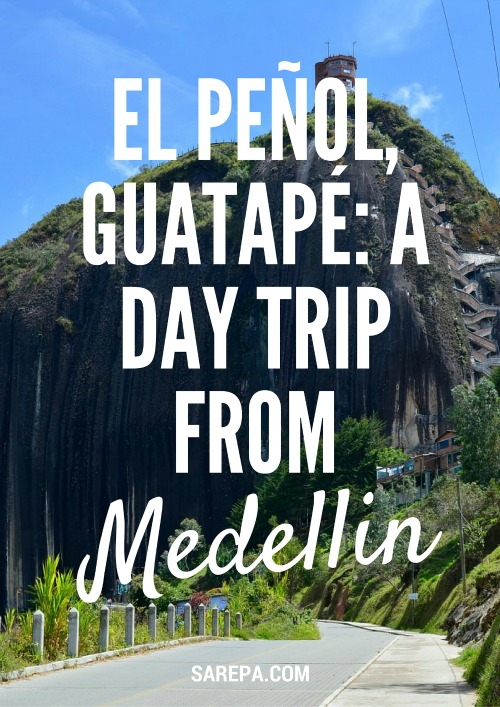 Have you visited El Peñol, Guatapé? Let me know all about it! Did you miss the bus, too? No? Just us?
Sign up to receive your 15-day Inspire Guide to Colombia