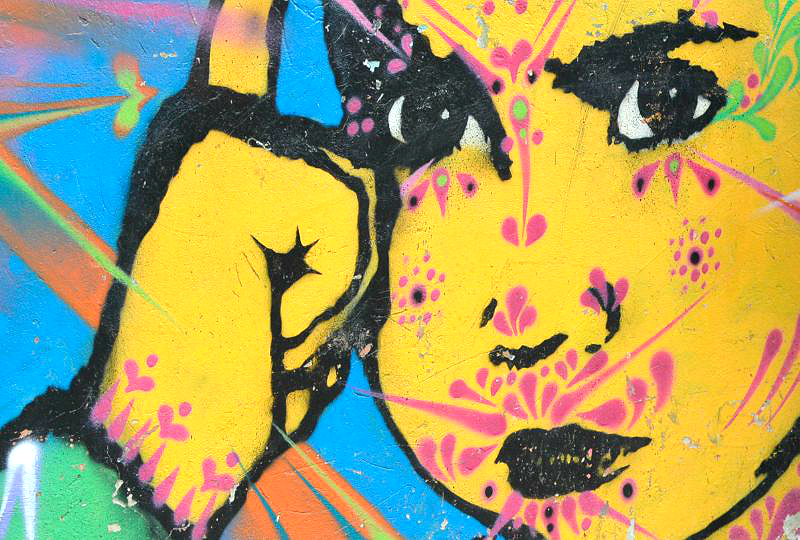 Bogota smells like a mix of exhaust fumes and sweet bread. It's polluted enough that you want to cover your nose as you walk down the busy streets, but just until you decide to follow it to the nearest bakery.
It's this mix of good and bad, sweet and unsavoury, delicious and downright dangerous that is the lure of Bogota. It's a city of extremes and contradictions, of complex opposites and complicated nuances. But that's why I'm drawn to it.
I've walked down these streets in La Candelaria many times. I've walked them in search of a cheap meal, or a place to have a quiet drink. I've walked them alone late at night on the way home when I should have known better, covering my head with my hoodie and hoping the night wanderers won't give me a second look.
La Candelaria is the historical centre of the capital and it is a throbbing mass of activity. There's so much to take in.
During the day the narrow streets are filled with buses trying to navigate away from the busy Cuarta. Taxis beep their horns, as if it's some magical instrument that will clear their paths for them. It won't, but they go on beeping.
University students link arms with other students on their way to class. Young boys and girls look at each other with flirtatious eyes, not before muscling tourists off the narrow footpaths as they walk past in groups.
Foreigners emerge from their hostels, avoiding the puddles that have filled the gaps in Bogota's roads overnight. Street vendors lean against any spot they can find as they sink into the monotony of another day on the same corner.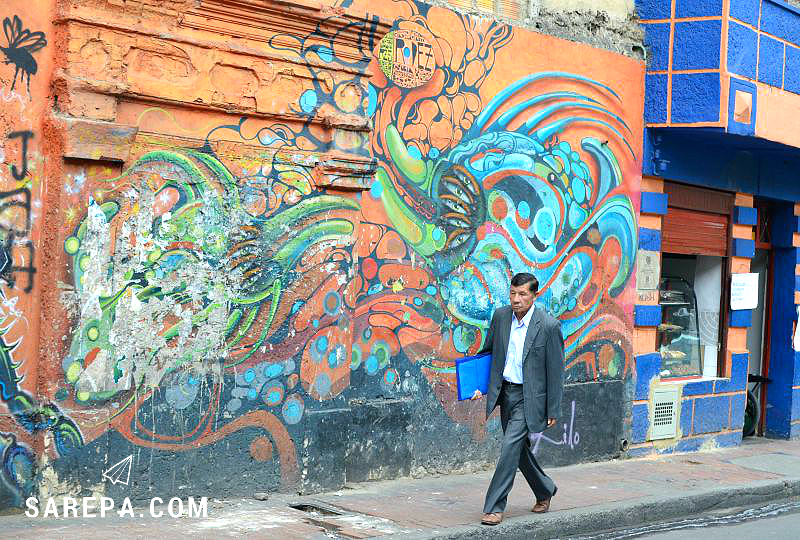 The colourful graffiti brightens up the old buildings, dragging them into the 21st century, whether they like it or not.
At first glance, it looks like Bogota's heritage buildings are littered with indecipherable scribbles or tags. It looks like no one has respect for these old buildings. And one thing I notice, being back in Bogota after two years away, is that there are so many more of these squiggles than there were before (but more on that later).
While on the hugely popular Bogota Graffiti Tour, we learnt the role of the graffiti on these streets, the unique role it plays in Bogota, and why it all begins with these unattractive tags.
Our guide, Anne, meets us in the Parque de los Periodistas at 10.30am and around 10-15 other people are coming along for the ride. Anne explains that while she's not a graffiti artist herself, she has been living in Bogota for years (she's originally from Germany) and has a real appreciation for the art in this city.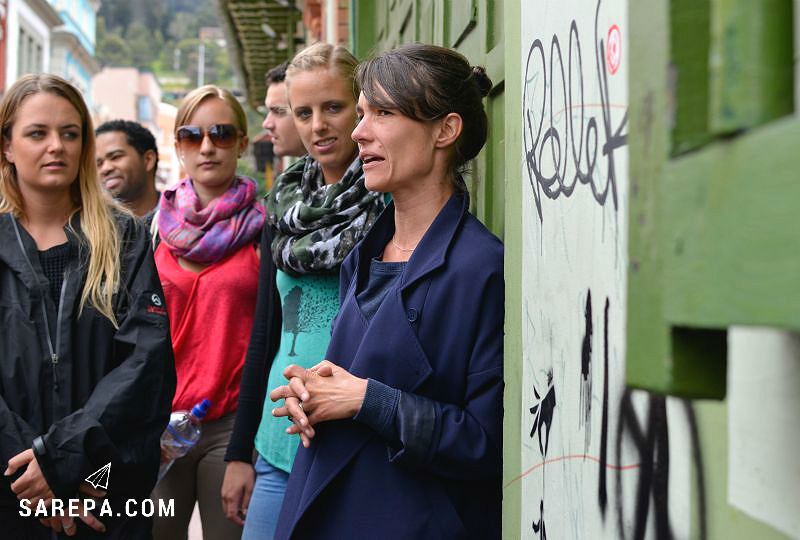 We dodge some traffic along la Cuarta before we stop at a corner that's covered with those pesky squiggles.
Anne explains that while most people look at these tags and think they're ugly, this is actually how some of the city's favourite artists begin their craft.
They create a name for themselves using these tags before going on to create the much loved and admired pieces that are found around the city today, and have put Bogota on the global street art stage.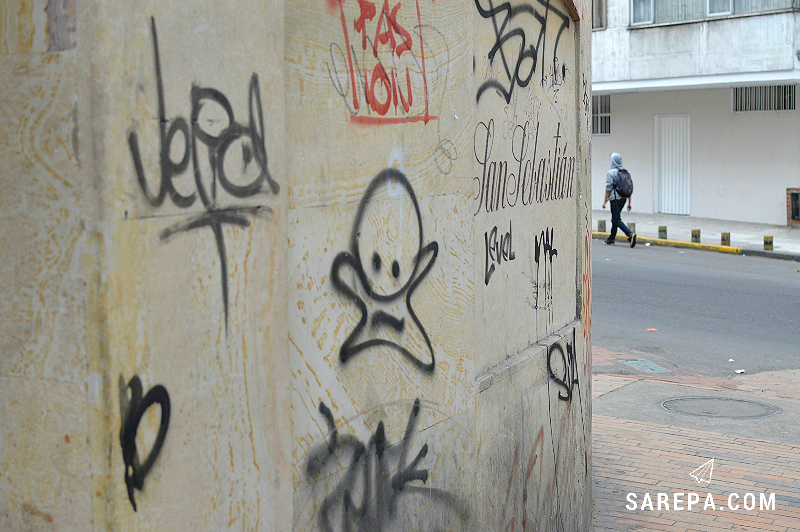 Many of the pieces we come across during the tour are large-scale pieces that have been painted in broad daylight, a luxury that street artists in other countries just don't have. That's because in Bogota graffiti is legal, well, almost.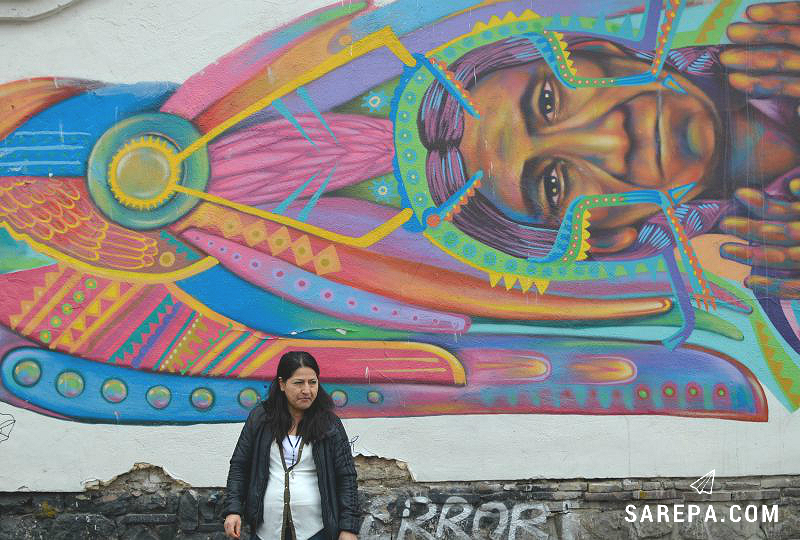 If you're caught doing street art in some restricted areas in Bogota (which include public buildings and monuments) you're likely to be slapped with a minor fine and sent on your way. While in other countries you can expect a hefty fine and a criminal record to boot. But that wasn't always the case.
New laws came into effect when a young artist by the name of Diego Felipe Becerra was shot and killed after he ran from police while completing a piece of street art – his signature, Felix the Cat.
Police attempted to portray Becerra as a hooligan but Bogota locals were quick to catch on and large scale protests errupted, leading to the arrest of two officers and the change of laws as a result.
Since then, police resources have been redirected into other areas, away from young street artists who now have some flexibility and creative freedoms. Which brings us back to the tags. Now that Bogota's graffiti art laws are much more relaxed, much more people are taking to the streets with their paint cans.
Now, surprisingly, even though the street art in Bogota is usually of a political nature, the local government, namely former M-19 insurgent and now Bogota Mayor, Gustavo Petro, has embraced the use of graffiti in Bogota and commissioned several pieces around the city.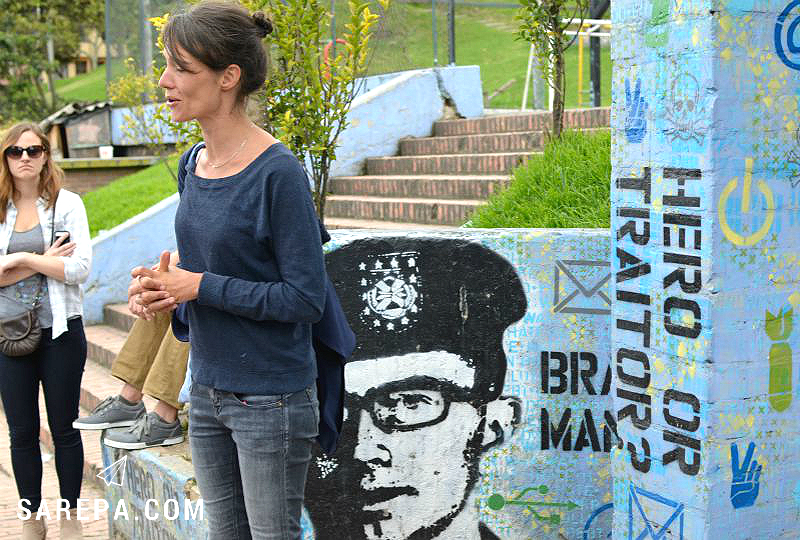 Our tour generally covers the Candelaria and we weave in and out of its narrow streets, dodging traffic as we go. Despite walking these streets so many times before, it takes a keen eye to point out some of the graphic gems.
There's a Tucan above a street sign, a dog carried by helium balloons up to heaven in the Plazoleta del Chorro de Quevedo, created by an artist who lost her beloved pet, and a two story-sized woman spitting out daggers from her mouth behind a local marketplace, a graphic commentary on the problem of infidelity in the Colombia.
It doesn't take long to realise that street art in Bogota is a complex dialogue about Colombia and the rest of the world.
One female street artist Bastardilla and her stick-on piece is one of the first we come across. You'd walk straight pass it if you didn't know it was there. It's flaking off the side of the building's wall, it's been marked by other taggers, it's faded. But it's still there.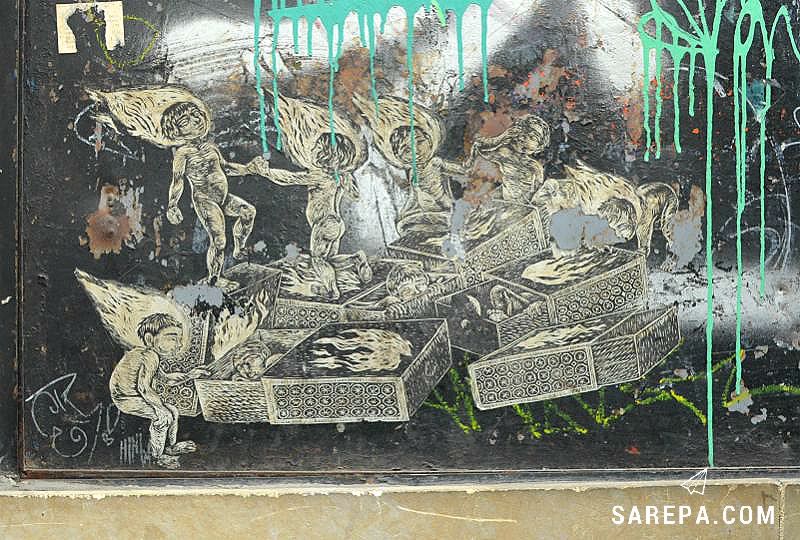 The image shows children on fire emerging from matchboxes, Bastardilla's own commentary on street children in Colombia.
As well as these smaller pieces, she also does large murals, highlighting how children get caught up in Colombia's internal conflict and social, economic and political instability.
Other artists spotted along the way include Spanish artist, Pez, Australian artist, Crisp, as well as Bogota locals Rodez, Stinkfish, Guache and DJ LU.
DJ LU's stencil pieces highlight injustices in Colombia. It's incredible how powerful two dimensional images can be.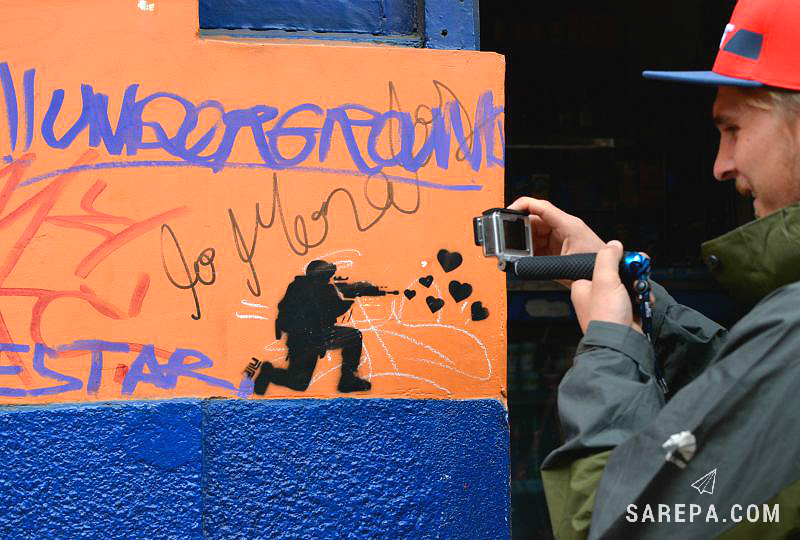 We wrap up the tour in downtown Bogota where we come across a huge mural created by a collection of artists including, Toxicomano, which means toxic hand, a collective of anti-capitalism, anti-imperialist, punk rock-inspired artists who's work usually takes on a highly political theme.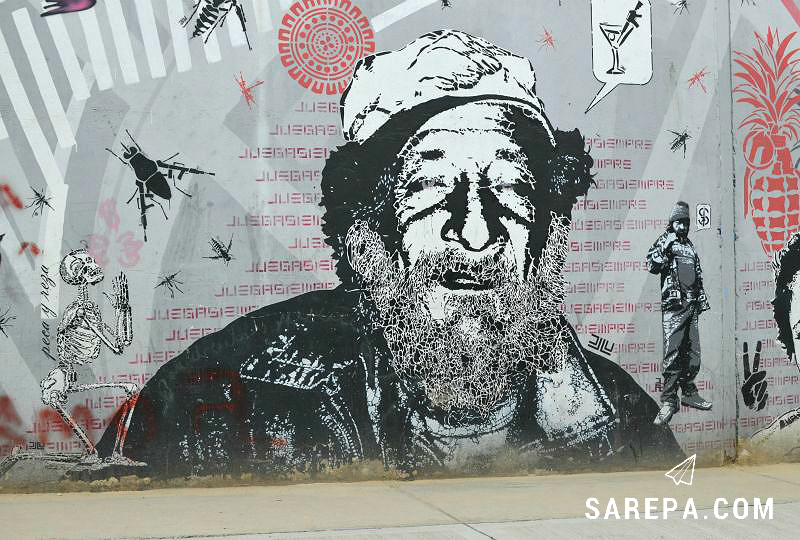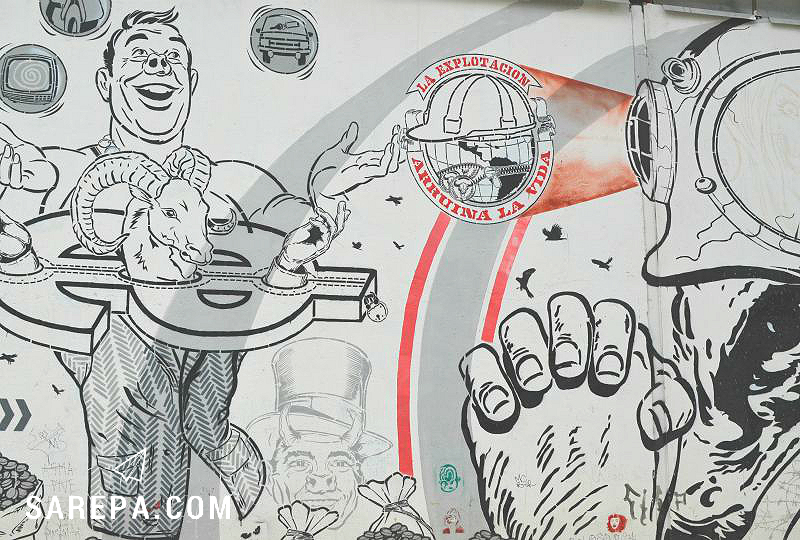 Gauche's work is in there, too, which mostly highlights the plight of the indigenous people of Colombia and the injustices they face, this time through an image of a local from one of the poorest regions in Colombia, el Choco, carrying a rich man on his back. Something which the locals used to do to earn some small change every day.
DJ LU's powerful work is in the mix, too. A skeleton of his is seen praying, a symbol of the contradictory behaviour of Colombians when they mix faith with incredibly high infidelity rates.
I could go on and on about the stories we saw plastered on Bogota's walls, but let me just say this: I will never again walk through La Candelaria, look at a piece of street art and simply think, Oh, that looks pretty.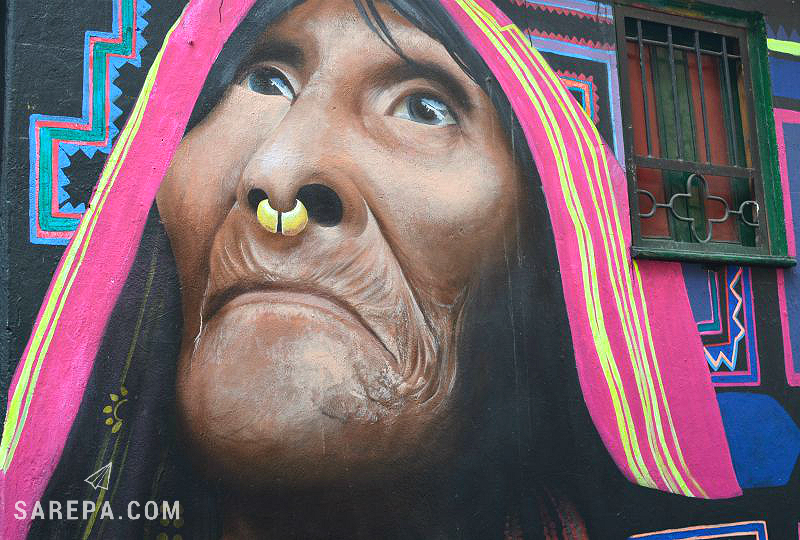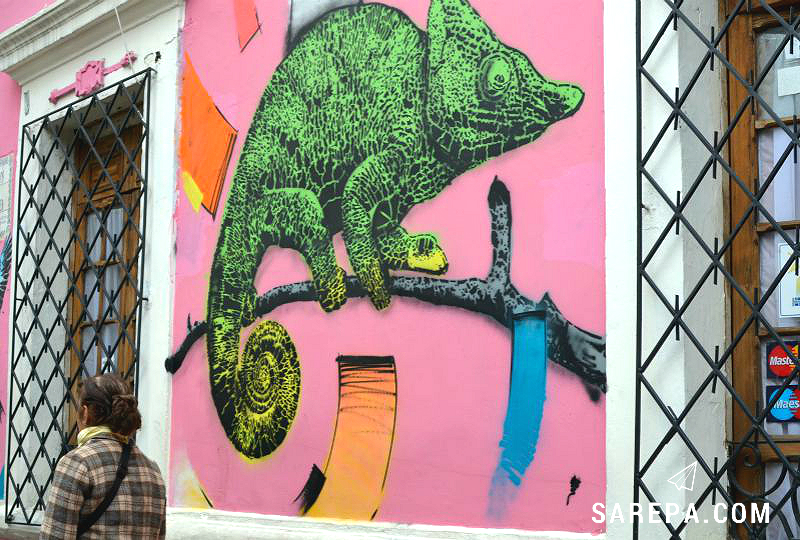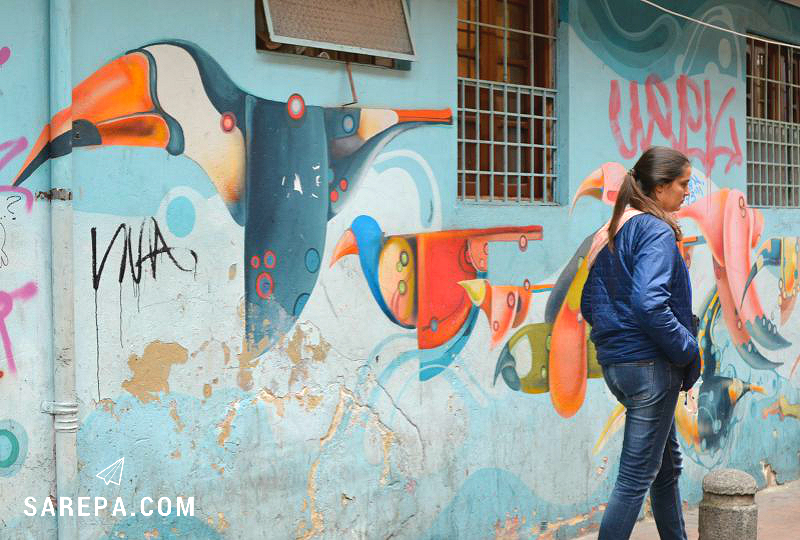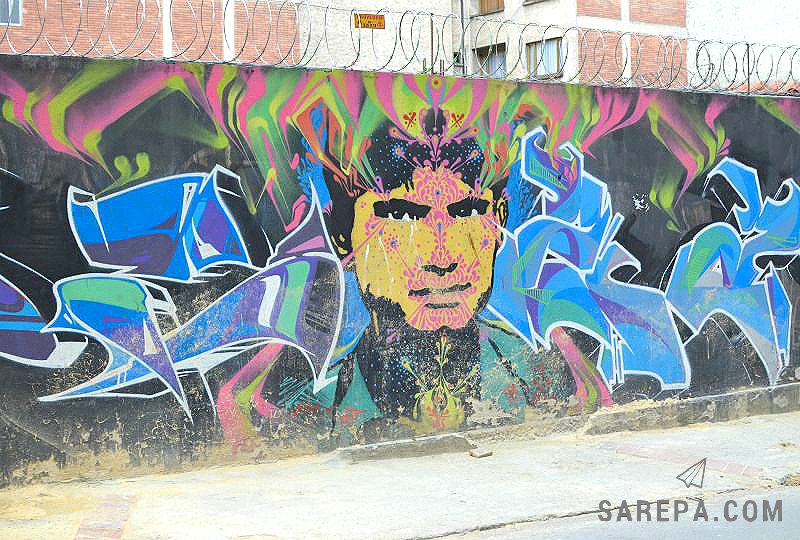 Pin this post for later!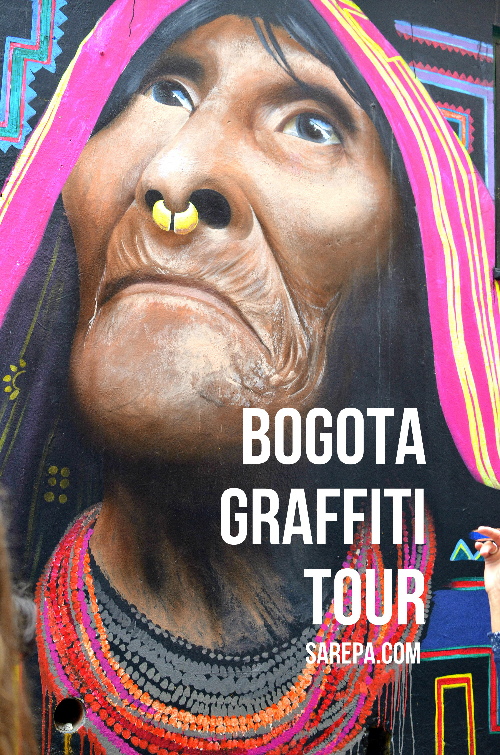 If you're interested in heading along the Bogota Graffiti Tour, head along to their website to book your tour. The tours run every day, twice a day. Simply head to the website and register. 
Sign up to receive your 15-day Inspire Guide to Colombia