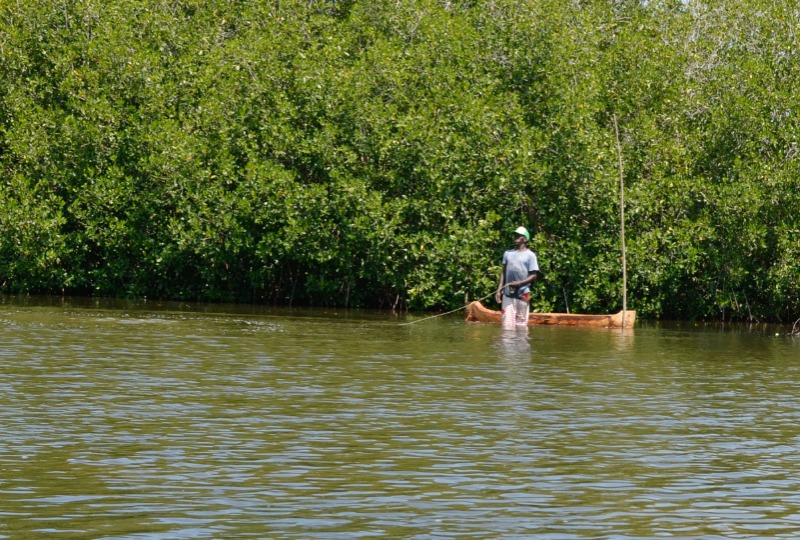 I was sitting in the hostel reception area when a tall man with a wide-brimmed hat walked through the door and up the stairs. My partner, Pej, who I recently discovered has an interesting concept of time, had run down to the Exito supermarket on the corner to buy some Chocoramos for breakfast, even though we had a Cartagena Mangrove Tour booked, which was set to begin at any minute. We were getting picked up from the hostel and I hoped the tall man in the hat wasn't our guide because Pej still hadn't returned.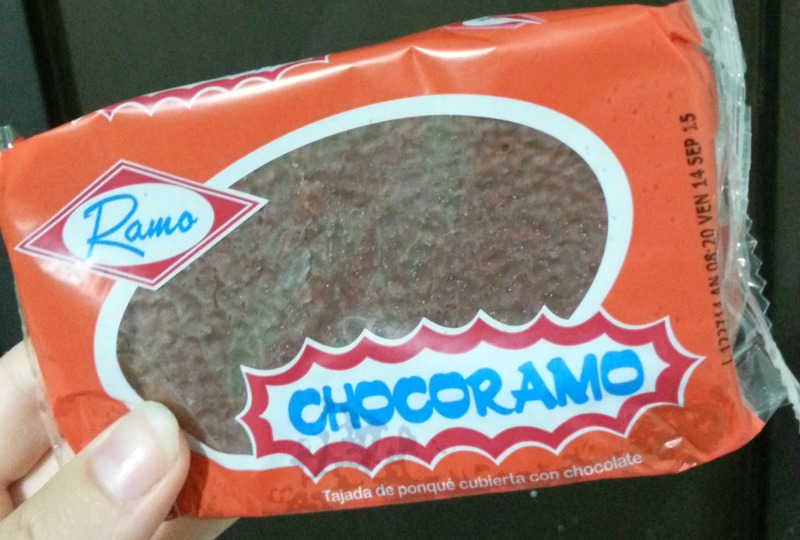 The chocoramo that almost made us late for the tour
"Miss, do you have a tour booked for this morning?" the receptionist, Jaclyn, asked. "We do," I said, smiling at Jaclyn and the man in the hat, holding out my hand to introduce myself. "This is Rony, he is your guide," she said. "I'm Sarah, nice to meet you." Rony beamed one of the biggest, most contagious smiles you've ever seen. "I'm so sorry, my partner has just popped to the shops, but he'll be back any minute," I say, hoping it's true.
Eventually, after a few awkward minutes of me looking at my watch and peering over the balcony, hoping to see Pej running down the street with his chocoramos, I eventually hear him walking up the stairs with a couple in his hand and one hanging out of his mouth. "I love these things!" he says.
More: Travel Colombia: Visiting the magical Guatavita Lake
Rony asks us if we speak Spanish or if we'd prefer the tour in English and we both agree that English would be best, because by this stage my brain is fried and I seem to have forgotten every Spanish word I have ever learnt.
We wave goodbye to Jaclyn and walk downstairs to the front door where a car picks us up. We drive through the narrow lanes of Cartagena before we make our way out beyond the wall. One thing I realised while visiting the walled city (I think this was the fourth time I had visited) is that if you don't venture beyond the wall you are really missing out. There are some great things to do in Cartagena, sure, and it truly is a romantic and beautiful port city, but beyond the amurallada is where you see what real life is all about and how people really live.
"Cartagena is like a beautiful prison," one guy in our hostel room says one night. "It's gorgeous but if you forget to ever go beyond the wall you become trapped by the beauty."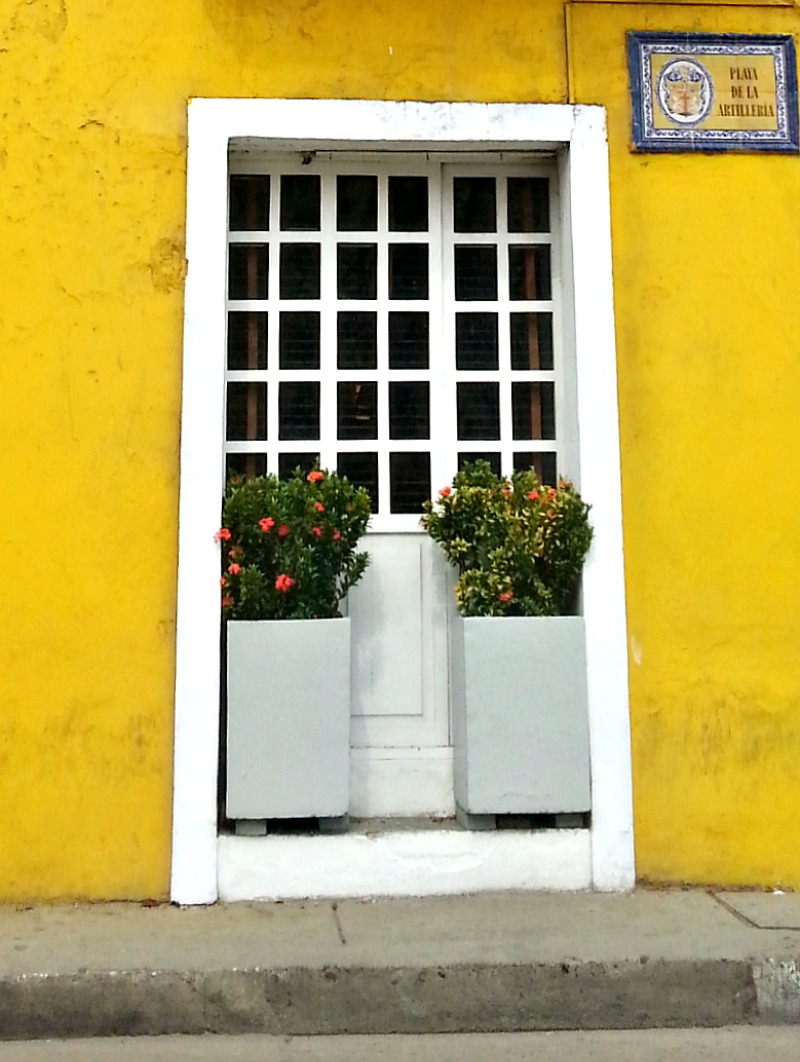 And he's kind of right, apart from walking through Getsemani and visiting the Rosario Islands, I hadn't explored much of Cartagena beyond the wall. But today we were in for a real treat as Rony took us through Boquilla, where he and his family live, before exploring the waterways, meeting with the local fisherman and learning about the ecosystem away from the cobbled streets, souvenir stores and grand hotels.
We drive along the recently laid tarmac at the city's outskirts, which is glistening in the sun, dodging orange witches hats and construction workers as the walled city of Cartagena becomes just an idea we've left behind.
Boquilla is a small suburb with one or two paved roads. People sit on the porches of their homes, the doors wide open to let the sea air waft through. "That's my house just there," Rony says from the front seat of the car. "And that is my wife and children," he says as we drive past his street.
More: 5 Things to do while Tayrona Park is closed
Driving through to Boquilla we see a strip of beach which is lined by hotels. Previously there were no regulations about who could buy up land here or what they could do with it. So some of the prime pieces of real estate were snapped up and now there are loads of hotels coming onto the scene, bringing high-end tourism to the area, sure, but also disturbing the quiet and authentic feel of this sleepy part of town.
We drive along through a quiet beach with dark sand and there's not a tourist in sight. "This is where the locals come to enjoy the beach," Rony says, as we see kids running around, shirtless boys riding their bikes and men and women sitting in plastic chairs in front of small seaside restaurants.
We keep on driving. This time down a winding sand-covered street until we make it to the mangrove swamps of Juan Polo. Here Rony, along with a gentleman from the local fishing village, whose name unfortunately escapes me, Pej and myself jump into our traditional hand-carved canoe and glide across the water, spotting local fauna and flora on the way.
We notice the red, black and white mangrove tree varieties all intertwined in a botanical knot, we try to catch a crab that jumps into our boat and scurries so fast up the mangroves that we aren't even able to photograph it, and we watch as locals in the area go about their daily lives.
One man throws a handmade fishing net into the waterway, a little girl knee-deep in water and wearing nothing but a pair of shorts waves at us. "Why aren't you in school?" Rony calls out. The little girl just shrugs with a guilty smile.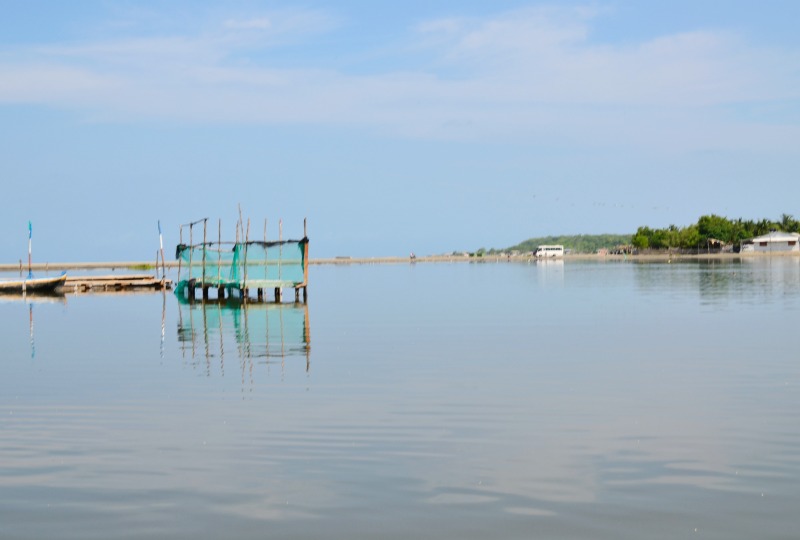 Where are journey through the mangroves begin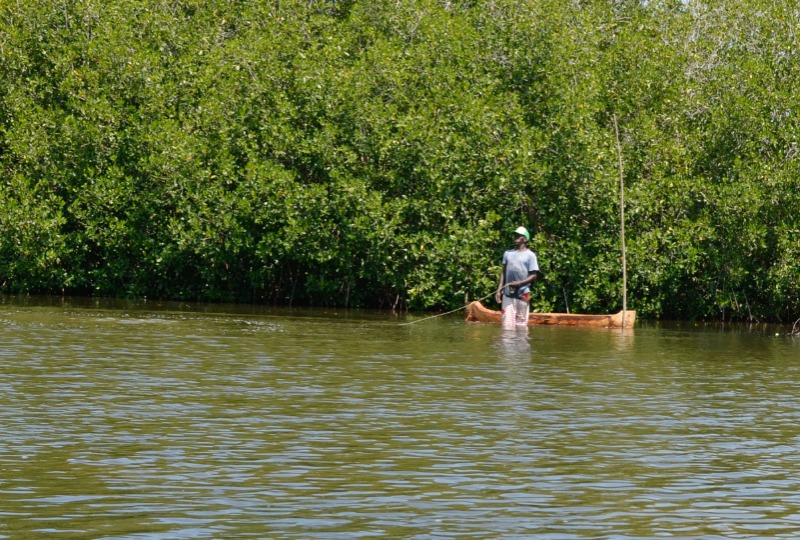 A man doing some fishing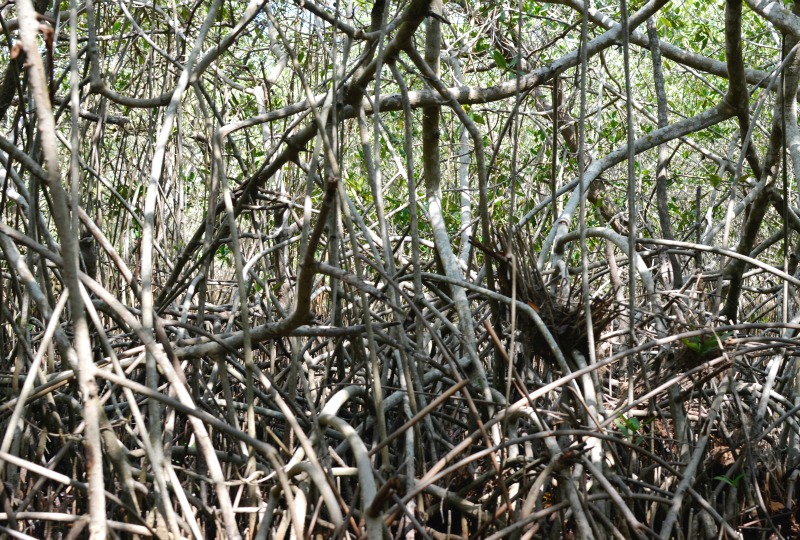 The amazingly intertwined mangrove roots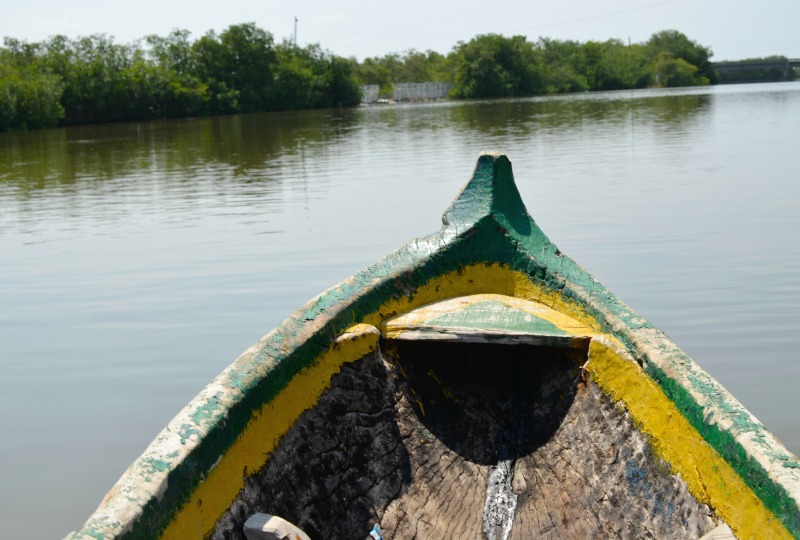 The view from the front of the canoe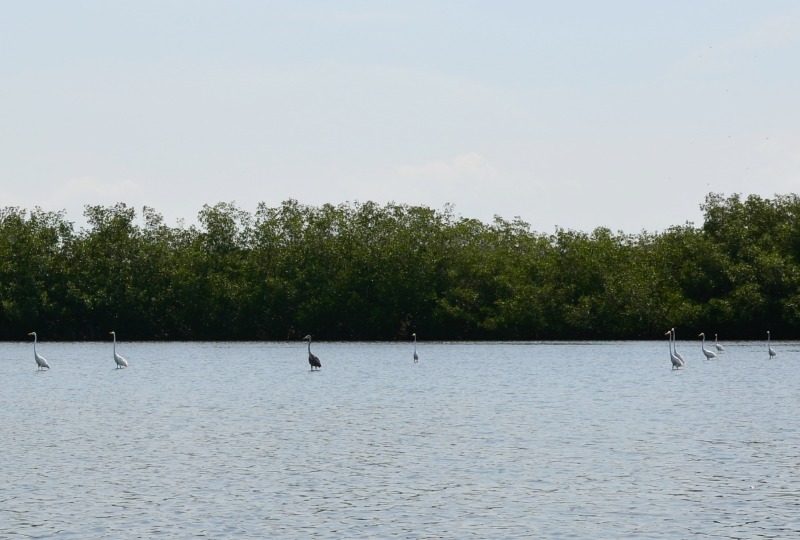 White ibis about to take flight as they see us coming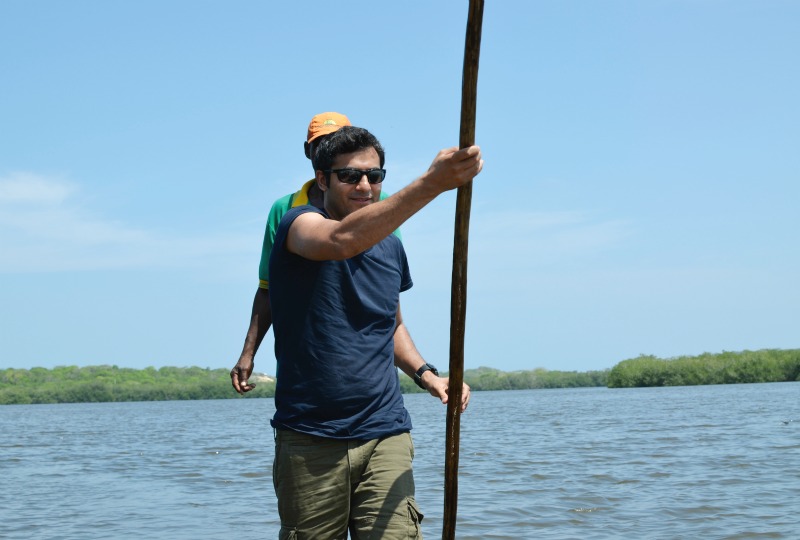 Pej having a go at being captain
We make our way through the mangrove tunnels, all which have been naturally formed because of the ancient water currents. Some of the tunnels have interesting monikers like 'The Tunnel of Love" while others have African names like "El Chago". And as we look over the sides of the canoe and into the water, we can see that the mangrove roots are also home to thousands of small fish, which have come here to lay their eggs.
Here's an interesting piece of history for you! Interestingly the fisherman here used to use dynamite to catch their fish instead of a simple fishing pole or net. Rony tells us that buying sticks of dynamite were just as easy as buying cigarettes. Now, thankfully, it is forbidden, and the fisherman are more resourceful with their nets.
As we make our way back through the Tunnel of Love, we float by the spiky roots of the black mangrove, which Rony points out to us. "This is a filter plant," he says, adding that it is a very important part of the local ecosystem because they filter and stabalise the sodium levels in the water that flows in from the ocean.
More: Places to visit in Cartagena, Colombia
If you're lucky, or unlucky, depending on how you look at it, you might just see a boa constrictor in these parts, too. But they're hard to spot because they generally avoid areas where there is much human activity. Thank goodness!
After a good couple of hours on the Cartagena Mangrove Tour, we make our way back to shore where a freshly-opened baby coconut cocktail is waiting for us. And in the heat of Cartagena, it was a very welcomed treat!
The amazing thing about this tour is that it has been running for close to 20 years, created by EcoTours Boquilla and the local community as a way to remain self-sustainable.
The tours are run for and by the people of the area, with aims of educating tourists about the area, their customs and culture, but also as a way to creating jobs, generating an income and preserving the ecosystem through the Cartagena Mangrove Tours.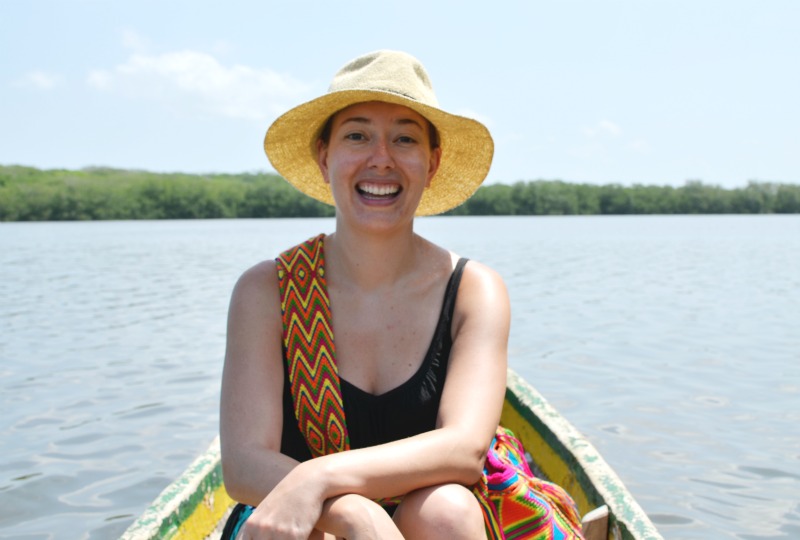 Having a great time on the Cartagena Mangrove Tour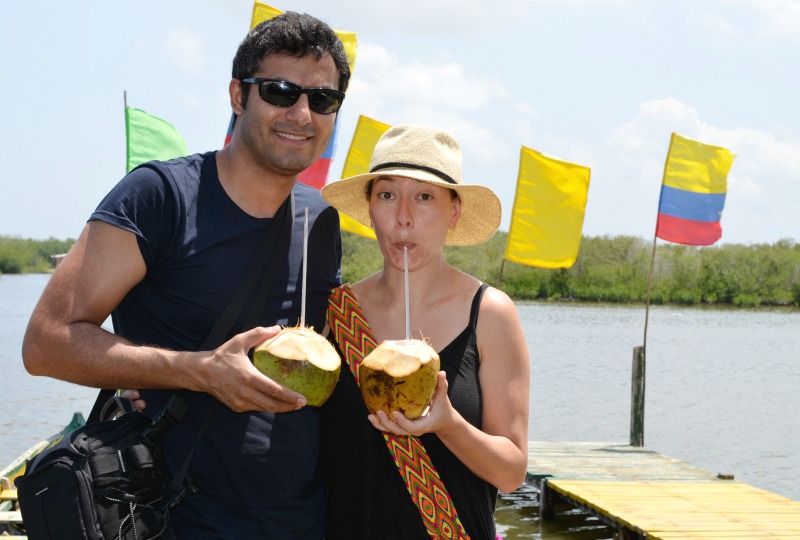 Baby coconuts for everyone!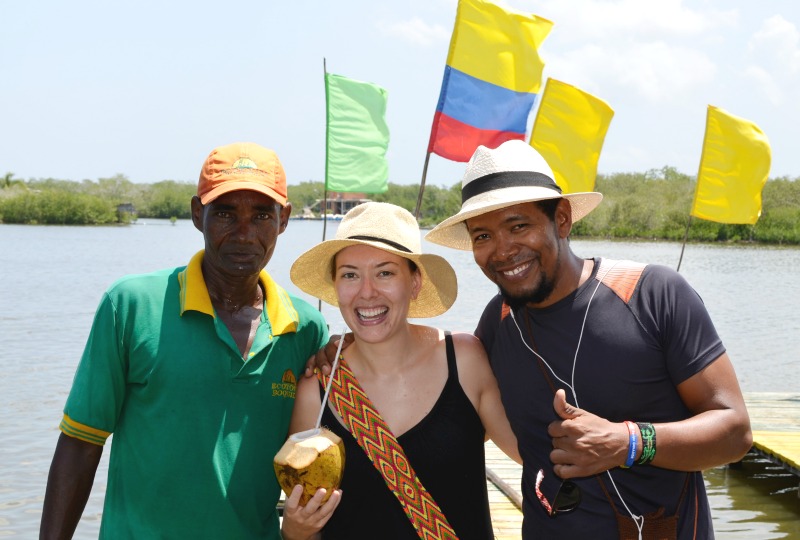 Our trusty capitan and the amazing Rony!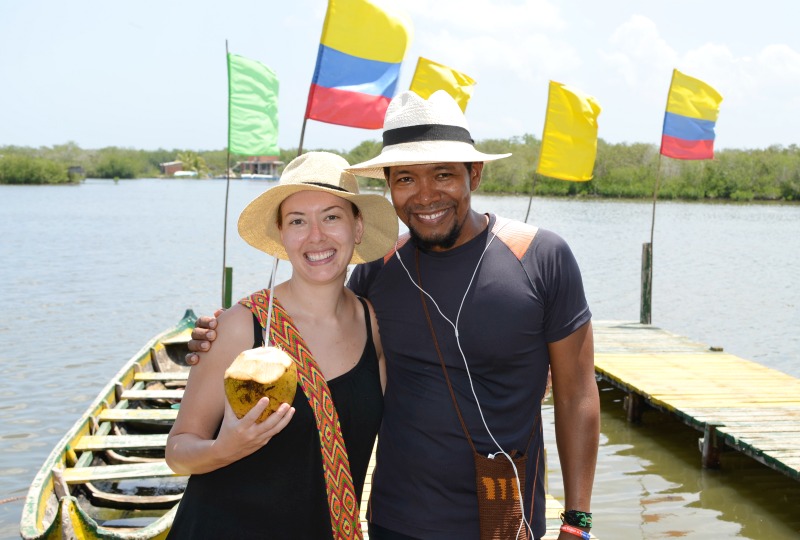 It really was an absolute pleasure to meet Rony and see the great work he is doing for the area. If you ever get the chance to meet this forward-thinking, proactive, lovely guy and join one of his tours, do it! You'll be making a contribution to a wonderful community of people.
How long it takes: 6 hours, departing at 9am
My review of the tour: This was a tour highlight for me. Our guide, Rony, was incredible! He spoke great English and we were inspired by his story. For more than 20 years these tours have been running, without any government support, as a way for the community of Boquilla to remain self-sustainable. It really was a privilege to see it firsthand and meet such an awesome man. Nothing at all to fault about this tour, two thumbs up! We wanted more!
Who's the tour for: This tour is great for people travelling alone but who wants to get off the beaten track, it is also perfect for groups and couples.
How much it costs: The Cartagena Mangrove Tours costs $36USD
More information: For more information or to book your own tour, visit the Colombia4u website.
Things to think about: Colombia4U offers a full-day package which includes lunch and a trip to Punta Icacos beach.

To note: I was invited to experience this tour as a guest by Colombia4U. All opinions are my own. There are also affiliate links above. If you do decide to book this tour, please consider clicking the links from this website. This means I earn a small but much-appreciated commission which goes towards keeping this blog up and running so I can continue to share all the things I love about Colombia. Thank you!
Pin this post for later!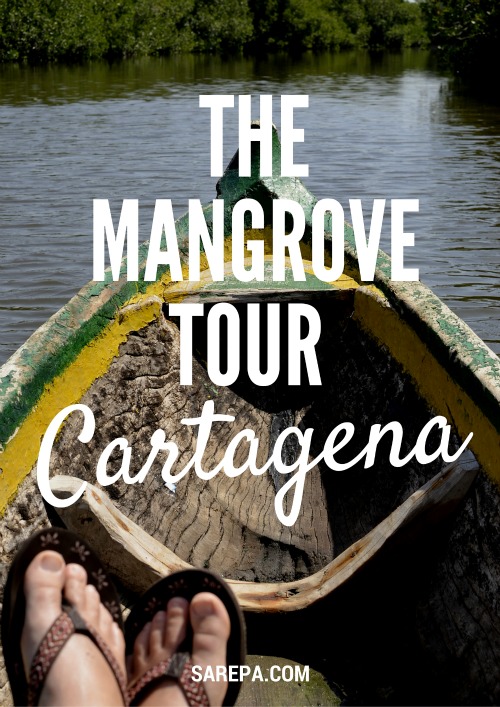 Sign up to receive your FREE eBook