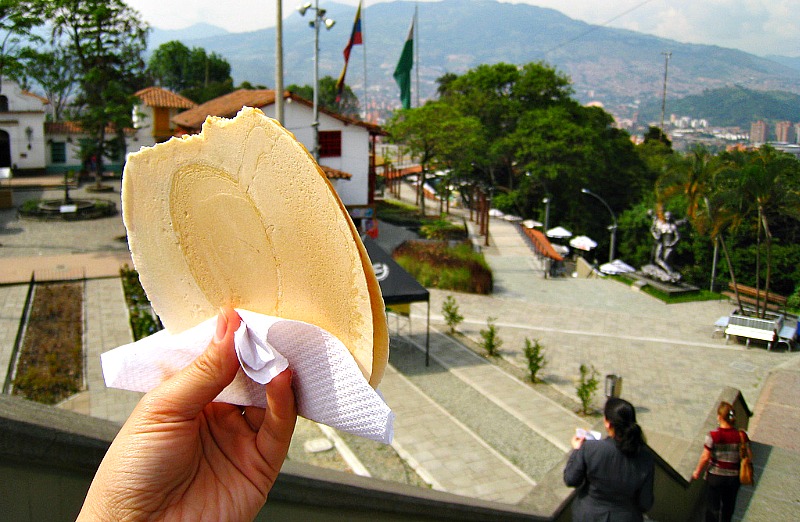 Image: xmascarol/Flickr
I was chatting to a friend from Bogota the other day and she said that the way Colombians invite people to experience their country is through food. They invite you over dinner and share a delicious meal with you. They cook carefully-crafted meals and invite you to feel comforted by it's warmth. They show you around their city, stopping at cafes and small eateries as you go.
I remember being in Bogota a couple of years ago, I was staying with a friend at the time, and I realised that each of our outings was centred around food. "This is where they sell the most delicious arepas in town," he would say as we made our way home from work. "I have been coming to this street food vendor since I was 19," he'd recall after a big night out. "This place has been selling hot chocolate for hundreds of years, can you imagine?"
With such importance placed on food and the sharing of food in other people's company, there's no surprise that there are some great, completely edible, souvenirs available that you should most definitely pop in to your suitcase before you leave Colombia.
1. Arequipe

Arequipe
, or you might know it as Dulce de Leche, is golden brown sugary bliss. It is sweet and can be used in desserts, but I prefer to eat it straight from the tub. I don't even care if you judge me on that one, it's totally worth it.
2. Obleas

While you've got the Arequipe on hand, you might want to slather it on to these wafer disks called Obleas. You can buy the wafers in packs at the supermarket, but street venders also sell them filled with sweet spreads lathered in between them. They're a great sweet snack when it's too cold for ice-cream. (Like it's ever too cold for ice-cream though, really.)
3. Aguardiente

Okay, you can't technically eat Aguardiente, but you sure can drink it. This aniseed-flavoured tipple, which translates to mean "Fire Water", is a favourite across the country and makes a great Colombian souvenir to take home with you so you can relive all those memories you can't remember.
4. Bon Bon Bum
Bon Bon Bums
are gum-filled lollipops which are pretty popular in Colombia. I have seen a bunch of my Colombian friends bring back a huge pack of these pops after they visit home. I think it's because the sweet is associate with fond childhood memories. Grab yourself a packet before you head back home.
5. Aguapanela

Aguapanela is an incredibly popular drink throughout Colombia and, I believe, many other South American countries. You can drink it either hot or cold, sweet, with a squeeze of lemon, and even with a shot of alcohol or a block of cheese. Talk about versatile! It's made using sugar cane blocks and you can buy these blocks and make the drink yourself. It's said to be the perfect drink if you're suffering from the common cold. But other than that, it is deli!
6. Chocoramo

Chocorramo
isn't just a Colombian cake covered in chocolate. Oh no! It is a Colombian institution, part of the zeitgeist and the local culture. A baker named Olimpio Lopez first began baking these little chocolate-covered cakes way back in the '60s and 50 years on, they're still a hit. Give them a go and pop them in the suitcase before you leave Colombia!
7. Coffee

Ah, hello! You can't go to Colombia without tasting, making and buying some Colombian Coffee
, right? Get a couple of bags and be prepared to wake up on the right side of the bed every morning with a strong Colombian brew.
8. Coffee Delight

While we're on the topic of coffee, let's talk about Coffee Delight. They are hard coffee-flavoured candies. Buy this as a souvenir for your Colombian friends, wherever in the world you live, and they're sure to be very happy for the thought.
9. Jet Chocolate

The National Chocolate Company of Medellin has been rolling out chocolate for the country since way back in the 1920s and one of their most popular choccies is the bite-size Jet chocolates. With every chocolate bar also comes a sticker, which people collect and pop into their sticker albums.
10. Arepa flour

After you form an addiction to arepas (and you will!) you might find yourself falling into a pit of despair once you head back to your arepaless country. Fear not! Simply stock up your suitcase with arepa flour
. That way you can make your own arepas at home. If you have any left over, of course you can give them as souvenirs, too. If you have to!
What do you think? What other edible Colombian souvenirs can you think of? Share your ideas in the comments section below!