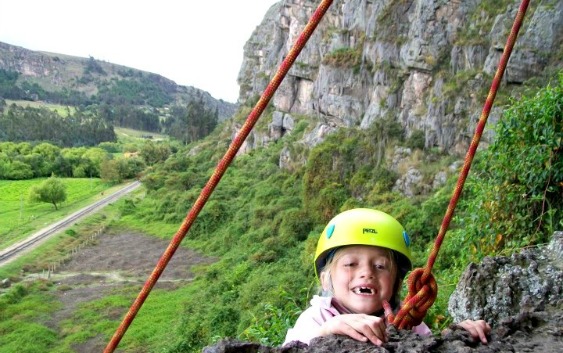 When I saw a six-year-old girl jump off a cliff and across the highest zipline in South America, it really put things into perspective for me. I thought, if this little girl can do it without much of a scream surely I can, too, right? My first month living in Colombia was spent working at an English immersion adventure camp for kids in the country's capital Bogota. I didn't have a whole lot of experience working with kids except that I had my blue card and had worked as a volunteer teacher aid at a state school's English as a Second Language (ESL) department for refugees and recent migrants to Australia. To be honest, I never thought I had much of a knack when it came to relating to or engaging with children. But when I was offered the opportunity to live in Colombia and begin my live and travel abroad adventure working with kids at a summer camp, how could I say no? Here's what I learned along the way.
1. Children have no fear
I saw three-year-olds go rock climbing, seven-year-olds abseil over walls and groups of children go white water rafting in the adventurous pueblo of Tobia. While buckling their safety harnesses and clipping on their helmets I quickly realised these kids didn't need much encouragement to climb, jump and swim through their activities. And, if anything, they encouraged me to be adventurous and have fun.
2. Staying up late on a school night is a bad idea
Excited about living in Colombia and bunking with five other teachers in a share apartment, we had our fair share of celebratory get togethers at home. On one night in particular, though, too much salsa was danced to, too little sleep was had and I woke up with a sore head on the day we were taking 20 kids camping.
3. Any kids can be bilingual in two weeks
The particular camp I was working at, which is called Yambalo Aventura, was specifically created to offer English immersion lessons to kids without them even realising it was a language lesson. The teachers, who were from Australia, Scotland and England when I worked there, all spoke and explained activities in their native tongue, while the Colombian kids listened on and learned. If they were really confused what was going on, there were local Colombian teachers around, too, to explain things. But on the most part the kids just got by with English. While the little ones were at first too shy to speak to us in English, by the end of the two-week or month-long camps they would come up to us camp facilitators and strike up a conversation, completely forgetting they could rely on their Spanish at all.
4. You can fake bravery
I probably did more adventure activities in one month with Yambalo Aventura than I did throughout much of my time living in Colombia. I abseiled off cliffs, jumped off ziplines over pools, paddocks and rivers, I rock-hopped through natural waterways, jumped into natural springs, climbed jagged cliffs and camped in dark jungles. And while I was afraid of heights and nervous in the dark, I couldn't show that around the kids who were looking to me for support. I was there to encourage and to empower these kids to take on such adventurous activities, not pander to their anxieties with my own. Bravery can be faked, but eventually, with practice, it becomes real.
5. Patience is plenty
Keeping an eye on some 40-something children at once is no easy task, especially when some of the kids want to run off in search of ice-cream and lollies. But I quickly noticed of the extremely talented and experienced local teachers from Yambalo that patience is everything and talking to kids calmly and with respect about how they can make the right decisions themselves can do wonders.
6. We can all act like big kids
I was generally in charge of looking after the really little ones during my time with Yambalo. They were from about 2-4 years old and required constant entertainment before they lost interest and began causing chaos. At first I would try and make sure all the kids were engaged in the activities, everyone doing what they were supposed to but, after a while, I realised the kids were there to have fun and learn English, so I joined in the mucking around, too.
7. Camp friends are some of the best friends and travel buddies you can make
After we all wrapped up our summer camp adventure, us teachers and camp facilitators shared a few tears and ideas of future get-togethers. I ended up travelling Colombia with three other teachers and we even ended up travelling and living together for months and are still in contact and great friends.
If you're interested in working with Yambalo Aventura at their next adventure camp, be sure to contact them via their website. Or flick me an email and I can put you in touch. Happy travels!