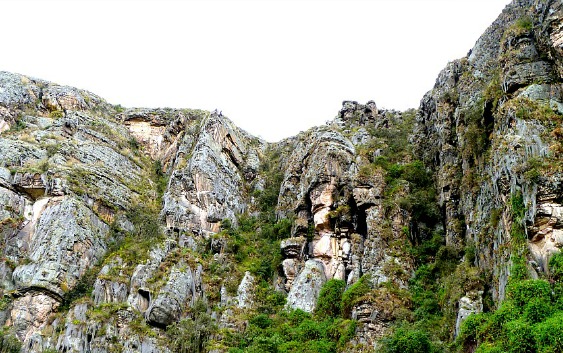 The first time I travelled to Colombia was in 2006 and I had this naïve idea that I was brave and adventurous because I was visiting a country that was considered dangerous and off-limits to the everyday backpacker. But now, Colombia has seen a tourism boom and the country is open for business. Adventurous travellers are packing their bags to travel Colombia for altogether different reasons and the adventure lies not in the civil unrest or the risk to safety, but in the high-adrenaline activities that are on offer in some of the most idyllic regions in the country. Here are 8 activities worth a try while travelling through Colombia.
1. Rock climbing
If you find yourself in the capital of Bogota, then a trip out to the local climbing town of Suesca is a must. The small climbing village is just 45km north of Bogota and is home to Marcelo Arbelaez, one of the first Colombians to climb Mount Everest, proof that Suesca truly is a place for the hardcore climbers. This area attracts hobby climbers and the pros, as well as day-trippers from Bogota looking for a fun afternoon out with friends. There are more than 400 routes ranging from 5.1 to 5.14 in difficulty. It took me a couple of goes to feel comfortable climbing the cliffs, at 2,600 meters above sea level at the bottom of the range, the thin air can take some getting used to. But the overhangs, bridging areas and crags make it the perfect climbing spot for adventure travellers.
2. Abseiling
Seeing a bunch of seven-year-old abseil over a cliff in Chia really motivated me to be more adventurous in my day-to-day life in Colombia and abseiling was one of those activities that petrified me at first, but gave me so much joy and excitement in the end. One particular memory comes to mind of abseiling in Colombia. I was with some friends from a local adventure summer camp on our day off when we decided to go trekking in San Antonio de Tena, not far from La Mesa and just outside of Bogota. In order to get to the beautiful waterfall we were in search of, we had to abseil over a bridge to reach the river bed. Clipping my harness in and abseiling across the ledge was one of the greatest experience I had during that trip. We found the waterfall in the end, and abseiled over a cliff right in front of it, too.
3. Bungee jumping
Bungee jumping is just one of those things that I don't think I will personally ever have the guts to do. A friend of mine in Colombia once asked me to go bungee jumping with her and her boyfriend and I said yes, but unfortunately (or fortunately, depending on how you look at it) the trip was cancelled in the end. There are some tour and adventure groups that offer bungee jumping in Bogota, Choachi, Ibague, Tobia and Cundinamarca.
4. White water rafting
I spent about three days in the small town of Tobia during a short trip and while it might just seem like a blip on the map, Tobia is actually becoming quite the adventure capital, rivalling other adventure hotspots like San Gil. Tobia is about two and half hours in the car from Bogota, on a good traffic day, and plays host to tourists and locals looking to up their heart rates for the day. I white water rafted with a local adventure company called Los Tobianos who gave us opportunity to raft down the Rio Negro, which had a 6km run with class II and III rapids.
5. Ziplining
Didn't I say Tobia could rival Colombia's adventure capital of San Gil? Well, while I was in this sleepy town, I also flew down what is touted as being the highest zipline in South America. It's broken up into two sections and is more than 200 metres high and 1200 metres long. I whizzed from one mountain to the other and was brave enough to keep my eyes open the whole way, well mostly. How could I not with a view like this?
6. Cabalgata
If you want to go on a relaxing horse ride through the Colombian landscape, it's probably best you don't invite me along. I went horse riding a number of times in Colombia and I was a nervous wreck each and every time. Colombians look like they were born to horse ride. During one particular trip through La Calera, the mountains surrounding Bogota, I was dressed in my comfiest sweat pants and jumper, while one of the gorgeous Colombian women I went with was wearing her Louis Vuitton bag and high-heel shoes. I held the reins for dear life, while she chatted to friends on her smartphone. Horse riding is just the done thing in Colombia, everyone does it, knows how to do it with skill and feels safe on the back of a horse. I didn't ride the horse with quite the same amount of finesse.
7. Scuba diving/snorkelling
Colombia is one of the most biodiverse countries in the world and not just on land, the diversity extends to the deep blue. Some of the greatest places I've visited in Colombia for snorkelling include Playa Blanca in Tayrona Park, which was formally known as Playa de los Muertos or Beach of the Dead – I guess the White Beach has a more welcoming ring to it. Snorkelling is available right off the coast of Playa Blanca, just rent your snorkel gear, or bring your own, and swim out to the coral which harbours creatures including sea horses, coral and tropical fish. Another great place definitely worth the visit for divers and snorkelers is Johnny Cay in San Andres. For around $10 travellers can visit both the Acuario and the pristine island of Jonny Cay. The Acuario is a natural aquarium at a small island sand-bank close to San Andres and just off the shore there are fish, rays and other sea creatures. Keep close to shore and watch the fish swim around your feet. Snorkelling and diving is available for the more adventurous, too.
8. Trekking
There are any number of places for those looking to take on some hikes in Colombia. There's Cocuy, Cocora Valley and The Lost City just to name a few. Whether you're looking to trek across snow-capped mountains, through tropical jungles or along tracks flanked by the impressive wax palm, Colombia has a variety of great treks for people with well-worn hiking boots, or those looking to make their first trek. I've yet to visit Cocuy, but I have trekked through both the Cocora Valley and The Lost City. For me, The Lost City was by far the most challenging but the most rewarding. I got the chance to speak to a shaman, got an allergic reaction to an insect bike and ended up in hospital, but it was completely worth it.
What other adventure activities have you tried in Colombia? Let me know in the comments below, so I can add it to my list of must-dos.
Find cheap flights to Colombia here: