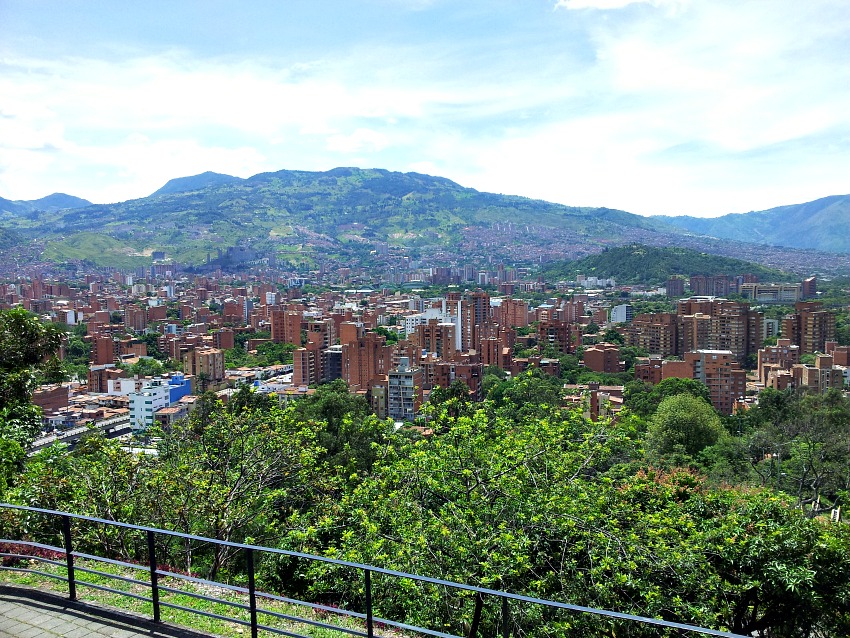 Medellin was the first city I visited in Colombia. If you're heading to this vibrant city, then be sure to take a look at my top 11 things to do in Medellin. What would you add to the list? Be sure to let me know in the comments section.
1. Things to do in Medelin: Los Alumbrados, Christmas lights in Medellin
Medellin has one of the most vibrant Christmas displays in all of Latin America, and probably the world! Each year the light display is designed and sponsored by Empresas Publicas de Medellin (EPM) and are mounted around and over the Medellin River as well as throughout several regions of the city. People flock to this part of Colombia for their Christmas celebrations, just to get a glimpse of the vibrant city awash with colour.
2. Parque Arvi, Medellin
Pack a lunch, put on your sunscreen and catch the Metro Cable up into the mountains where you will find Arvi Park. You can keep yourself busy with bike riding trips, hiking, boat rides, or simply take in the natural beauty.
3. Plaza de Botero, Medellin
Medellin is the hometown of the much-loved artist Fernando Botero, and this is where many of his sculptures are put on display. Walk through the Plaza de Botero and fall in love with his chubby depiction of the human body.
4. Pueblito Paisa, Medellin
Sitting at the top of Nuttiburra Hill hill is Pueblito Paisa, a replica of what the small townships in Antioquia are like. With the traditional square in the centre with surrounding building in colourful reds and blues, this little town will give you a taste of what Antioquia is all about. There are also souvenir stores and restaurants at the top, so bring your wallet to buys some gifts for loved ones back home.
5. Flower Festival, Medellin
The Flower Festival of Medellin is one of the biggest events in the country and is a celebration of the flower farmers, or silleteros. The week-long festivity is full of processions, parades, horse shows and, of course, beautiful flower displays carried on the backs of silleteros.
6. Barefoot park – Parque de los Pies Descalzos, Medellin
This is a great place to head a long to with the kids. It's right in the centre of town and is part of the cultural city centre, but also provides open spaces for the kids to play.
7. Metro Cable, Medellin
There's no better way to take in the city of Medellin than by travelling on the Metro Cable transport system. This is a very important transportation method for many people who live high in the mountains. Before this system was built, the journey down into the city centre was arduous and very dangerous. Now, people simply jump on the Metro Cable and they're on their way.
8. Spain Library – Biblioteca de Espana, Medellin
The Spanish Library is an impressive building for both architectural and sociological reasons. Not only is the building impressive in its dominance of the space and it's imposing structure, it also stands in the Santo Domingo Savio neighbourhood, which was once considered one of the most dangerous suburbs in all of South America.
9. Parque Lleras, Medellin
As you can probably tell from the photo above, Parque Lleras, or Lleras Park, is where you go to party. Here you come to have dinner, the the odd cocktail and dance the night away either at a ritzy nightclub or at a small hole-in-the-wall bar, where you might find a couple of old fellas playing the accordion and singing love songs.
10. El Poblado, Medellin
El Poblado is considered Medellin's wealthiest neighbourhood which makes it the centre for parties, restaurants and bars. Oh, and shopping. We can't forget the shopping. If you're into that kind of thing. As MedellinLiving nicely put it, this is where you can find "doggie groomers, yoga studios and gourmet grocery stores. Well-dressed people drive SUV's and dine al fresco."
11. Jardin Botanico – Botanical Gardens, Medellin
Colombia is known for it's biodiversity – the country is one of the most megadiverse countries on the planet – so it's no suprise to see there are some great botanical gardens around the country including el Jardin Botanico de Medellin. Here, 14 hectares of space is dedicated to thousands of varieties of flowers and other plants. There's even a whole space dedicated to orchids called the "Orchidiarium".
Pin this poster and refer to it later: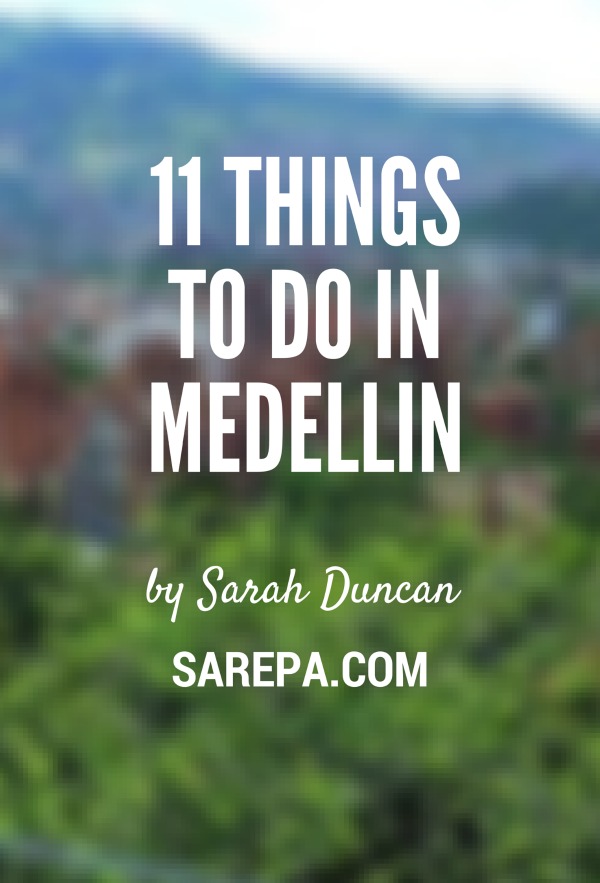 What else can you recommend people visit while in Medellin? Let me know in the comments section below.