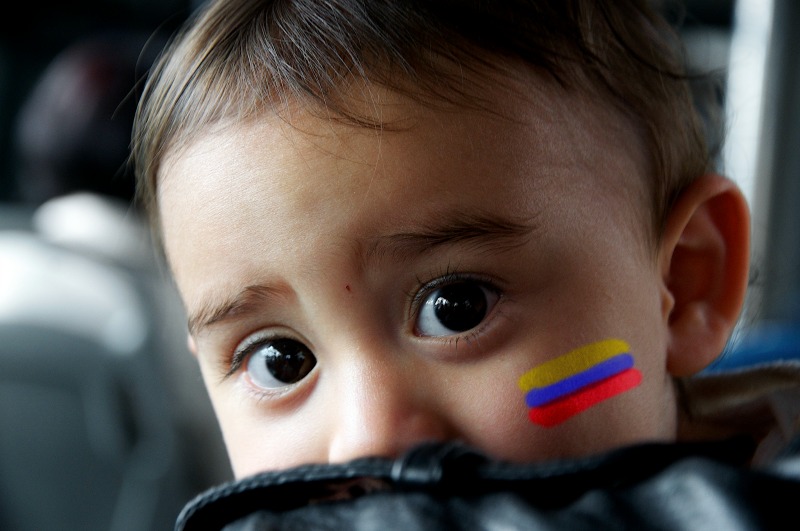 Image: Luis Jou Garcia/Flickr
A few friends of mine in Colombia have started having children recently, so with the Copa America 2015 kicking off this week I have seen a bunch of photos of super adorable kids kitted out in their coolest tricolor t-shirts. It seems that proud parents all over the country have been sharing photos of their mini Seleccion Colombia fans on Instagram, complete with the jersey, the face paint and the matching hair accessories to boot. No detail has been spared and they are just incredibly adorable. Here are some of the sweetest fans on Instagram I've come across, and if you have any images of your kids enjoying the partido, be sure to share them with me using the hashtag #Sarepa on Instagram, I'd love to see them. Prepare to melt over these cute kiddies.
1. Thumbs up from these two cuties:
2. It looks like it's the first partido for this little one:
3. It looks like father and son are getting in on all the partido action:
4. This little one doesn't look too impressed with how the game ended:
5. But these two are making the most of it:
6. MELT. Just look at those cheeks:
7. This little one certainly knows how to rock the red, yellow and blue:
8. Warning: More adorable cheeks ahoy:
9. Mum and bub look pretty happy to be sporting their seleccion camisetas:
10. It all got a bit much for this little one:
11. While this bub went all out with Colombian pride:
12. No one tell this gorgeous girl that we didn't win, okay?
13. These two know what it's all about. No matter who wins, we keep on supporting:
14. Tricolor tutu!
15. It looks like there are a couple of stars in the making here:
16. Partido is a family affair!
17. And don't these kiddies look as proud as punch?
18. More happy fans in their partido tutus!
Do you have any photos you'd like to share? Be sure to use the #Sarepa hashtag on Instagram. Let's go Colombia!