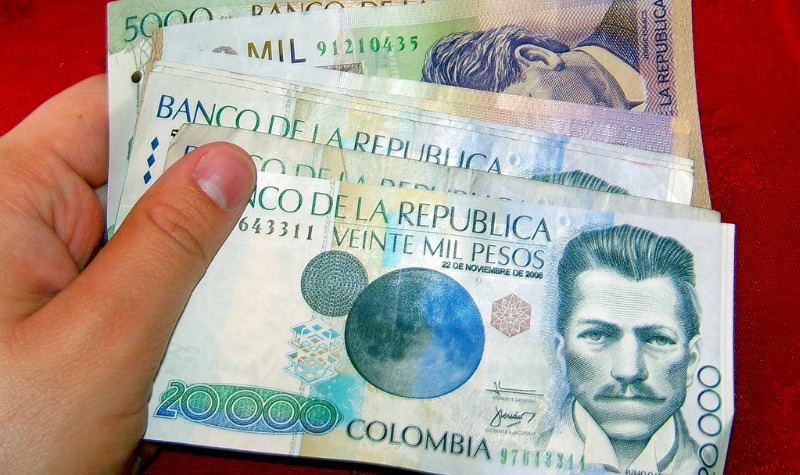 Image: Edgar Zuniga Jr./Flickr
I'm planning a trip to Colombia at the moment, and I've been concerning myself with things like where to stay, what activities we're going to do while we're there, what cities and towns we want to visit.
But my boyfriend asked me in the kitchen while we were making dinner the other night, "So, what is the best way to access our travel money in Colombia?" And, to be honest with you, it's definitely something worth doing some research about. Especially since there are so many different options.
While I was living in Colombia, I had a Citibank account and there were Citibank ATMs everywhere. So I just made sure I withdrew an amount that would get me through the month, or close to it, to save on any withdrawal or exchange rate fees.
But this time around, I'm doing a bit more research and I want to share with you all the different options I have come across on the hunt for how to access travel money in Colombia as a tourist. Here's what I've come up with so far.
Buy the local money before you leave home
I've been doing some research and one option is to buy the local currency, which is the Colombian Peso (about $1USD – $2,500Col Pesos), before you even leave home. The problem with this, though, is that you're going to have a large amount of money on you, which I definitely would not recommend. This also means that you are going to be subject to the local exchange rate, which I have learnt can often be cheaper once you arrive in Colombia. What I would do instead, if you want to buy local money, is to buy just a small amount of Colombian Pesos, just enough to get you by for the first few days.
Buy American dollars
Exchanging American dollars for the local currency is much more straight forward than exchanging, say, Australian dollars or British Pounds. So, another idea would be to purchase American dollars before you leave. Either enough to get you by for the first few days, until you can hunt down an ATM, or a week, until you can access more cash as you need it. Both Colombia and Cartagena airports reportedly have good exchange services available and competitive rates.
Use your credit card
Credit cards are widely accepted in many shopping centres, restaurants and other establishments in the bigger cities of Colombia, but you may have to show some identification for the transaction to be processed, including a passport or other photo identification. But be sure to consult your bank about transaction fees, because these can quickly add up.
Using local ATMS
Many local ATMS in Colombia accept international credit cards, although they also have a daily withdrawal cap which range between 300,000 to 800,000COP per day. So, as well as your transaction fees, that is another thing to keep in mind.
Pre-paid travel cards
I've come across a variety of pre-paid travel cards that allow you to top up your own money onto a card and then use the card in all areas credit cards are accepted. I guess the great thing about these cards is that you are using your own money. But another great thing to take note of is that the account isn't linked to your actual bank account in any way, so any other cash not added to this card cannot be accessed. The only thing with these cards is you have to be really aware of the fees. There are setup costs, closing account costs, currency conversion costs, overdrawing fees and more. Some even have reloading fees as well. Just be aware of what you're being charged for and don't forget to shop around for one that is good for you and your needs. There are also websites that do all the hard work for you and compare rates. Just do a quick search for "travel card compare" or something along the lines of that and a bunch of sites are sure to come up.
Citibank Plus
As I mentioned above, I used a Citibank card while I was living in Colombia and that seemed to do the job pretty well for me. Just having a look now at the fees and charges, it seems that Citibank doesn't charge for withdrawals at their own ATMs, but, again, it's definitely worth doing the research, reading the fine print and making sure you're not paying any hidden fees or charges as you go.
How to stay safe with your travel money in Colombia
Have a secret stash tucked away just in case you find yourself unable to access your money, or in case of an emergency
Don't carry large amounts of cash on you at any time. Either access your money in small portions or keep your money split into different wallets or secret hiding places that are locked up and hidden away. Even then, it's best not to carry large amounts of cash on you at all
Visit ATMs during the day, never at night, in a well-populated area. It's best to visit the ATMs that are actually located within the banks, too
Take a look at your insurance policy. Are you covered for lost or stolen cash?
Be discreet and don't show your money in public. Keep anything of valuable out of sight. And if you must carry cash on you, like after you've visited the ATM, disperse the cash and put it in different areas, not all in one spot
Don't forget to tell your bank where you're going and for how long. You don't want to be left with a surprise message from your banks letting you know that they've restricted access to your account because of some overseas banking activity
Be mindful when you're making transactions and check your change
Check for counterfeits, too. Colombia Facil advises, "Hold your bill of for example 20.000 pesos up to the light. On the back you will see that the words 'Veinte mil pesos' will form 1 line with the reflective stripes. On the fake bill this will appear less even and have 2 different pieces of paper with a silver color tape glued in between."
Do you have any more tips about how to access money while in Colombia? I'd love to hear from you! Share your thoughts with us in the comments section below.