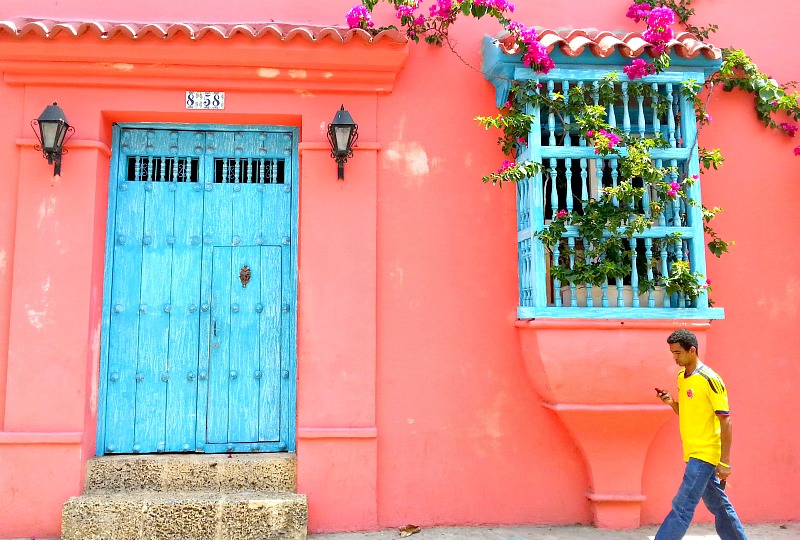 Browsing through Instagram is such a great way to get the feel for a country or a city you plan to visit right from the comfort of your own living room. I, for one, love losing myself in an endless trail of double-tapped images of Colombia, taking note of other people's stories and impressions.
There are so many talented photographers, travel bloggers and inspired locals out there who are showcasing what Colombia is all about, and emphasising the good without romanticising the bad. You can visit the Andes mountains, the Magdalena River and the Feria de Cali all in one afternoon and without ever leaving the house.
More: What is solo female travel in Colombia like?
Of course, that's not much fun for long and I hope these Instagrammers inspire you to get out there and explore Colombia for yourself.
Here are 20 of my favourite Instagrammers sharing their snaps of Colombia, they provide an intimate look at a wonderful country that is still often avoided and misunderstood.
LadyBreakfast is an Australian gal who recently found herself travelling to Colombia. "This visit to Colombia is my first trip to South America and the process of relaxing, letting go and adapting to a new way and pace of life has been such a rewarding experience."
Frederica Freydell is a Colombian local who shares her snaps both on Instagram and on Flickr. Her photos are, quite simply, beautiful.
Dave is a graphic designer and photographer who captures some quiet moments of daily life in Colombia as well as colourful images from festivals and carnivals around the country.
A biologist, photographer and mountaineer, Truman has some incredible photos taken during his treks through Colombia and other parts of the world.
Christian is a Colombian who quit his job to travel the world. Since the end of 2013, he's visited 59 countries and he's still going! Now, he's in Colombia and sharing some incredible photos of his journey. Jealous much?!
Hugo shares loads of images of the local architecture, mostly from Bogota. They're usually colourful and are always a great reflection of the place he finds himself in at the time.
Aldo is an accomplished photographer who shares images with a real emotive and story-telling quality. This photo is of a young boy who holds a kite to his chest. Tied to it is a letter for his father, who was killed in 2000 by paramilitaries.
Andrea is having a seriously stylish time in Bogota, sipping coffee in some of Bogota's best cafes and enjoying her new life abroad, writing and taking photos as she goes.
Jade is an expat who shares all the ups and down about her adventures in Colombia, from preparing her favourite local foods to dressing up as a chapolera in Armenia.
Dave, from Adelaide in Australia, usually shares images and stories about his favourite bagels around town, but he recently found himself in Colombia and shared some photos that are sure to give you food envy. "If it's good enough for Anthony Bourdain it's good enough for us!" he says.

Milton is a Colombian local who has a serious passion for photography. His photos are insightful and beautifully capture life in Colombia.
Leah is a blogger who travels all over the world, but she has visited Colombia and has some colourful and fun photos to share as a result. This is one of her photos from the Carnaval de Barranquilla.
Roberta is an Italian woman who is well and truly in love with Colombia. Check out that tattoo! Not only does she share her photos of the country on her Instagram account, but she blogs all about the country in Italian, too.
It's Hugo's photos that capture everyday life in Colombia that I really love. He snaps people playing sport, locals going about their everyday lives and some emotive black and white landscape shots, too.
Ok, to be fair, Juliana's Instagram account is mostly about Australia, but she is a Colombian who shares tidbits of advice about what it's like to live in Australia from a Colombian's point of view, both on her Instagram and her YouTube channel.
Oviedomosos does a lot of adventure activities like hiking and snorkelling and he's got a great attitude about travel and adventure which comes through in his photos. "Where pavement ends.. Adventure begins!"
Chris does an amazing job sharing some inspiring shots of Colombia because he has been basically everywhere! Check out his snaps from Putumayo with this little guy.
There's a silence Rafael gets across through his photos. Whether his image is of a desolate landscape or a lively night in the capital, there's a sense that a moment has been captured at just the right time.
Liliana is a graphic designer from Bogota and she regularly takes photos on her way to work, with friends and on holidays.
Elias' photos are such a beautiful introduction to Colombia. He showcases architecture, people, landscapes and his own family in colourful and vibrant images.
If you're on Instagram and want to come say Hi! be sure to come over to my Instagram @sarepita.
If you have photos you'd love to share from your travels in Colombia, use the hashtag #sarepa for your chance to be featured on my account. Or, you can leave a link to your Instagram account in the comment section below, so we can all take a look at your photos of Colombia.
Pin this post for later!