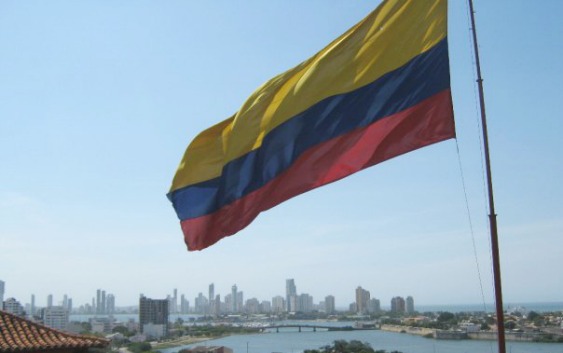 The biggest partido in Colombian football history will take place this week when they play Brazil in the World Cup quarter-finals. Brazil's got playing on their home turf in their favour, but considering the magic we've seen on the field from James Rodriguez (pronounced Hah-Mez, not James), David Ospina, Juan Guillermo Cuadrado and the rest of Los Cafeteros, the excitement might just continue. They've got a lot to play for, too, it's been a long 16 years since Colombia last made it into the tournament. While Brazil may be the favourite going into this match, here are seven countries that have reason to support Colombia for another World Cup win. Sorry Brazil!
1. Costa Ricans
It may have been a tragedy for the Greeks but when Costa Rica won the match in a penalty decider this week, it was a huge win for the Ticos. They might just still be in with a chance, too, although a game with the Netherlands is coming up. Whatever the case, their Colombian coach Jorge Pinto, the first Colombian coach to ever make it to this point in a World Cup, has taken them far and I'd say that warrants a cheer or two for Colombia from the Costa Ricans.
2. Argentinians
The Colombian football revolution has come and the man in charge is Argentinian coach José Pékerman. He has steadily built the team up, saying their success has been "the result of work and patience of all the players and a whole country's support." While Messi and the boys are still in the running after just managing to pip Switzerland to the post, they might as well get on board and cheer Pékerman and Colombia on for this match.
3. North Americans
The Colombian players are quite the performers, aren't they? And I'm not just talking beautiful goals and strategic set-ups. Once that ball sweeps through and hits the back of the net, the Colombians do some of the most entertaining celebratory dances we've seen from the Cup so far. One of their latest dances even seemed to pay homage to the late Michael Jackson's "Thriller".
4. Australians
I watched the coverage of Colombia's game against Uruguay last week and I really just couldn't have put it better than the SBS commentator who called James' specky of a goal "the sort of goal you'd want to pour on your strawberries." Even FoxSport, particularly impressed with Rodriguez, has suggested Australians get behind Colombia now that the Soccerroos are out of the tournament. "Backed by some of the World Cup's most colourful – and passionate – fans, Colombia seems to possess all the key ingredients for an ideal back-up team."
5. English
Jamie Sanderson of Metro published a piece that went viral last week, imploring English fans to support the Cup's dark horse, Colombia. He cited reasons like their stylish play and their team spirit. "Before we all lose our faith in the beautiful game, I say we should adopt Colombia as our second team to follow for the remainder of the tournament." Yes!
6. Italians
We haven't forgotten about the fancy footwork of Juan Guillermo Cuadrado, have we? Certainly not, and neither have the Italians. They'll surely be backing Colombia because Cuadrado currently plays for the Italian club ACF Fiorentina in Serie A.
7. Middle Easterners
Ok, not a country, but both Turkey and Lebanon have reason to support Colombia. One of the greatest moments from the World Cup so far would have to be when Pékerman sent Faryd Mondragon on for a five-minute substitute appearance during the game against Japan, making him the oldest World Cup player at the age of 43. Mondragon was born in Colombia but is of Lebanese descent and also represented Turkish team Galatasaray from 2001 to 2007. That deserves some cheers in Colombia's direction, surely.
Everyone else
If your team is out of the Cup then it's time to get behind Colombia, if only to continue seeing the boys entertain us with their skill, passion and killer dance moves. Los Cafeteros are making history, after all. Vamos Colombia!
Originally posted as Why we should all support Colombia during the World Cup.