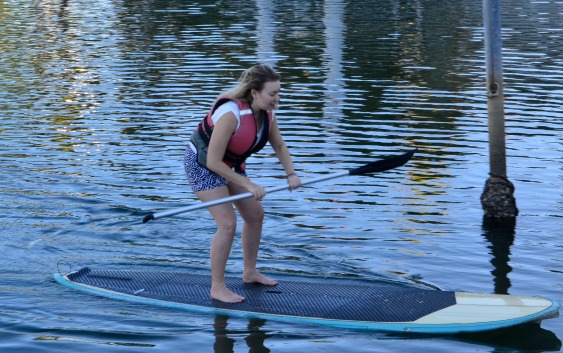 "The next time we come stand up paddle boarding, we're going to have to make more of an effort to look sexy," I called out to my boyfriend, wearing a life jacket, an oversized t-shirt and a pair of shorts I'd just bought from a store down the road. "It's not as easy as it looks on Instagram, is it?" I went on. He was still at shore while I was slowly drifting away from the sturdy security of land, still trying to figure out how to stand upright without falling into the water.
I was expecting to be a blonde goddess gliding effortlessly across the calm waters of the Noosa River in my bikini with a svelte body and the balance of a well-trained yogi. Instead, I looked like a mad woman on a mission. Mission: Remain dry. I looked out to the distance with unwavering focus, my knees were bent, my core engaged, my knuckles white as I gripped the paddle, determined to stay atop the board.
I thought I was going to look something like this:
Instead, it was something more like this:
I'm not sure why I had the life jacket on. I'm all about safety first, but I'm a relatively strong swimmer and the canals were as calm as a tourist town in off season. Excited to get into the water, though, we must have popped on the jackets without thinking they'd ruin our sexy SUP snaps.
Apart from looking like complete newbies while paddling around Noosa's canals, it was a whole lot of fun. A family of four came round the corner at one point looking like paddle boards were their usual mode of transport. The kids were around three years old and sat at the front of mum's and dad's boards. I smiled over at them, trying really hard to look like a local, like I too paddle board every morning, in my life jacket. They smiled sympathetically back as I wobbled passed, my hips shifting, my knees buckling and my shoulders bobbing.
The boyfriend fell in a few times, we encountered a few small waves as boats whizzed passed and in the end we decided, even though we weren't at our sexy SUP best, we just had to take some photos.
We hired the boards from our hotel, Caribbean Noosa, for around $40 for a couple of hours. And the owner gave us some good tips for first time stand up boarders. Unfortunately, though, looking sexy wasn't one of them.
Tips for first time stand up paddle boarders:
1. Don't look down
If you look down, you fall down. Always look straight ahead to keep your balance and to avoid falling into the water.
2. Keep moving
The best way to keep on the board, and get on the board in the first place, is to keep it in motion. Once the board is stationary, it's more difficult to keep your balance.
3. Engage your core
Just like all other exercises which involve balance, it all comes down to core strength. Engage your core and you'll stay on the board and avoid getting wet.
4. Hip distance
You feet positioning on the board is important, too, and your feet should be about hip distance apart to ensure you've got a good grip and good balance.
5. Paddling
When paddling, make a digging or scooping motion with the oar. Alternate between sides to go straight or paddle backwards to slowly turn around.
Have you been stand up paddle boarding before? Did you feel as uncoordinated as I did? No? Go on, rub it in.