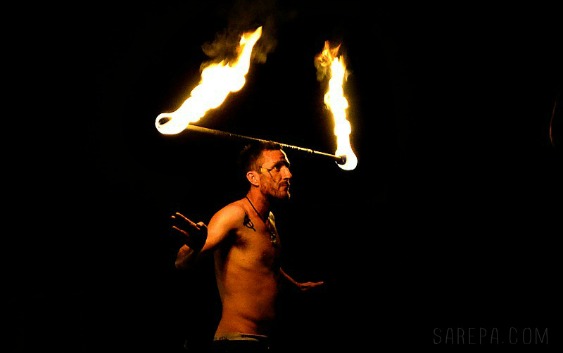 It was while watching the telly one night a few weeks ago that I heard some ominous news. The first was that parts of Brisbane should expect temperatures to reach up to 40 degrees Celsius over the weekend, and the second, probably more annoying than the sweltering heat, was that 20 of the world's leaders would be gathering in the city for the G20 Summit. Those two reasons seemed as good as any to skip town for the weekend and make plans and go bush.
While the temperatures were just as hot, if not worse, an hour west of Brisbane, we did manage to escape the political whirlwind the city had found itself caught up in. With our eskies and tents, swimmers and food supplies, my partner and some friends of ours all bundled into the car to what was called Preconception Burn Weekend. Put on by the folk who organise the Burning Man events in Australia, Preconception Burn Weekend was a mini-Burning Man festival out in the bush on a private property where the community could get together, wear as little clothing as possible and share ideas about future Burning Man festivals in Queensland.
What's Burning Man?
Well, if you haven't heard of Burning Man, it's a festival which originated on a beach in San Francisco after a group of friends had a party on the beach to celebrate the summer solstice and burnt off an wooden effigy of a man. Several years and many burn-offs later, the gathering has become a rite of passage, an act of self expression and an international quest for community, self reliance and creativity. In the '90s, the humble beach celebration moved to Black Rock Desert in Nevada where the largest Burning Man festival has thousands of people flocking to every year.
To be honest, my partner and I didn't really know what we'd gotten ourselves into when a friend of ours invited us to go along. While hanging out in the bush and embracing our inner hippie for the weekend sounded like the perfect way to unwind after a busy working week, we'd wondered whether we'd actually, I don't know, fit in. We bought our tickets a few days beforehand and with our receipts we were sent information about what Burning Man is, their message and the culture they embrace. In the email was a list the 10 Burning Man principles, which included things like radical inclusion, gifting, decommodification, self reliance and self expression. People are encouraged to give without expectation and to participate in and interact with others without hesitation. Can you imagine what that sounds like to an introvert? It sounds terrifying. But there we were, in the bush, food supplies to be shared, awkward smiles at the ready.
"Think about something you can offer to the group," one friend, who had been to a few Burning Man events in Australia and overseas before, had said a few days before we arrived. "Perhaps you can do a performance, or offer food, it's completely up to you." For the socially anxious amongst us, it can be a difficult task going up to a complete stranger and making an offering, or striking up a conversation. But luckily, as soon as we rolled the car into the campsite we were welcomed with a hug and some warm words from one of the regulars. And I don't mean just like a flaky, peace and love, rose-coloured glasses type hug, the kind you might receive at a rave from a friend who's just discovered the depths of their emotions through a drug. It was more like a: Hello, have a great time and feel at ease, newbie, you're among friends, kind of hug. Sigh of relief.
We were just there for two days, one night, but the atmosphere, on the most part, was really chilled. The people, the vibe was clear, precise, predetermined, in action, alive. We fire twirled, pole danced, practiced yoga and shared meals and didn't spend a cent while we were there. Thank you, decommodification. We cooked up meals for strangers and they too cooked meals for us. Ice cream, brownies, chai tea, alcohol, chocolate, lollies, crystals, jewellery, were all passed around as gifts and the circle of giving and looking out for one another went on into the night.
That extension of giving and looking out for one another extended to the environment around us, too. While there were plans to burn our own effigy, because of the fire bans in the area there was just a small burn-off. Even the local fire department came along to spray water onto the embers so that they wouldn't cause a fire hazard. Families huddled around the flames and children, in the care of their parents, had their first introduction to the fire, the culture, and the people it engulfed.
Have you been to a Burning Man event? I'd love to hear about your experiences. Write me in the comments below.