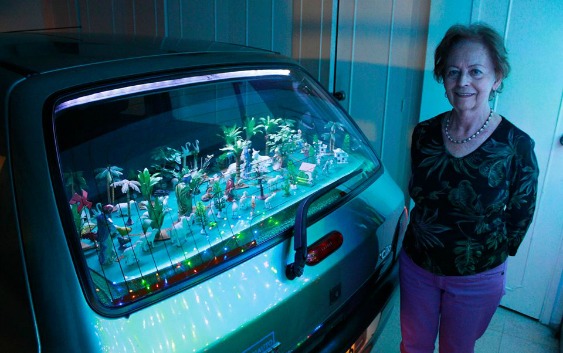 Earlier this week I published a post about Why Christmas in Colombia Will Ruin the Holiday For You Forever, and I really cannot tell you how surprised I was to receive such amazing emails, comments and feedback from people in response to what I wrote. In the last couple of days I've had more than 100,000 views on that post alone, had more than 100 new friends join me on Facebook and received more than 80 comments and emails. And while that all just looks like a bunch of numbers, what they really tell me is how proud Colombians are about their country and their culture, and I just love you all for that.
People have contacted me from all corners of the globe, saying thank you for posting about Christmas in Colombia, and while I'm flattered, the thanks really should be extended to you; for making it such a pleasure to get to know and fall in love with Colombia over the years; for welcoming me into your homes and your lives; and for sharing what you love about Colombia with me.
To share with you just how excited I've been to receive your messages and comments, I thought I'd make a list of some things I've learnt about Colombians over the years, and how you've proven them to me through your comments over the last couple of days.
Here are some of my favourite comments I've received this week, and how they perfectly illustrate Colombian generosity and hospitality.
1. No matter who you are, you're always welcome to the family home:
"Thanks for all the lovely things you say about my country i love you for that. If you ever get back to Medellin, i will tell my mom to cook you ajiaco or arepa con quesito. I won't be there but they can take care of you hahaha."
2. Colombians are all about family:
"My father is from Colombia and this will be the first time I am spending Christmas with him and my extended family in Colombia…thanks for the insight !!! So excited to get down there!!"
3. They're excited to share their cities with others:
"Beautiful comments about my beloved Medellin. Definetely, we – the "paisas" – should give you a special reception next time you visit us. Maybe a ride on "bus de escalera" around the East countryside."
4. You can take the girl out of Colombia, but you can't take Colombia out of the girl:
"This article made tears come to eyes as a Colombian living in nyc since I was 14 this make me feel really nostalgic and miss a Christmas in my beautiful country thank you so much for showing this part of Colombia I totally agree with you my Christmas its ruin because every since I left it has never feel like Christmas to me!"
5. Colombians are some of the happiest people on the planet:
"I love that no matter how much money people have or don't have, everyone always has food to share, a smile on their face, and positive things to say. Thank you for shedding a positive light on our beautiful country and people. You're a doll! Anytime you want to party like a Colombian in Boston, just give me a shout."
6. No matter how much guaro was had, Colombian's always remember a new friend:
"We are in the group picture, we remember that night so much. We had a blast in Mangos."
7. People have their Christmas priorities right:
"There's so much more love and laughter and much less about what presents you give and get. It's all about dancing with your favorite cousins and enjoying the mountains and fresh air. There's nothing like a Christmas in Medellin."
8. Sharing is caring, especially when a party is involved:
"And if we talk about parties and festivals, try the Barranquilla Carnival once! And you will keep trying it for the rest of your life!! (Im from Barranquilla, can you tell?? he he he he) of course, hit me up and Ill get you a costume and dance with you on the street for 10Kms long, hydrating ourselves with rum and a couple of shots of aguardiente!!!"
Again, thanks so much for reaching out and sharing your stories and thoughts with me!
Big abrazos!