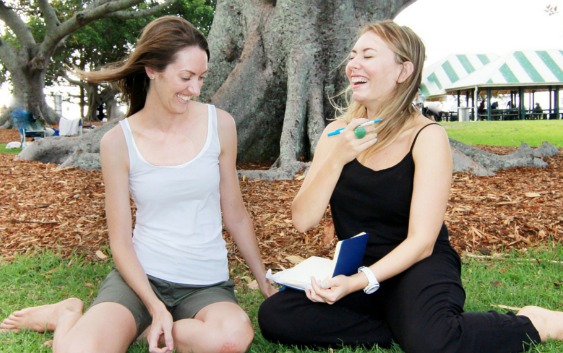 Put away the distractions of everyday life for the weekend and join yoga teacher and writer, Kirsty Innes, along with writer and eager yogi, Sarah Duncan, as they marry the internal practice with the pursuit of creativity.
A retreat for writers and those looking to explore this powerful creative outlet, you'll spend the weekend venturing within during your yoga practice and through meditation, then reflect upon and reignite your creativity through writing.
Nestled in the picturesque surrounds of the valley of Pomona, surrounded by wildlife and a patchwork of rolling hills, you'll disconnect, return to self and allow your thoughts and creativity to revel themselves on the page.
When
Saturday 7 March – Sunday 8 March, 2015
Please arrive on Saturday from 9:30am and no later than 10am so you have time to register and settle in to the beautiful surroundings. The retreat will finish at 2pm on Sunday.
Location
An exclusive property nestled in Pomona, Noosa Hinterland approximately 1hour and 20 minutes drive from Brisbane. Address will be provided upon booking.
Investment
$370 per person, twin share
Booking deposit of $200 is required to secure your spot. Balance is due no later than 6 February.
Accommodation
Luxe twin room suites with wonderful mountainous views
Inclusions
2 days, 1 night in this serene mountainside retreat space
Nutritious and delicious homemade vegetarian meals
Guided meditations
Bliss-filled yoga sessions
Focused writing inquiry sessions
Optional morning walk in the surrounding hills
… and many more special surprises
Booking Information
For more information or to book your spot, please contact Sarah by sending an email to info@sarepa.com
Meet your hosts
Sarah Duncan, Writer
Sarah Duncan is a creative writer and blogger who currently writes for several publications in Australia and overseas. She's a cafe loiterer, eager yogi, and is happiest when she has her hands on a pot of tea and a good book.
Kirsty Innes, Yoga Teacher
Kirsty Innes is an English language teacher, book-lover and yoga teacher, whose classes are insightful, creative and deeply nourishing. When not on her mat, she can be found out in nature capturing life through the lens of her camera.
Visit Sarah's website to learn more >>
Visit Kirsty's website to learn more >>
Email: duncansms@outlook.com.au
Phone: 0423 490 419
Email: kirsty@kirstyinnes.com.au
Phone: 0410 525 482
Photo credit: Peter Cabral Photography