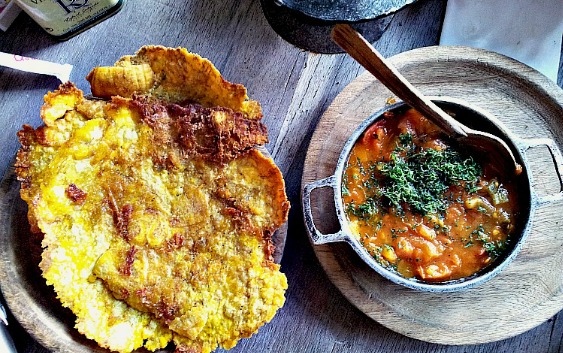 There's a bit of a misunderstanding when it comes to food in Latin America. Many people think that the menu is about the same, no matter which country you're in. That food from Peru will be the same as in Venezuela, and the food in Chile will have just as much chilli as the food in Mexico. "I'm not sure I'll like the food in Colombia," a friend once told me, as  I told her about my upcoming trip to the country. "It must be really spicy," she said. But that's the thing, the food in Colombia is so much different to other countries in Latin America. While there are certainly similarities, Colombian food is a very particular culinary experience. In some areas of the country, soups are your go-to meal, in other areas, coconut rice with fish is the way to go. Depending on the climate and the region's rich cultural history, the platos tipicos vary and each dish has it's own story to tell with every mouthful.
Here are some of my favourite Colombian meals, but there are so many more which I haven't covered. Which Colombian dish is your favourite?
1. The Arepa:
I couldn't write about Colombian food and not mention the arepa. While not everyone is a fan of he humble corn disk, you have got to admit: it is versatile.
2. Salpicon
Yes, Salpicon is considered a meal. At least in my books, anyway. This sweet Colombian dish is a sweet and fruity cocktail full of fruits, Colombiana soft drink and fruit juice.
3. Fish with coconut rice
One of my favourite things to eat and a big hit on the coast, coconut rice with shallow-fried fish. Delicious!
4 . Bandeja Paisa
It may look like a heart attack waiting to happen, but you simply cannot travel Colombia without attempting to eat a Bandeja Paisa. It's the plato tipico in Antioquia, especially in Medellin.
5. Ajiaco
From Medellin to Bogota. Ajiaco is a staple in the capital, especially on those unforgiving drizzly days. It's a rich and hearty chicken and potato soup.
6. Bunuelos and Natilla
A traditional food eaten at Christmas in Colombia, Bunuelos are fried bite-sized cheese balls, while Natilla is a kind of custard dessert.
7. Empanadas with aji
Empanadas are popular as either a snack or an accompaniment to a main meal in Colombia. They're made using the masarepa dough then usually filled with shredded pork, beef or potato and eaten with aji, which is a zesty green salsa with herbs and chilli.
8. Arepas de Yuca
You didn't think there was just one spot on this list for arepas did you? There are also arepas made from yuca, or cassava, which is a form of root which is commonly used in many dishes including yuca fries, empanadas and bread.
9. Lechona
Lechona Tolimense is the most loved lechona in the country, so I'm told, and is basically pig stuffed with rice, herbs and spices and then left to cook in its own juices for 12 hours. It's a special dish usually reserved for New Year celebrations and birthdays.
10. Changua
Changua is a hearty breakfast popular in Bogota and throughout Boyaca and Cundinamarca Andes regions. It is made up of milk, eggs and onion but each family, each cook, is said to have a slight variation of the recipe.
What did I miss? What is your favourite Colombian food? Let me know in the comments section below.
Want to try these Colombian meals for yourself? Why not join me in Colombia this July. Click here for more information.