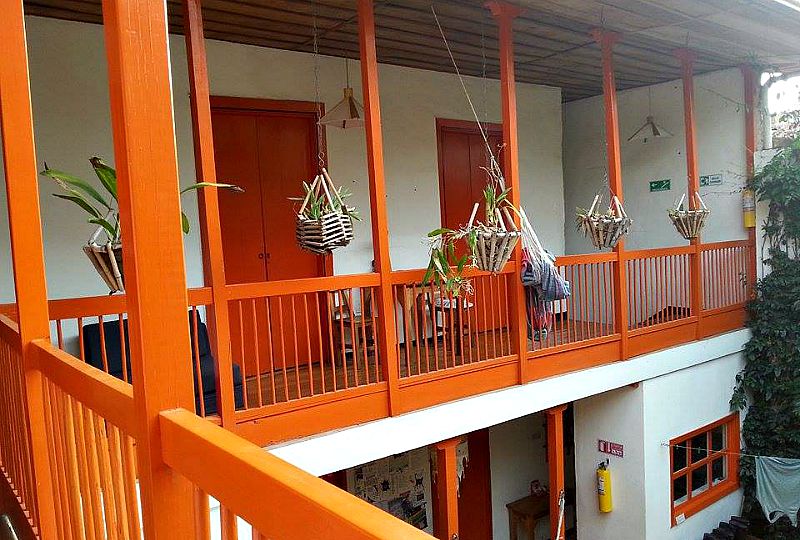 The last time I was lucky enough to travel Colombia, I was actually settled in one place. I didn't stay in many hostels in Colombia, I shared an apartment, I had a job and I even found a bakery that I would pop by for breakfast every other morning. I was (sort of) living like a local.
But this time around I was jumping from one destination to the next and my budget was pretty limited.
Hostels in Colombia are pretty easy to come by, though. There are LOADS of them. But never having stayed in many before and only stopping by a few to visit other expats and backpackers (there was quite a bit of drinking involved) this time around I knew I had to do my research.
Below you'll find a list of places I stayed at during my trip to Colombia. They range in price and quality, but it really depends on what you type of traveller you are and what you prioritise. If you like luxury, then you might steer clear of some, but if you prefer to spend your money on adventures and experiences rather than where you sleep, then others might just be what you're looking for.
Hostels in Colombia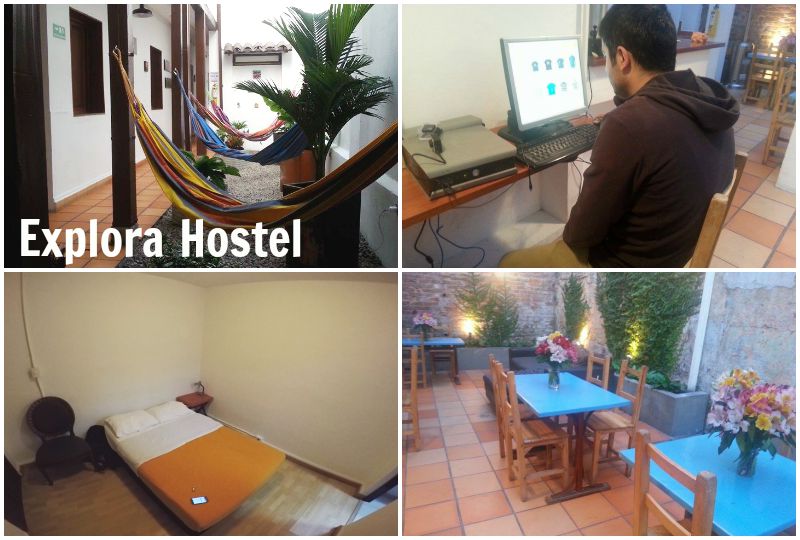 Bogota: Explora Hostel
The Hostel: Explora Hostel was our first stop in Bogota. After a huge 20+ hour flight from Australia, I wanted us to be comfortable for at least our first few days in the country without breaking the bank. Compared to hostels in Australia or Europe, hostels in Colombia are comparatively cheaper. But you still want to make sure you're getting your money's worth while you're in the country. Explora Hostel, I thought, was a great option for both budget backpackers and those looking for bit of privacy in a private room.
The Price: My partner and I stayed in the private room with private ensuite for three nights and it was great. The bathroom was clean, the room was quiet and we had (mostly) hot water. It took quite a while for the hot water to kick in on one of the nights, but generally it was hot and with good water pressure. We paid $75,000COP (around $34AUD or $24USD) per night, which ended up being $17 per person per night. At the time of writing, a single bed in a six-person mix dorm costs $27,000COP ($12AUD or $9USD) and $30,000 ($14AUD or $10USD) in a four-person mix dorm.
The Location: The thing with organising a hostel in Bogota is that you really need to take into account where you are going to be spending most of your time, because the traffic in Bogota is atrocious. We could have stayed in a safer, quieter, more chilled out suburb than La Candelaria, but it literally would have taken hours each day to get to and from the places of interest in the city. At Explora Hostel we were within walking distance from restaurants, galleries, the Gold Museum, the Botero Museum, Plaza Bolivar, Parque de los Periodistas, Transmilenio bus stops, Monserrate and la Septima.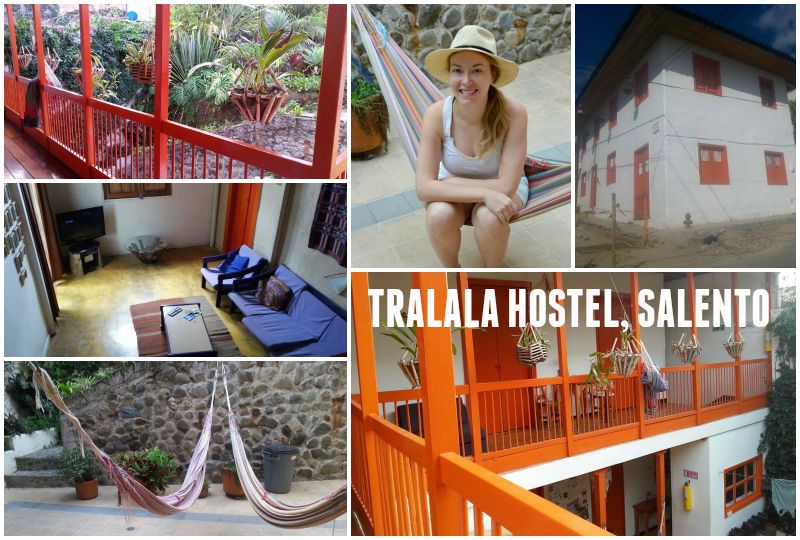 Salento: Tralala Hostel
The hostel: Salento's Tralala Hostel was suggested to me after I put out the call on Facebook to see what other people had experienced. I stayed in a hotel a bit outside of this sleepy coffee town the last time I was here, so I definitely wanted something more centrally located and also a bit on the cheaper side. I would have to say that Natalia, our host, greeted us at the front door with a big smile and she was incredibly helpful and friendly the entire time we were there, always helping us get our head around the maps and suggesting what to see and do while we were there. Thanks to her we caught our jeep to Cocora Valley on time and even managed to organise an awesome horse ride adventure. Two thumbs up to the staff!
The Price: We took up two single beds in a shared room. The room was actually two smaller rooms adjoined by a doorway, so it felt like we were actually in a room with just one other person, which was super chilled. It cost us $22,000COP ($10AUD or $7USD) per person per bed and we stayed there for three nights. Our room was downstairs near the kitchen. There were hammocks hanging in the courtyard and the facilities and bathrooms were all clean, which was great. It was a very relaxed kind of place, no late night parties here, just movie nights and hammock lazing.
The location: Salento isn't a big city or anything, so no matter where you stay you're probably going to be within walking distance of many things. But Tralala Hostel was just one street away from the main square, heaps of restaurants and Calle Real, the main street in town, which leads to the stairway up to the lookout point. So, the hostel gets points for that. You're just a short stroll from the transport terminal too, which is where you'll be dropped off if you're catching a bus in from Medellin or other cities. People are super friendly around here, too, so if you can't find the hostel just ask someone where Tralalalalalalalala is and they'll happily show you in the right direction.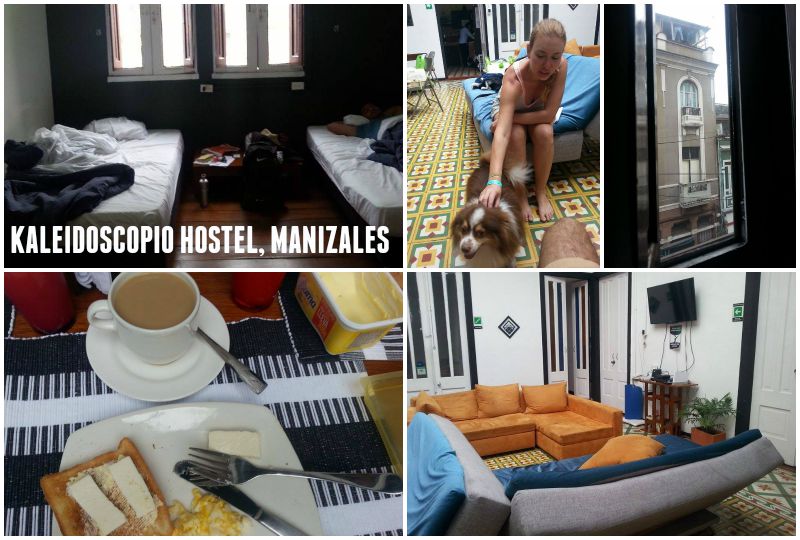 Manizales: Kaleidescopio Hostel
The Location: After being in Salento for a few day, pretty much any city in Colombia is going to feel busy and bustling in comparison, including Manizales, which, compared to Bogota, is a pretty chilled city in itself. We caught the bus from Salento to Manizales, which dropped us off in the transport terminal. After a quick trip on the Metro Cable up to the centre of town, we then walked about, Oh, I dunno, 15 blocks to our hostel Kaleidesopio, which is also within walking distance of a bunch of attractions including Chipre and the cathedral. We were just across the road from a delicious, I repeat, DELICIOUS, dessert shop which sold some pretty grande sugary treats. We sampled many. Just ask Marta about it.
The Hostel: After walking 15-something blocks to the hostel from the Cable Cart stop, I could have kissed our host Marta when she offered us a cup of tea. TEA. Not coffee, not hot chocolate, but tea. For a tea-obsessed Australian, this was a very nice touch. Marta was incredibly inviting and very helpful when it came to offering information about what to see and do in Manizales. And it seemed that the people who stayed at Kaleidescopio were equally lovely, having met a bunch of people including Spanish, Canadians, Americans and Colombians during our stay.
The Price: We had a private room which had two single beds and a television and it cost us $60,000COP ($28AUD or $19USD) per night for two nights. Our window was facing a main road outside, but considering we were so busy during the days, I rarely heard anything from the room because I was pretty much out as soon as my head hit the pillow. While areas near El Cable are definitely nicer suburbs, it's not quite walking distance to the main attractions in Manizales. Breakfast (eggs, toast, cheese, juice and coffee) is also included!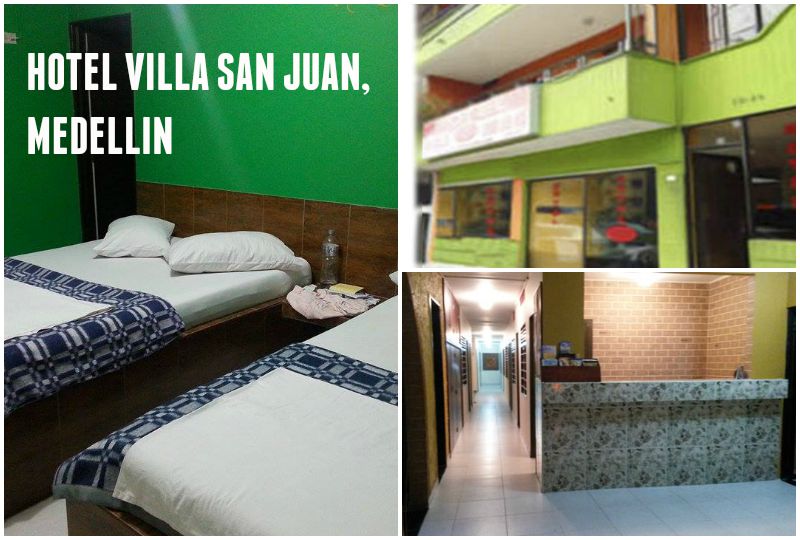 Medellin: Hotel Villas de San Juan
The Location: Now, this is where things became interesting on the trip. Because Medellin is a massive, metropolitan city with loads of appeal for backpackers, there are a whole lot of backpacker hostels that are all vying for the same crowd. But the thing is, most of the hostels are located in el Poblado, which is a nice suburb but doesn't really showcase what Colombia or Medellin is really all about. Also, the hostels look great, have nice facilities and share a community vibe, but, I was surprised to find out, a lot are actually more expensive than hotels. So, instead of staying at, what I thought were pretty expensive hostels, we stayed in a hotel with a private room and private bathroom a few blocks from a train station which meant we could explore and discover the city on foot as much as we wanted, rather than relying on taxis or buses. Instead of staying in El Poblado, we stayed near El Estadio, just outside of Laureles. We were within walking distance from restaurants on Carrera 70, supermarkets, trains and an awesome little place that sold the best empanadas I've had in Colombia so far, called Catedral Empanadas, right near Exito on the corner of 70 and Avenida San Juan. You're welcome. The hotel is located on a main road, which looks like quite an industrial part of town, but you're literally just around the corner from where the local action is.
The Hostel: Now, San Juan is technically a hotel, but don't go expecting hostel facilities. It is super basic, the walls are fluro green, the staff are locals and friendly, but they're not there to hold your hand and plan your trip for you. This is literally just a place that's good for sleeping. We didn't see any other foreigners or backpackers while we were there. My only tip would be to ask for a room that isn't right near reception. There is a buzzer at the front door which can be a right pain in the bum at 2am in the morning.
The Price: Since our budget was our biggest concern, staying in a hotel in a central location for $45,000COP ($21AUD or $14USD) per night for the room for six nights was money well spent for us. We didn't have to share our room with other backpackers. I'm not anti-social or anything, I promise, but sometimes it's just nice to go to sleep not having to worry that you're going to wake someone up when you get up the next morning.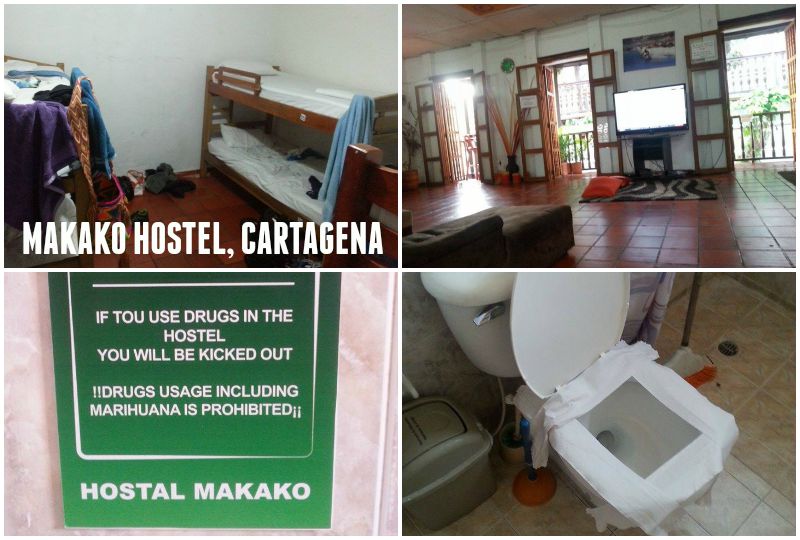 Cartagena: Makako Hostel
The Location: The thing with finding a hostel in Cartagena is there is so, so much competition, and it's damn expensive, too. There are hotels available for hundreds of dollars a night (and higher) as well as hostels for $20 per night. Now, $20 per night doesn't sound like much. But when you and your partner have to organise three nights of accommodation, that quickly becomes $120 just on accommodation, when in Medellin we spent the same for almost a week.  We were determined to find a hostel that was on the budget side of things, but also in a good location and that's when we came across Makako Hostel. Makako is in a quiet area of the walled city and is a bit run down. Give this place a bit of a face lift and it would actually be pretty good.
The Hostel: Now, this is an example of getting what you pay for, the hostel was quite run down and was in need of a bit of love and attention, but overall, it was alright. The staff were lovely, very helpful and friendly. We were welcomed by Jaclyn with a huge smile and we were instant friends. But the bedrooms were hot, air-con is only available from 7pm-10am, and one of the toilets was missing a seat.
The Price: We paid 28,550COP ($13AUD or $9USD) per night per bed in Makako, when other hostels offered beds for at least $40,000COP.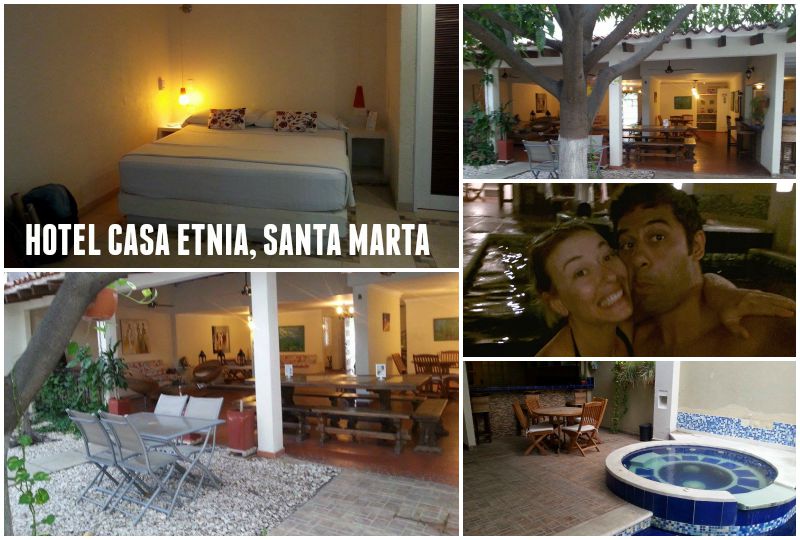 Santa Marta: Casa Etnia Hotel
The Location: To be honest with you, by the time we arrived in Santa Marta all we wanted to do was chill out in some air conditioning, swim in a pool and catch up on some sleep. That's why we traded our budget hostels for something a little more luxury. Casa Etnia is a short drive from the historical town centre of Santa Marta, and about 15 minutes from El Rodadero. We were walking distance from the Ocean Mall, which had a supermarket and a food court among other things, there were also a couple of restaurants around the corner, but just your regular take-away varieties.
The Hotel: Casa Etnia was exactly what we were after. It appears to be a converted home, so there are only four rooms at the hotel, which means it is quiet. There was one other family while we stayed there, another couple and one single woman and apart from a couple of greetings in the morning, we all kind of kept to ourselves or left the hotel to explore the region during the day. The hotel was very clean, the air-con was an absolute treat and a continental breakfast (two sweet bread rolls, a hot drink and a juice) was included in the price.
The Price: We paid $102,000COP ($47AUD or $33USD) per night for a room with a king-sized bed, television, air-con and our door opened out to the pool. And money well spent it was, too!
Care to share your favourite hostels in Colombia? Share them with us in the comments section below.