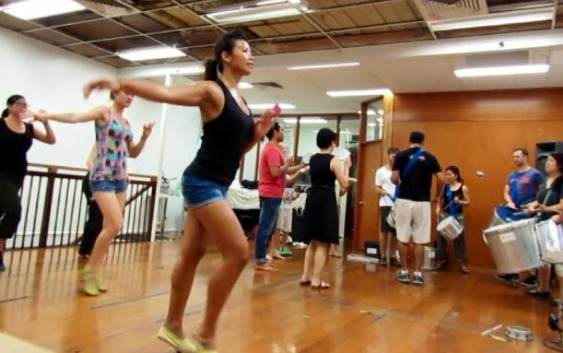 What I love about dance is the ability to let go and feel the music. To fall in love with a particular rhythm and just run with it, regardless of whether you can do the steps perfectly or know all the choreography, just feels so good. Dance is about having fun, right? OK, and looking hot, too, let's be honest. So you can imagine how excited I was when I went along to a Brisbane Samba classes hosted by one of my favourite Brisbane dancers, Jo Anne Zamora Gante.
She totally gets that dance is about feeling. Not about nailing the steps on the first go, or having perfect technique, or being able to shake your hips enough or shimmy enough or nail the Latin vibe enough. First it comes down to a love and an appreciation of the music. One of the first words to come out of Jo's mouth during the first class during our four-week bootcamp was "feel" which was quickly followed by "hamburger" while explaining how to do a Samba move. Within the first 15 minutes of the class, and with those two words alone, I knew I was in the right place.
Now, I've done Salsa a bunch of times. I like to think I can keep up with my Colombian friends on the dance floor. But Samba, SAMBA, well, that is a whole different story. I have always loved bossa nova and Samba music, though. Way back in 2006, when I first decided to live abroad in Europe, when I was homesick or feeling lonely I would listen to a CD of Brazilian classics with the likes of Joao Gilberto, Gilberto Gil and Elis Regina on it.
I'm not really sure why I bought the CD, I'd never listened to much music from Brazil before, but while living in cold and dreary England, while I was wishing for warmer weather, blue skies and a tropical beach somewhere, the bossa nova tunes soothed and relaxed me. They made me feel happy and calm. They still have the same affect on me now. I think I actually picked up the CD from a small music shop in Amsterdam and I still have it, all these years later. It's sitting to the right of me on my desk right now. The thing is, there's just something about the beat and the rhythm of that music that feels good. So, when Jo told me she was doing Samba classes, I really couldn't get myself to the studio fast enough. But, to be honest, I had no idea what to do. I would do Salsa steps instead of Samba ones, I'd swivel my hips when I wasn't supposed to, and I probably looked more like I was trying to quickly walk over hot coals than Samba, with my awkward footing and a look on my face that probably made me look like I was in pain. But, thankfully, after four weeks, I finally got my Brazilian Samba groove on.
There is no feeling in the world quite like getting a dance move right. Learning a new style of dance is kind of like learning a language. At first you feel like a bit of an idiot. You can't understand what's going on around you so you just do the minimum to get by. But then, by some source of mastery or magic, things begin to click. They begin to fall into place and all of a sudden your awkward hot coal walking shuffle has turn into an almost recognisable form of Samba. It's a miracle!
I cannot tell you how exciting that moment was. We were in a small hall during the last week of the four-week bootcamp, when we got the chance to dance our newly-learnt choreography with a group of live Brazilian drummers from Afrobeat Afro-Brazilian Drums. The space was small, the temperature was high and so was the adrenalin as we danced our hearts out to the familiar beat. If we hadn't known better, we could have sworn we were at a dance school in Brazil somewhere. The vibe and the energy were just that good. And that's when it all came together. Sure, I hadn't nailed the Samba posture, or the technique, or even the Brasilera vibe, but I was dancing and feeling the music and I allowed it to wash over me. Wait, was that the music washing over me, or the sweat? Either way, it was pretty magical. Take a look at this video from the course. Can you spot me finding my groove?
If you want to learn Salsa or Samba with Jo, then be sure to contact her at Mivida Wellness, or keep up to date with classes on her Facebook. See you on the dance floor!
The writer went along to the bootcamp as a guest, all her opinions are honest and her own.