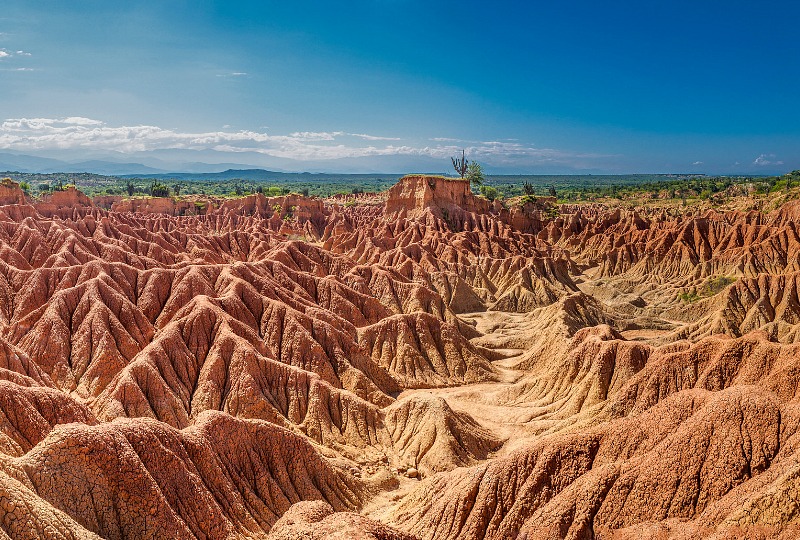 Image: Alexander Schimmeck/Flickr
The first time I saw a picture of the Tatacoa Desert on the web I thought I was admiring a place located somewhere in Nevada or California.
When I found out it was actually in Colombia I was impressed. Firstly because I didn't expect to find a desert in Colombia (I later came to know that is is not the only one!) and secondly, I didn't expect the landscape to be so magical.
We all know pictures can be modified, filters can be added to make them look even more spectacular than they really are. But then, you see places in reality and they look and feel so different from the picture, even more impressive than you ever expected. That was the case for me when I visited the Tatacoa desert.
Technically, the Tatacoa Desert is not a desert at all, but a semi-arid dry tropical forest. Do not expect sweeping sandscapes here, but, surprisingly, you can expect some rain specially at night. In fact, there's an average of 1070mm of rain here each year.
The name Tatacoa is taken from a reptilian creature, similar to a snake, which used to live in the area when the Spanish discovered the place. Sadly, it is now extinct but you can find scorpions, snakes, cacti, and up to 72 different species of birds in the area.
Things to do in the Tatacoa Desert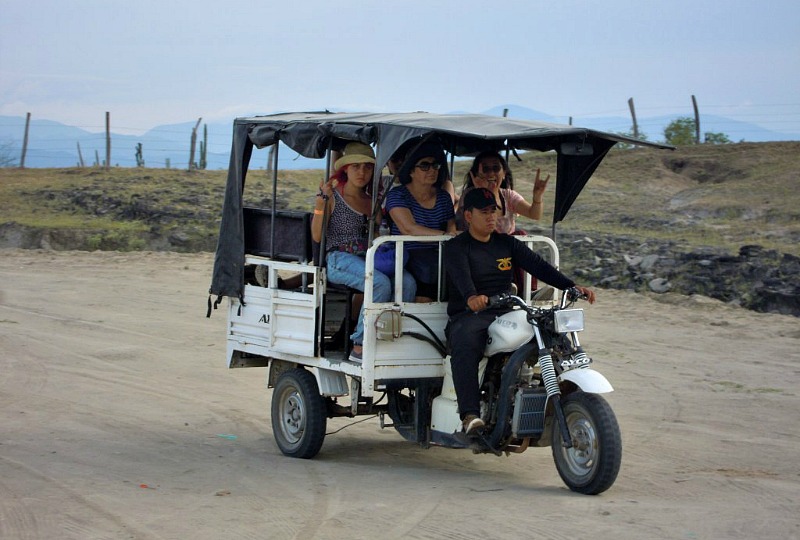 Image: InColombia.it
1. Reconnect with nature
If you are looking for a place where you can relax, swing in a hammock, and look at how amazing the sky is when the sun goes down and the stars come out, then this is the right place to be.
2. Rent a bike
During the day you can rent a bike and cycle around, taking in the landscape that changes down the valley: from the ochre colour of the El Cusco area to the grey side of Los Hoyos where there is also a small pool where you can stop and refresh.
3. Guided tours
If you don't want to adventure by yourself on a bike or you think you might "melt" on the way, you can always choose a guided tour. Usually hotels and hostels in the area can organise excursions for you or can suggest guided tours in the area. The price of these guided tours depends on the number of people in your group and on your ability to negotiate. But usually it will not drop below 30,000 pesos per person. The tour will last about two to three hours and you will go around the desert area by motobike or motocycle (depends on what they have available), and a small hike in Los Hoyos. The guide is almost always done by someone who lives in the desert and as a native will give you all the correct information about the place and the life in the desert.
4. Take in the views at the observatory
When the sun goes down and the stars light up the sky, you will experience one of the most beautiful views you have ever seen. At this time you can visit the astronomical observatory located in front of the Cusco area. Every night at 6.30 pm the astronomer will give a lesson about the stars, and you will have the chance to see them (and planets too!) with a telescope. The price is $10,000 pesos per person.
5. Festival of the Stars
Every year in July (usually between the 17th and the 20th) there is a Festival of the Stars (Fiesta de las Estrellas de la Tatacoa) also known as The Star Party, which is an event full of lectures from different astronomy experts, students and enthusiasts.
6. Town-hop
After exploring the Tatacoa Desert, you might want to visit the small town of Villavieja, which is at 10 minutes by car from the desert. Here you can find the interesting Museo Paleontoligico (Paleontology museum), where you can see some fossils from the Miocene era including the huge bones of an armadillo.
Where to stay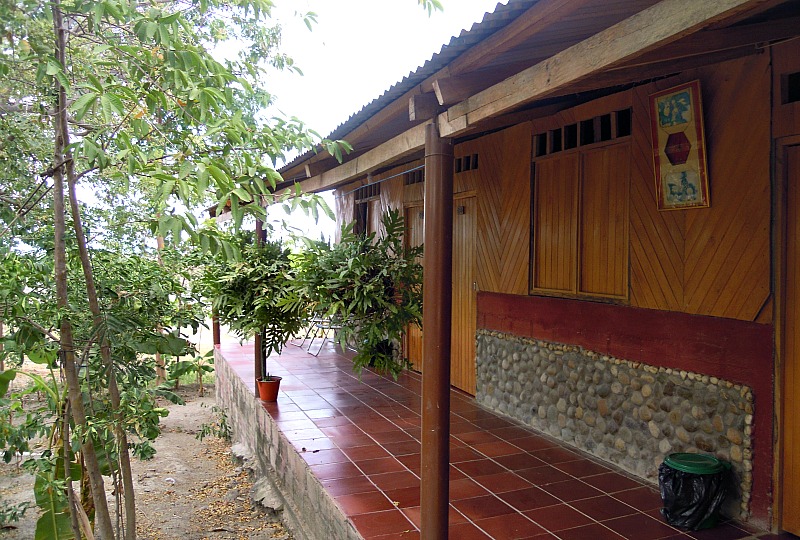 Image: InColombia.it
You have two main options when it comes to staying in the Tatacoa Desert: either sleep in the desert or sleep in the near town of Villavieja. The choice is up to you, your spirit of adventure and your willingness to adapt.
Option 1. Sleeping in the desert
There are 8 different posadas (kind of like a bed and breakfast) that are owned by local people who live in the desert all year round. One thing is for certain, do not expect anything luxurious. You'll be roughing it.
In the posada you have different accommodation options, either a private room with ensuite, private room with shared facilities, dorm room with shared facilities, or you can rent an hammock or bring your own tent/hammock.
The prices start at around 30,000 pesos for a single ensuite to around 5,000 pesos for a campsite, but they might slightly vary from place to place depending on the season and the time of the week you decide to visit.
Personally I have been to the Estadero Doña Lilia in a double ensuite room. I would suggest this place, it's clean and very close to the observatory (5 minutes walking) as well as the Cusco area. It offers good typical meals and the atmosphere is very relaxed. They offer all the above accommodation options, but I would suggest you to opt for the hammock, because (here's a tip!) inside the room it can get very, very hot making it quite literally impossible to fall asleep!
Also, if you are scared or you usually panic about insects, you might actually feel more paranoid and claustrophobic in a room, and the insects too will feel restless and they will be more likely to jump from side to side, or in your bed, and bite you. You will not have this paranoia being in an open space swinging in a hammock (although I suggest you spray yourself with mosquito repellent). To book you will need to call them at the 313 311 8828.
An alternative that I'd like to suggest is the Noches de Saturno. It's another posada just next do Doña Lilia (they are actually the same family), it offers the same options but with an extra: it has a pool! As you can expect, the prices are slightly higher then Doña Lilia's. You can call them at the 313 305 5898
2. Stay in Villavieja
If you are a less adventurous kind of person, or you just want to take advantage of some creature comforts, then the best choice for you might be staying in town at a place called Villa Paraiso. They offer private rooms with ensuites and dorms with air conditioning, TV and WIFI. I didn't sleep here myself, but I did see it in passing and it looked clean and safe to me. The contact number is: 057 – 8 – 8797727 or mobile 3015594651 – 3212345424
The address is Calle 4 No 7 – 69 Centro
Things you need to know while travelling the Tatacoa Desert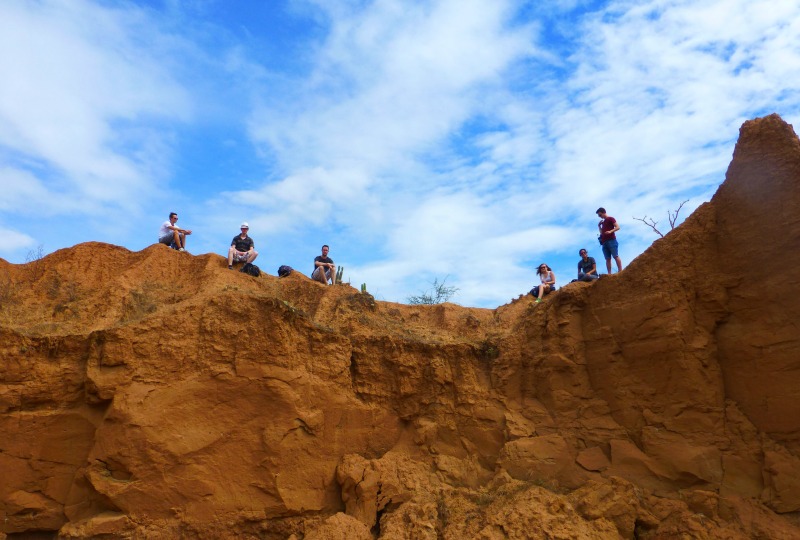 Image: Zach Marzouk/Flickr
Electricity: The electricity in the desert is limited. This means that if you walk at night it will be completely dark. It is useful to bring a torch with you, specially if you have to walk to the toilets at night. And, remember, there is NO WIFI in the desert. Also, if you will need to charge your phone or camera you will probably find that there are some shared plugs in the common areas, but none in the rooms.
Insects: It's important that you are aware that you will be in contact with the nature, this mean that crickets, spiders, mosquitos and other kind of insects and animals will be very close to you and with you, in the same room. If you are scared of them you could either decide not to sleep in the desert or use repellent stop them from coming near you.
Weather: During the day the temperature can reach easily 40°C, and you will need to keep yourself hydrated by drinking a lot of water, wear light clothes, and cover your head. Try not to walk around or schedule your tours during the hottest hours of the day. The estaderos in the desert provide cold drinks such as water, beer and soft drink, but expect to be overcharged.
Food: You can enjoy a typical and cheap meals such as carne de ovejo y chivo (goat and baby goat meat) as well as goat cheese and milk.
This is a guest post by the wonderful Roberta Padroni from InColombia.it. She is an Italian traveller who has become completely besotted by Colombia. You can read more of her work on her website, or check out her Facebook page here.

Have you visited the Tatacoa Desert in Colombia? Do you have any other tips or pieces of advice to add? Be sure to let us know in the comment section below.
Pin this post for later!