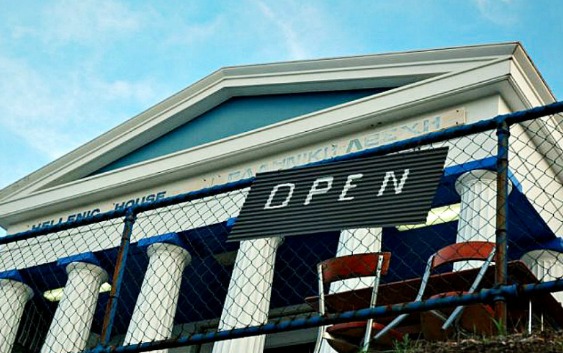 Photo credit: Must Do Brisbane
"Is that a bullet hole?" I ask, looking at one of the windows as we sit in a restaurant waiting for dinner. I use the term restaurant lightly, though. It's a poorly-maintained hall space that appears to be furnished with items taken from a curbside rubbish collection.
Mismatched chairs with ripped and faded seat cushions are placed around plastic tables, all scuffed and scratched. The smell of toilet cleaner fills the front reception area as my partner and I walk in. We looked at each other, our eyes signalling it isn't too late to turn around and leave. No-one had greeted us yet, we still had time.
We decide to stay and walk to the open kitchen in the middle of the hall where we're welcomed by a friendly woman. "Were you the ones who rang?" she smiles, looking happy to see us. We had. Looking for a Greek restaurant, but wanting something a little different from the regular busy restaurants we'd been to before, we did a search on an online food app. "Delicious food", "Don't be put off by the décor", "The best Greek food you'll have in Brisbane" were the kinds of comments made about the community hall called Hellenic House.
"The food is excellent, friendliest service, and prices very reasonable," one regular diner said, assuring that the interior was not a reflection of the quality of the food served. "Do you go to a restaurant to eat the curtains? Or perhaps nibble on a chair?" the reviewer asked. "No, you actually go there to eat food!" Many comments encouraged low expectations when it came to the furnishings, but when food was mentioned it was with love and appreciation.
We'd called before heading along, just to make sure they were still open. "What would you like?" the girl behind the counter says. The menu is written in faded marker pen on a whiteboard which leans against the stainless-steel counter on the floor. Dips, breads, seafood and meats are all on there, all the Greek food favourites. I worked at a Greek restaurant for years while I was studying and now the food from Greece is high on my list of favourite cuisines.
It's the lemon that gets me. Almost everything tastes better with a squeeze of lemon, a sprinkle of salt and some dried herbs. We order the grilled octopus and the lamb souvlaki, as well as pink fish roe taramasalata dip, a Greek salad and some bread. Sitting on the ripped chair with the foam spilling out from one of the tears, I secretly wondered if we'll get out of this dining experience without getting food poisoning.
Faded images of past Greek soccer heroes hang on the walls, which flake as layers of paint curve like the petals of a fragile flower. The carpet is torn in the corner of the room and strands of material curl up like tangled bits of hair on a hairbrush. A group of men in their thirties sit around a plastic table toward the less well-lit side of the hall. They drink, talk loudly to each other in Greek and laugh; one pats another on the back as he joins the table, arriving after having a smoke outside. Just beyond them, still inside the hall, is a makeshift barbershop. A chair, a set of drawers and a mirror, as well as a sign to indicate that, yes, this is a barbershop, stands in the corner. I wonder if some hair will end up in my dinner.
The pink fish roe dip arrives at the table, so does a basket of crusty bread. I've been done with bread for a few weeks now, I'm on a health kick and I don't feel like I'm missing out on much until my partner goes in for a scoop of the pink goo. He looks up at me with surprise and the two words that come out of his not-so-easily-impressed mouth, "It's good", give me the OK to go in for a piece of bread myself. It's worth it.
Then the plates of food come out. The salad is full of oil-soaked olives, fresh feta cheese, tomato and cucumber. The lamb, squeezed with the all-important lemon, was cooked over an open flame in the kitchen. The octopus is plump and moist, sprinkled with paprika. We look at each other with disbelief then don't manage to say another word until the end of our meals.
It was like we'd just been invited over for dinner from our Greek grandmother and she'd dished out a lazy Sunday meal for us. The plates are big, no fancy city-dining meal sizes here. They're the size you'd expect from a family dinner, where you're not afraid to ask for a little extra on your plate, or even seconds. "Can we have more bread, please?" I ask. It's like our imaginary Greek grandmother knew we were hungry and piled the food generously onto our plates.
While there weren't any grandmothers in sight, we did find out that an older Greek woman does come in to drop off sweets and desserts each week. And once we'd finished dinner we headed straight for the dessert shelf where we saw the crusty baklava portions. The flaky pastry sheets are drenched in honey and layered between sprinkles of crushed nuts. We use our hands and lick the honey off our sticky fingers, feeling like we've discovered some secret gem in the quiet streets of Brisbane's inner-city suburb of West End. But, Hellenic House is no secret. The community hall has been a place for the old Greek community of the area to get together for decades.
The elderly men get together on the balcony by day and play backgammon while drinking their strong coffees. As we walk out of the hall, with full bellies, I wondered out loud, "I didn't think places like this existed in Australia." Do you know the establishments I mean? They're common in South America, and in many parts of the developing world; the small hole-in-wall places you wouldn't normally look twice at, with a humble facade but with a hot stove and a family of people creating simple but delicious food. But while walking out the huge poster stuck to the front fence was a sign of the hall's future, and the real reason why places like this don't last long here in the developed world.
I hadn't noticed it walking in, I was probably too focused on anticipating what was to come inside, but there was a large poster signalling that the community hall was to be knocked down to make way for a residential apartment building called Olympia. An article was written about the impending demolition in the Brisbane Times by Tony Moore last year. Moore spoke to long-time Hellenic House patrons, including a gentleman by the name of George Hatzakis, about how they felt about that the community hall would soon be no more. "Of course we are angry," Mr Hatzakis responded to the then rumours the hall would be bulldozed.
"If this club is demolished where will the older members of the Greek community go?" Well, that was a year ago, and yes, Hellenic House is to be bulldozed as part of a joint venture between the Greek Orthodox Community and dentist-turned-developer, Dr. Nicholas Stephen Girdis, who this year made Queensland's Top 150 Rich List according to the Courier-Mail. Hellenic House manager Steve Kassiou called Hellenic House the "true heart" of Brisbane's Greek community in Moore's report. "If you want to find a Greek person you come here," he said. "You don't go to the Greek Club. If they demolish it, it will be a disgrace to the Greek community."
Hellenic House has been part of the local Greek community since 1922, when the building was purchased with the intention of transforming it into a Greek Orthodox Church, the first in Brisbane. The church was instead built on Charlotte Street, but the Russell Street building remained in the Greek community's possession and was later used as a community hall.
"Many Greek people in West End will have a connection to this building and its columns," reads a walking tour guide led by local West End residents.
"For many years it was the gathering place for Greek families from across the city. For over forty years, the clack of backgammon tiles has stuttered throughout the day, accompanied by strong Greek coffee, gossip, political debate and ouzo."
But that is all set to change.
"The stylish entry and foyer provide a welcoming ambience for occupants and their guests. The ageless and clean architectural design delivers a sense of expansive, private living spaces matched with functionality bred from experience," the new residential development's website reads. "Living at 'Olympia on Russell' provides a unique opportunity for you to live the life of your dreams."
Unfortunately, there's no mention of backgammon, or strong Greek coffee or where the local Greek men and women will congregate when their community hall is gone.