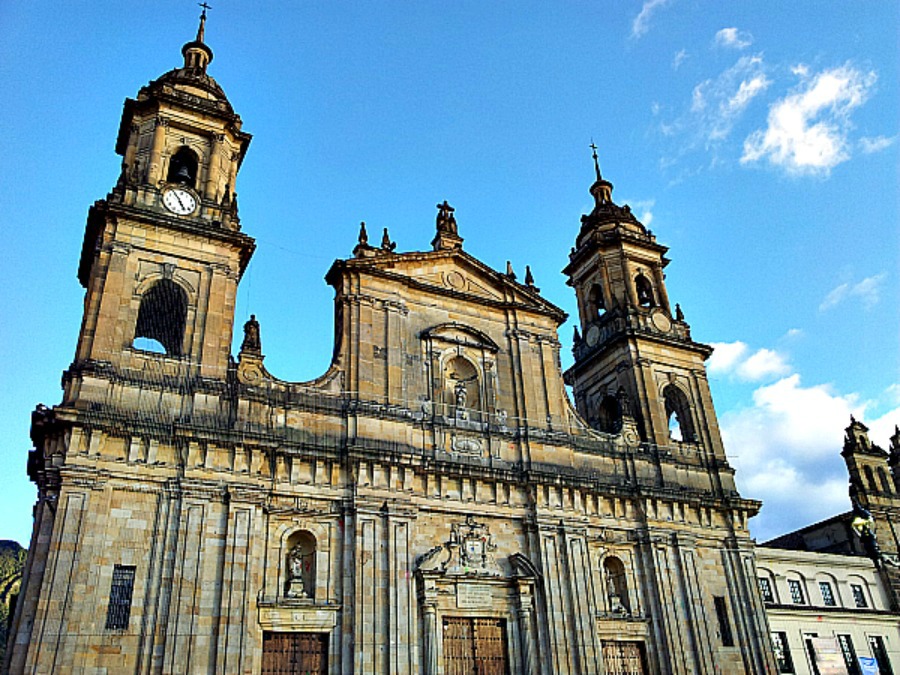 1. Only pass through in transit
Listening to the chaotic hum of the traffic in Bogotá might not necessarily be on top of many travellers' bucket lists while spending time in Colombia, instead opting for colourful itineraries full of Caribbean beach-lazing and cobbled path wandering in Cartagena, but the city is worth exploring beyond the airport terminal. On the first two occasions I visited Colombia I didn't even consider the capital city, thinking it was too busy and too chaotic to make it onto my tourist map. But on my first visit to the Andean city, I stayed for more than a year.
2. Avoid public transportation
Travelling on the Transmilenio bus system in Bogota during peak hour is a daunting experience. I had been pushed and nudged, poked and prodded before accidentally making it to second base with a fellow passenger any number of times. But it was on this busy bus system that I witnessed some interesting cultural nuances that tourists passing through wouldn't necessarily pick up on, including, my favourite, the bus seat hover. Unprepared to sit on a warm seat just made available by a departing passenger, Colombians hover over seats until the unwelcoming warmth of someone else's bum has left. I saw this many times on bus trips during my stay in Bogota and at first didn't understand what I was seeing. But now, it's one of those memories that continues to leave a bemused smile on my face while reminiscing.
3. Ask the waiter to hold the cheese in your hot chocolate
People from Bogota, or Rolos, have perfected the art of cuddling up with a hot chocolate. Not only do they have a specific word which means spending time cosying up, Arrunchis, but they have turned the simple joy of hot chocolate into an event in itself. I was introduced to my now favourite meal, Chocolate Completo, in an establishment which has been perfecting the treat for some 400 years, La Puerta Falsa. The meal includes cheese and bread, which you plop into the cup before sipping and scooping until it's gone. For goodness sake, a hot chocolate is so much better when there's melted cheese at the bottom of it. And given Bogotá is located some 2,600 metres above sea level, the climate can get quite crisp, making it the perfect weather for it.
4. Listen to all the advice you receive

Generally, Colombians just want foreigners to leave their country with a good impression. At least, that's my experience. But that often meant I was on the receiving end of some nanna-like advice which could have led to missing out on a whole lot of fun. "Be carefully walking alone, Sarita," they'd say. "Don't go to La Candelaria at night," they'd warn. "Catch a taxi everywhere you go," they'd worry. I almost always took heed but decided to take my own intuition into account, too. If I'd listened to my well-meaning Colombian friends, as well as their mums and aunties, I would have missed out on experiencing the bustling hedonistic suburbs of the historical town centre, I wouldn't have seen the street theatre performers woo crowds under the cloak of night and I wouldn't have made friends with some charming free-thinking hippies in the area.
5. Say "No!" when asked to dance
"No way, I don't dance," was my reply the first time I was asked to dance by a Colombian. Eight years, many impromptu dance lessons and more than my fair share of Aguardiente later and I can hip-twist with the best of them. If I continued to say no to dancing salsa in Colombia I wouldn't have been able to connect or communicate as meaningfully at parties, weddings and family gatherings and wouldn't have danced salsa in the dance capital of Cali.
6. Visit Monserrate with your significant other
One of Bogotá's most impressive monuments might simply be referred to as a church on top of a hill, but it is so much more than that. Shrouded in superstition and an important place of pilgrimage, it's said that any woman who brings her boyfriend to visit the church of the Fallen Lord, which sits atop the mountain, will never, ever, marry him. I tested the theory by catching the train up with my then partner and lo and behold we broke up just a couple of short months later. And I'm that was simply because of the trip up to Monserrate, not because we just weren't a good match.
7. Decide street food is a no-go zone
I was a raw vegan when I moved to Colombia but I quickly learned I couldn't understand a new culture without participating in it and that included the food, even street food. With nothing but loose change in my pockets, I ate on street corners, learned about the vendors and got the chance to see local families supporting themselves in the only way they knew how.
8. Miss out on all the action of Ciclovia Sundays
The forward-thinking (and moving) city of Bogota closes off more than 120km of main roads each Sunday and during public holidays from 7am-2pm so pedestrians, cyclists, runners, walkers and families have free reign of the roads without the fear by being run over by a taxi. Bogota is a busy, go-get-em kind of city with more than 8 million people calling it home, so it seems like nothing short of a miracle that they've managed to block off so many sections of road each week to make them pedestrian-only.
9. Keep your English language skills all to yourself
A bit of a rite of passage for those living or travelling through Bogota is paying a visit to Gringo Tuesdays at La Villa in La Zona Rosa. What starts out as a very friendly language exchange invariably ends up being the biggest party on a school night in town with all the expats and locals invited.
10. Just stick to the tourist areas
One of my favourite things to do in Bogota is to avoid the tourist hotspots and just meandering around, perhaps walking down the busy Septima or sitting in a quiet tienda for a beer. I'd watch the men walk by in their business suits, licking ice-creams as they walked hurriedly to their next meeting. "I'm on the bus, I'm almost there," they'd lie, casually making their way to the Transmilenio station. I'd listen to the Vallenato blearing from the crackling speakers set up on the roadside by an old man selling Karaoke DVDs. And I'd avert my gaze as young couples sitting on park benches would fondle and kiss each other away from the foreboding eyes of their families. Then, perhaps after a cup of hot chocolate with cheese, I'd sigh and go back to listening to the chaotic hum of the traffic passing by.
Have you been to Bogota? I want to hear about your own experiences. Let me know in the comments section.