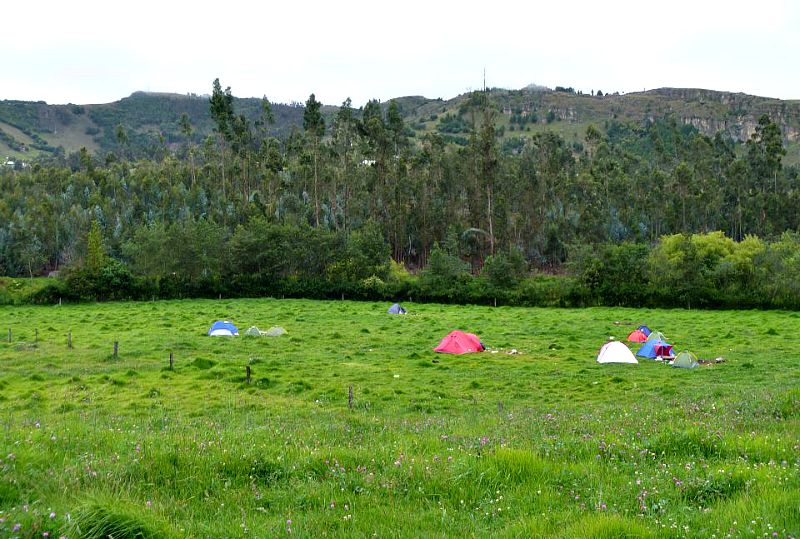 I don't know about you but I am a pretty terrible packer myself. The last time I went to Colombia I literally packed every piece of clothing I owned into a bulging backpack and then packed my carry-on luggage with books. All of which I lost, by the way, a loss I'm still mourning too.
But this time around I will be in the country for just a month and I will be travelling to lots of different locations, so I want to make sure that I pack as light as possible, but I also need to make sure I have gear that will suit all different weather conditions and activity types.
So, here goes, here's my ultimate packing guide for a trip to Colombia.
Carry-on luggage
I have written a whole post about what to pack for a long flight, but one thing I must say again is that I definitely like to pack an extra pair of clothes in my carry-on, especially when I have a short connection between my international flights. I have done the flight from Australia to Colombia via Los Angeles a number of times and twice my luggage hasn't made the plane in time to reach me in Bogota. For that reason, especially if you have a short connection time between your flights, pack an extra pair of clothes.
What else to pack in your carry-on:
Lip balm
A bottle of water
Travel socks
Hand sanitizer
Deodorant
Toothbrush and toothpaste
Phone and charger
Notepad
Book to read
Hairbrush
What to wear on the plane:
Wear comfortable clothing (duh!)
Wear your biggest and bulkiest clothing on the plane (including jackets)
Wear slip on shoes. Your body is likely to swell in the plane cabin due to the air pressure, so wear a pair of shoes you can easily slip off. It will make for a much more comfortable flight.
What to pack for a trip to Colombia:
There are so many factors that are going to influence what you decide to pack and what you decide to leave at home. What kind of climates are you going to encounter? Is rain likely? What sorts of activities will you be doing? Will you be hiking? Will you visit warm or cold weather climates or both? Here is a list of what I'm planning to pack based on the locations I'm going to be heading to, which include Bogota, Medellin, the Coffee Triangle, Cartagena and Santa Marta.
Clothing
1 x pair of walking shoes - I am going to be doing a heck of a lot of walking in Colombia. It is such a great way to get a feel for a place. In Bogota I'll be doing walking tours and will be exploring the place on foot, so a good pair of walking shoes are a must!
1 x pair of hiking shoes - I am hoping to do some hiking while in Colombia, too. And depending on the terrain I am going to need a pair of shoes with some good grip on the bottom of them. I don't want to go slipping and sliding on rock surfaces because I'm not wearing the right shoes.
1 x pair hiking pants - I have a great pair of pants that can either be used as long hiking pants, or can be rolled up and secured with a cord which turns them into hiking shorts. Something like these pants are a good option if you're low on space but need to pack clothing for a variety of climates. I can use these pants to do some hiking in the chilly climate in Bogota, or roll them up while I'm in the warmer weather of Medellin.
T-shirts and singlets – I pretty much live in white or black T-shirts and singlets. So I'll throw a bunch of these into my backpack, which I can wear casually, while hiking, or during a night out.
1 x jacket - It gets pretty crisp in Bogota so I am definitely going to be taking a jacket with me. But, to save on space, I'm going to wear it on the plane on the way there so it doesn't take up too much space in my bag.
2 x jumpers - I'm also going to pack a couple of light jumpers or long sleeve tops, one of which I can also wear on the plane. These jumpers are great for layering in colder climates, too, or great as they are at night in more milder regions.
Underwear - Ladies, you can feel me on this one. There are specific bras and underwear that we need in different situations. Pack your sports bra for your adventure activities, pack a comfy bra that is not going to make you go absolutely bonkers on the plane, and bring your everyday bra with you as well. And don't forget your knickers! (But I don't really need to remind you of that, do I?)
Swimmers - If you're going to be heading to some warmer areas of the country, including the beach, then a couple of pairs of bikinis or swimmers are an absolute must. They don't take much room either, so chuck a few in your bag while you're at it.
3 x pairs of shorts - Once you get to Medellin, Cartagena, Santa Marta or any other warm regions in Colombia, I can almost guarantee you that you are going to live in your shorts. They don't take up much room in your luggage either, so roll them up and pop a few pairs in your bag.
1 x pair of sunglasses - Avoid the glare, yeah yeah!
Light dresses - Perfect for the heat in Cartagena and Santa Marta during the day or for a night of dinner and dancing in the evening, ladies.
Jeans - No matter where you go, jeans are common in Colombia and they're generally the go-to clothing item of choice. Throw on a shirt or a singlet and you're ready to go, day or night.
Socks - Great for keeping your feet warm on the plane as well as for your everyday use
Microfibre Travel Towel – Who knows if where you're going to be staying has a towel. Best to bring a small travel towel with you just in case. They are amazing. I didn't own one when I was last travelling around Colombia, but my travel buddies did. I was super jealous of them with their super shammy-like moisture wicking towels while I had to use either my clothes or a small hand towel when we went camping together. Lesson learnt.
Toiletries
Sunscreen – Slip, slop slap!
Travel-sized shampoo and conditioner - Fill up some small bottles of your own shampoo and condition before you go
Tinted moisturiser - I don't wear a lot of makeup as it is, but I don't mind at least looking like I got a good sleep the night before. Tinted moisturiser is a great bit of help if you want to look your best while travelling about.
Women's hygienic products - of course you can buy these in Colombia, but if you are expecting your period while you're away, then you  might as well prepare for it
Condoms - No glove, no love, right? Practice safe sex!
Technology
Your camera
Your phone
Extra SD cards
Chords or external hard drive so you can save your data as you go
Tripod
Selfie stick (You know you wanna!)
First aid and medical supplies
Aspirin (hello hangover!)
Band-aids/plasters
Insect repellant is a must! Especially if you're going trekking in some rural and jungle regions
Malaria tablets - Again if your in rural or jungle regions, but consult your travel doctor for specific advice
Contact solution - I wear glasses (Can you tell this list is my own personal reminder of what to pack?)
Disinfectant - For nasty cuts and scrapes
Camping
A tent (You're welcome)
Roll-out inflatable mats or camping mats for sleeping on
Sleeping bag
Mosquito nets
Several carabiners - Perfect for attaching things to your bag or holding things together
Waterproof Storage Bags
Camelback – Especially if you're doing some hiking
A hat/beanie
Waterproof gear for your backpack and camera
Extras
Money bag - to keep your passport and cash safe while you're in transit
Notebook - Perfect for jotting down all your amazing new experiences
Small backpack or shoulder bag - Great if you're going to be doing some day trips. You're not going to want to lug your big luggage around, so much sure you have a smaller backpacker, too
Photocopies - Of your passport, your travel insurance, you personal ID and your tickets
Gifts - Don't forget to pack pressies for old and new friends you come across during your travels
Pin this post and save it for later!
What else can you think of to pack for a trip to Colombia? What have I forgotten? Let me know in the comments section below.
Sign up to receive your 15-day Inspire Guide to Colombia