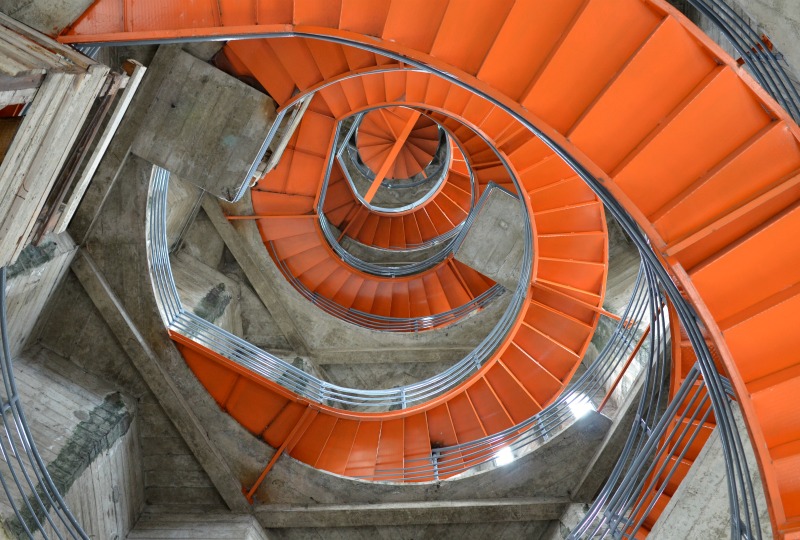 Oh, Manizales! You are a city of universities and young people, of coffee production and old men in cowboy hats, of delicious cakes and of long-winded histories, of mountain ranges, tall churches and delicious pastries.
Tucked high in the Andes, at just over 2,000 metres above sea level and with a population of around 340,000 people, Manizales is definitely one of the more quaint of Colombia's major cities.
My first impression of  Manizales came in 2012 when I first went to visit a friend of mine I had met in Brisbane, Australia. She had just had a little baby boy and was living happily with her husband, so another good friend of mine from Cali and I did a bit of a road trip to see her.
This time around, though, my partner Pej and I were in Manizales for three days, and while we did meet my lovely friend again (and her second adorable son!), we got to know this city over three days and in a completely different way.
After arriving at Manizales' transport terminal, we caught the cable car up to the centre of town. It dropped us off close to the Metropolitan Cathedral, where we decided to walk to our hostel. What felt like 200 blocks later (take a taxi if you've got heavy luggage!) we arrived at Kaleidescopio Hostel, had a cup of tea, dusted ourselves off and then ventured out to see Manizales, known as the city of open doors. If you find yourself in this region, then here are my suggestions of the top things to do in Manizales. Enjoy!
1. Cathedral Metropolitan Basilica of Our Lady of the Rosary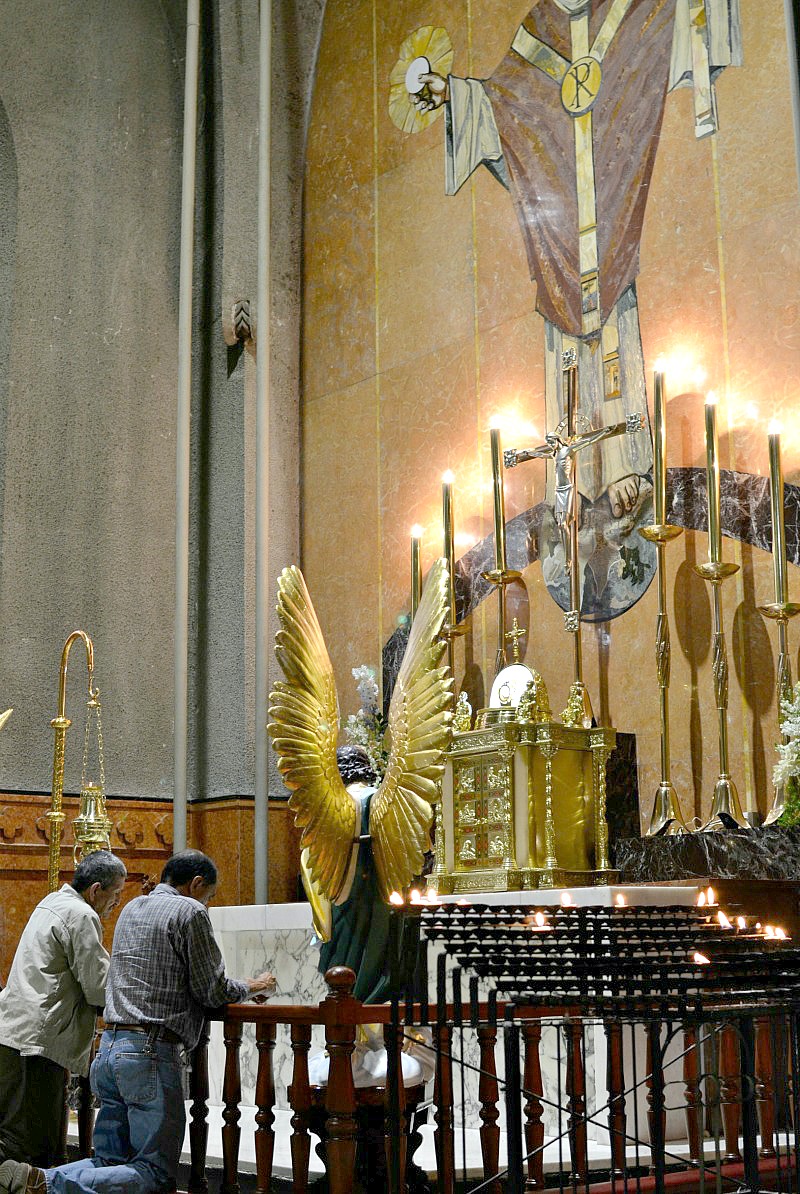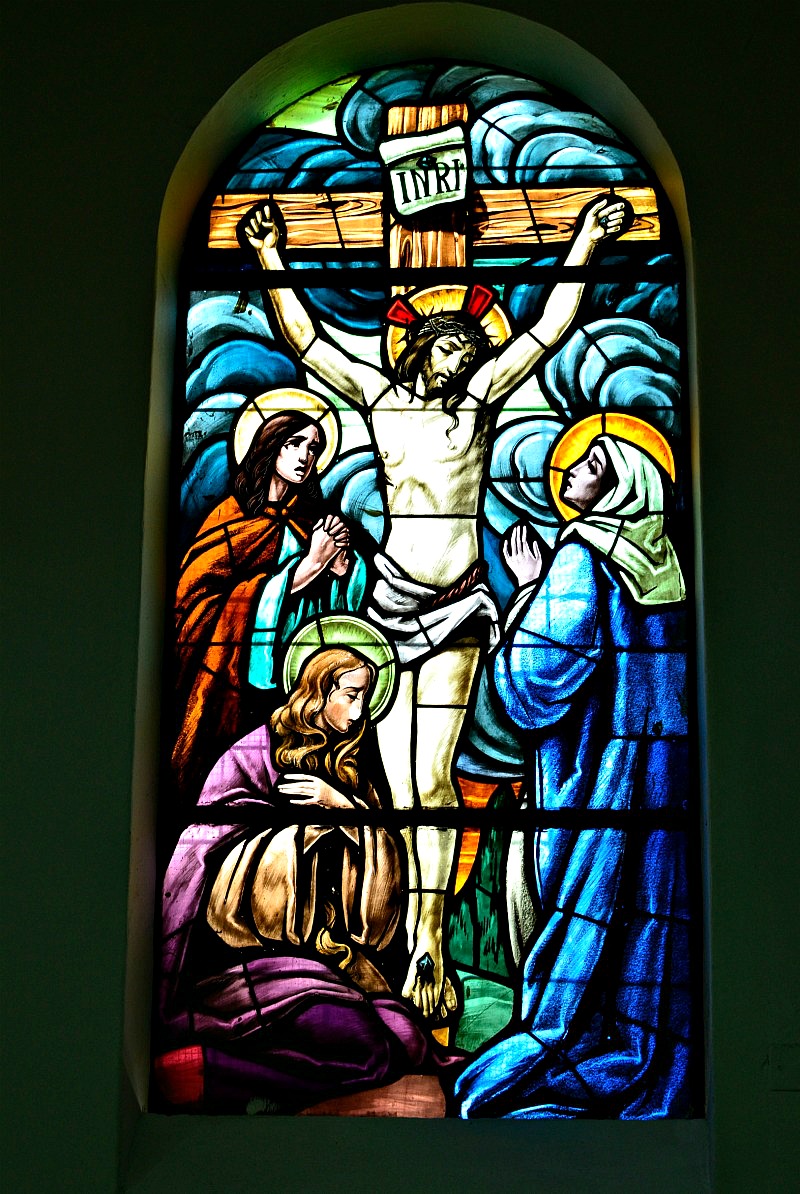 The Cathedral Metropolitan Basilica of Our Lady of the Rosary (what a mouthful!) is the third-tallest cathedral in all of South America and the fifth-tallest in the world, apparently. It stands a whopping 113 metres high at the top of Plaza de Bolivar. This place of worship has a long and tumultuous history. First a chapel was built on the site in 1849 out of wood and straw but was demolished a few years later. In 1856 another chapel was built, but again, it didn't last and came down in 1886. Another was built in the 1888, but that one was destroyed in a fire. Talk about unlucky! The cathedral that we see today, though, was built in 1927, but construction work was stopped during the depression and was finally completed in 1939. Hallelujah!
2. The Polish Corridor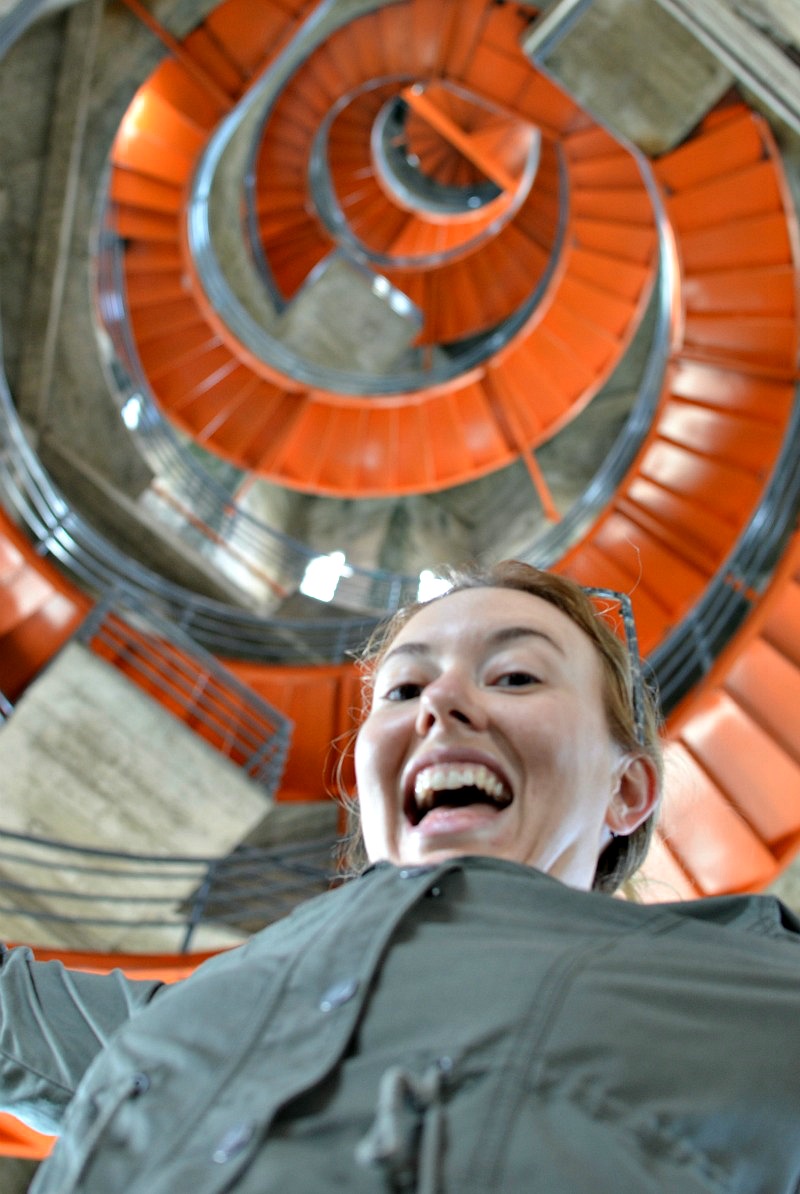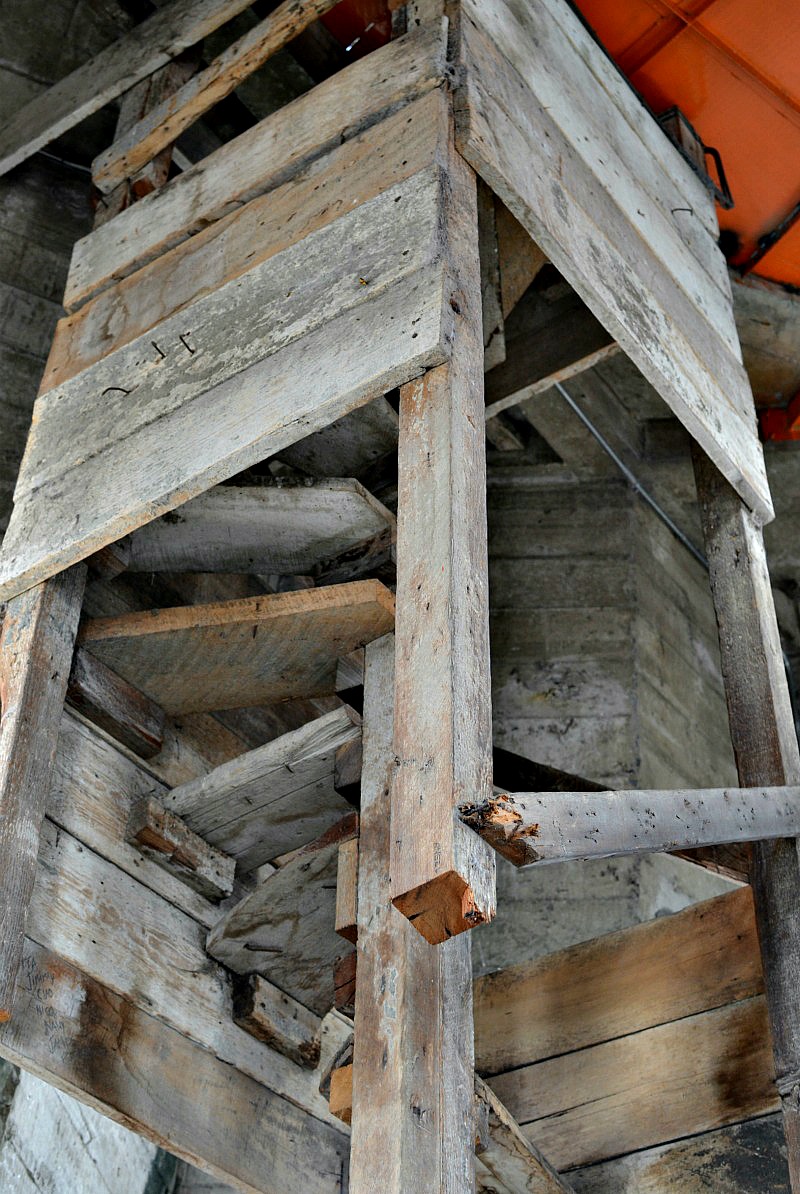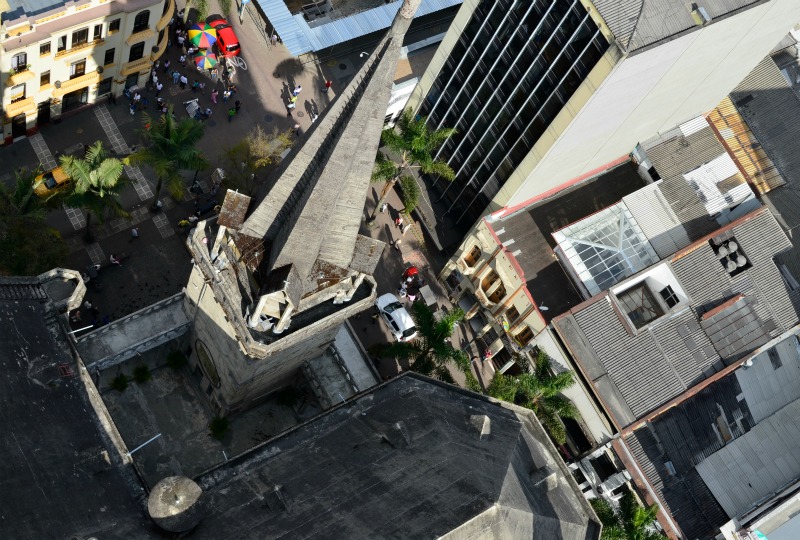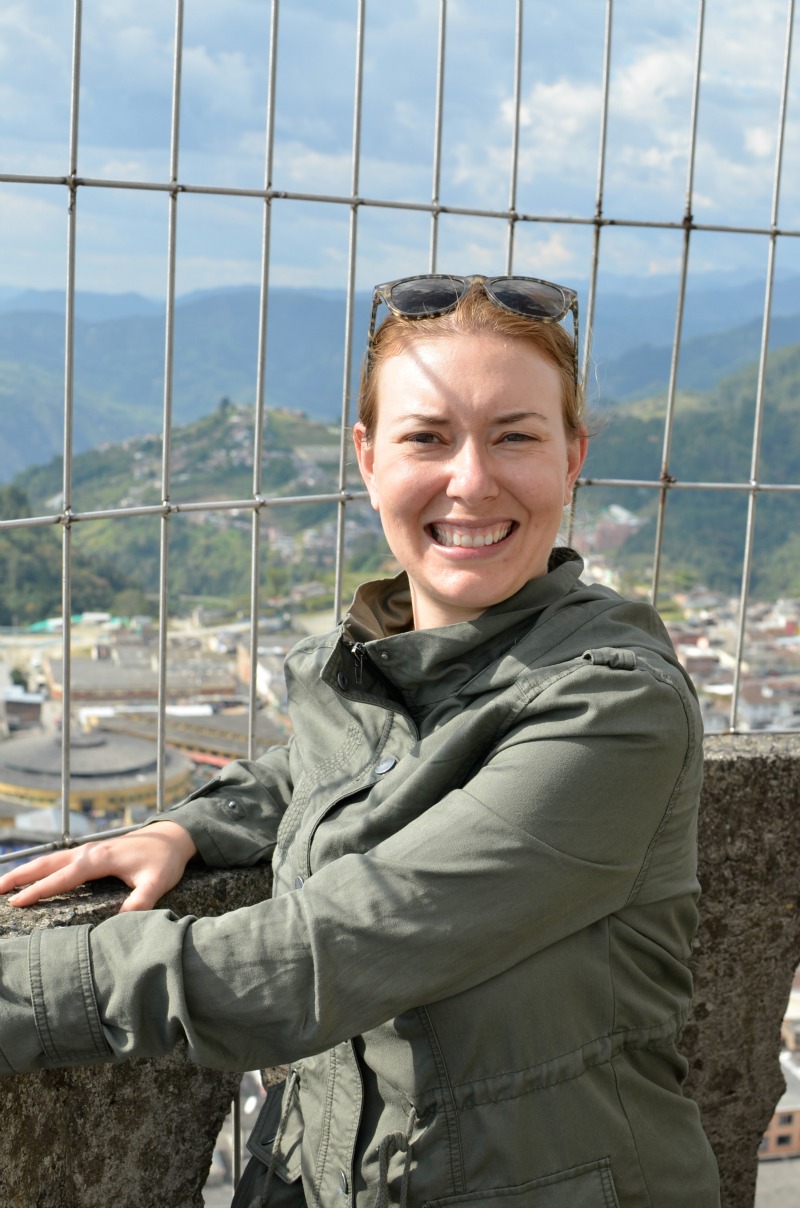 Remember when I said that Manizales' cathedral is the third-tallest in South America? Well, imagine climbing to the very highest tower. Imagine now that you are terrified of heights. Welcome to my world, dear friends. The Polish Corridor is a tour of the inner workings of the Cathedral. You're invited to take a look at photographs of the cathedral during it's many forms and stages. There's even a recording of the bell chimes that is played each hour, because the bells no longer operate. But, by far the most exciting, and the scariest, part of the tour is climbing to the top of the cathedral's tower through a series of spiral staircases. The old wooden staircase that used the be the only way to the top of the cathedral still remains as a reminder of how little fear people had of heights and their personal safety back in the day. Even more crazy than that, a couple from Manizales who joined us on the tour were reminiscing about the times they'd visited as a kid and climbed those rickety wooden stairs to the top. As I held for dear life onto the very secure bright orange staircase, I felt like a big chicken, imagining them as kids running up the old wooden stairs. And why is it called the Polish Corridor? It was given this name to pay homage to those affected by Hitler's invasion of Poland during World War II, when the cathedral was completed.
3. Chipre Lookout and Restaurants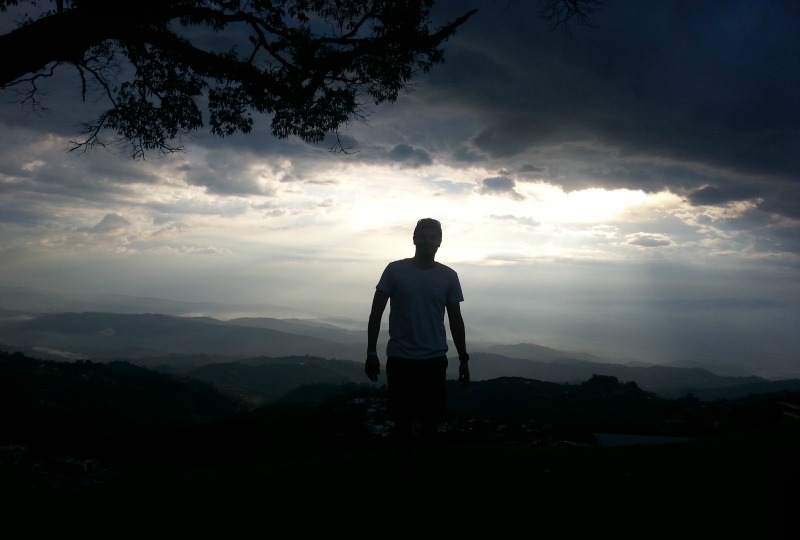 About a 15 minute walk from the centre of town towards the north you'll come to a area called Chipre. This area of town is elevated so you can get a great view of the surrounding mountains on the walk up. This place gets busy on weekends as there are a variety of restaurants and street vendors selling delicious food. Be sure to buy an oblea while you're here! You can catch a bus up to Chipre, but Manizales is pretty small so, if you like walking, you can get around on two feet. Otherwise, catch a bus. A one-way trip costs around $1,500COP.
4. The SkyWalk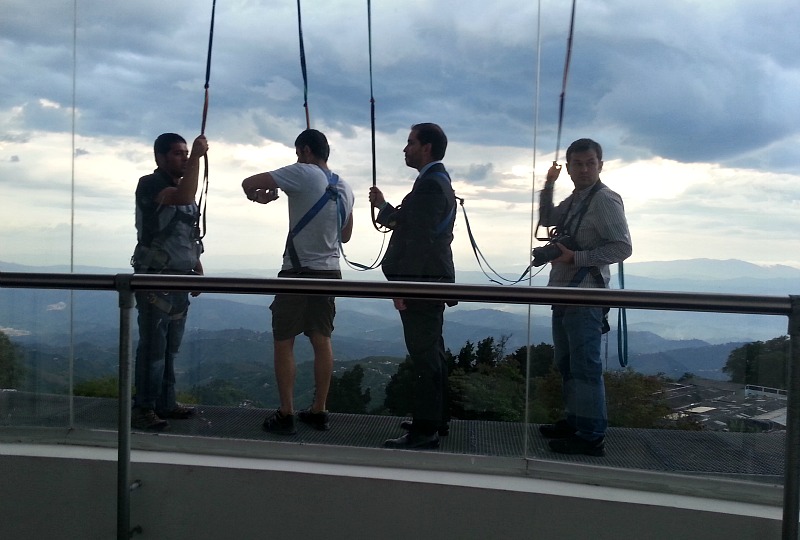 Now, if you're feeling a bit adventurous while you're visiting Chipre, why not climb to the top of a tower with nothing but a harness and walk around on a metal platform? Sounds fun, right? Pej gave this one a red hot go and when I saw the tour guide do a sneaky little jump to scare the tourists, I was glad I stayed inside. Pej loved it, though! I became the designated photographer for this one.
5. Monument to the Colonists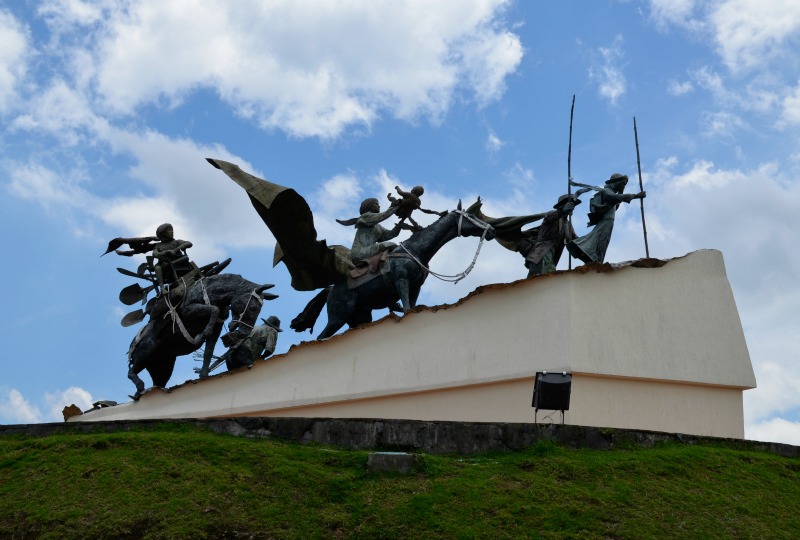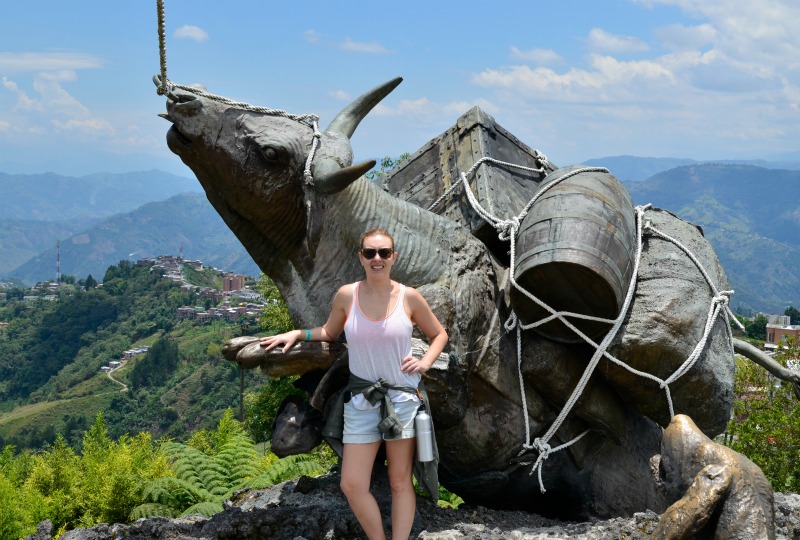 This grand sculpture is an icon in the city of Manizales and upon approaching it, I could understand why. Visually, aesthetically, artistically, it is beautiful. The attention to detail, the movement, the dynamism captured by this sculpture is moving. You really do feel like you've stumbled across a group of colonisers on their path towards a new future. Because of the mountain rages that surround Manizales, and indeed many Colombian cities, reaching new areas and colonising them was a difficult and often deadly pursuit. The bronze sculpture stands at another lookout and was created by local artist,  Luis Guillermo Vallejo.
6. Plaza de Bolivar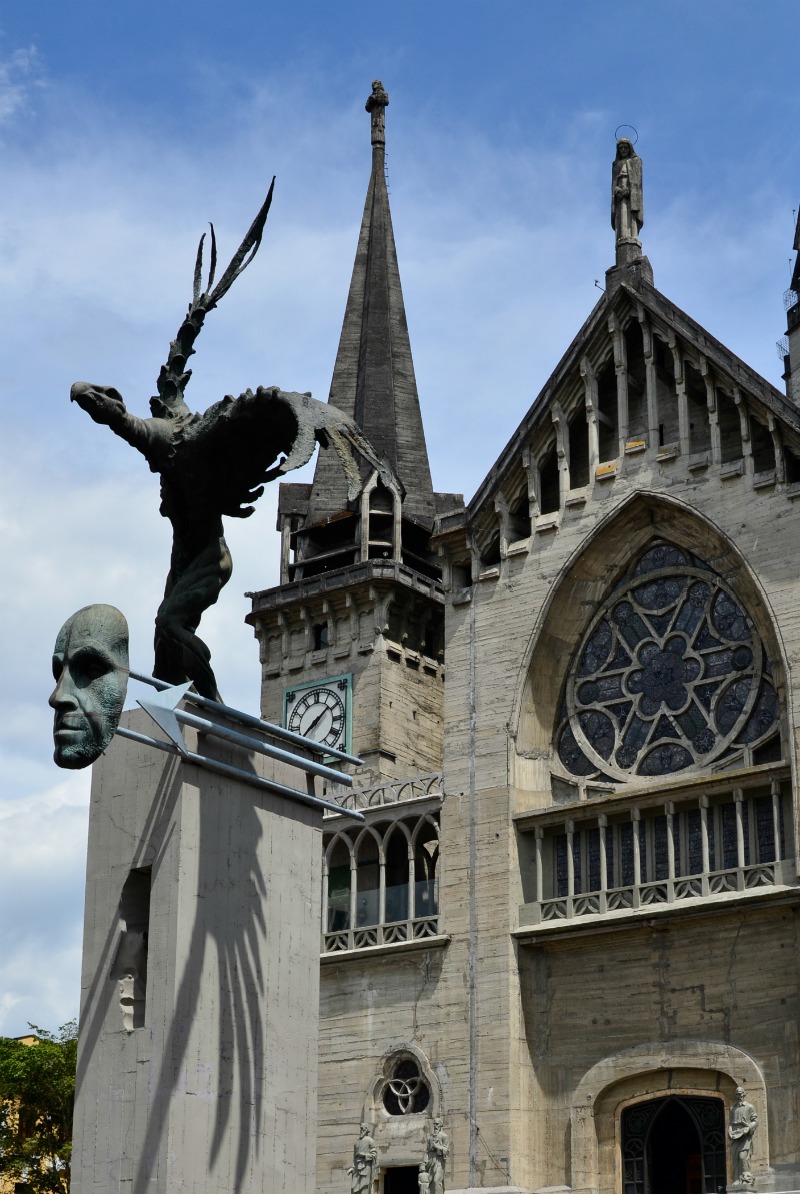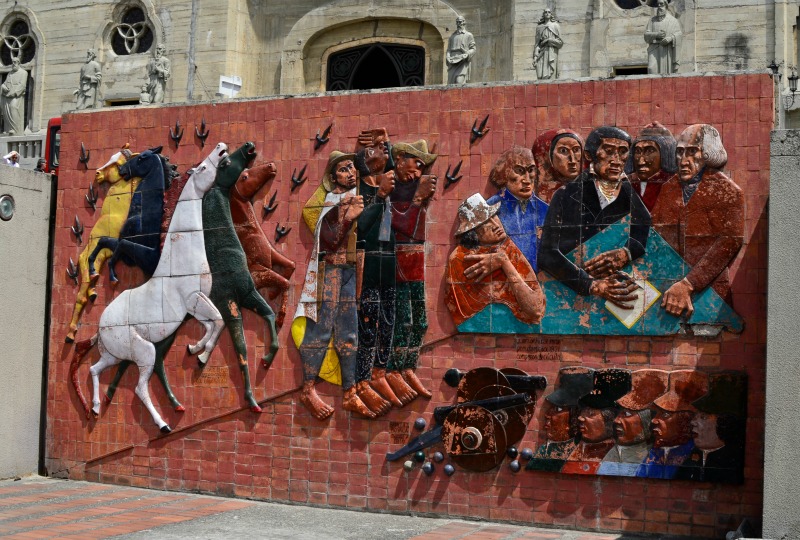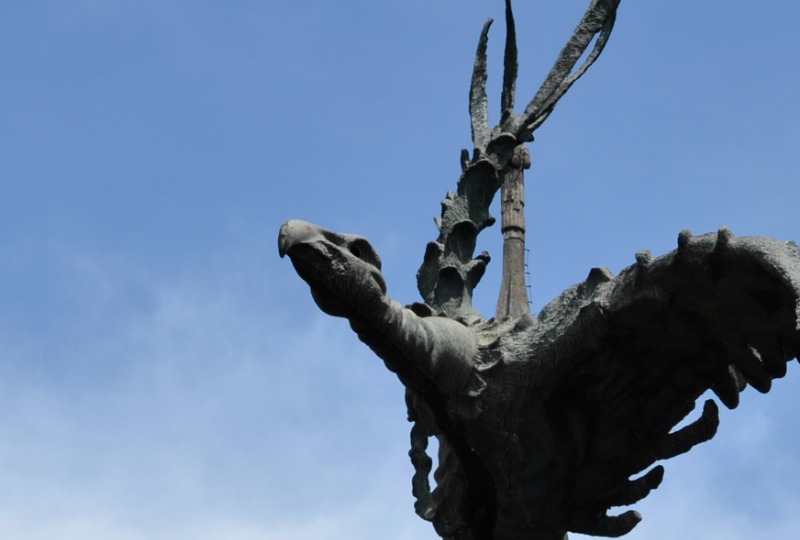 Like many cities and towns in Colombia, Manizales also has a Plaza de Bolivar. It's the main square in the centre of town which plays host to a number of culturally significant sculptures and buildings. On the south side is the Basilica, at the north is the Governor's Palace, in the centre is a ceramic mural, while directly in front of that is a giant statue of Simon Bolivar represented as part man part condor.
7. Govenor's Palace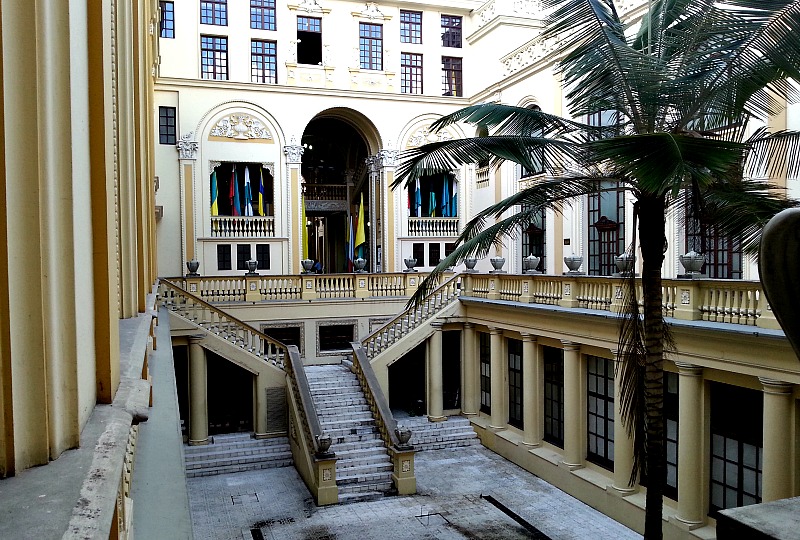 Much of Manizales was destroyed during a series of fires in 1925, and the iconic Governor's Palace was one of the many buildings that went up in flames. Years later it was rebuilt keeping with the Republican-era neo-colonial style. Get a load of the archways, the high ceilings and the theatre of it all!
8. Nevado del Ruiz
Toward the east of Manizales is the active volcano, Nevado del Ruiz. There has been some movement from this volcano recently, so I don't know how eager I would be to make the climb, but apparently eager amateur climbers often make the trip up to the mountain's snowy peaks in Los Nevados national park.
9. Recinto del Pensamiento park
Just outside of Manizales is what's called Recinto del Pensamiento Park. We didn't get the chance to make it to the park during our stay in Manizales, but I hear there are some beautiful trail walks and an impressive hummingbird sanctuary. A wonderful way to get back to nature if you're looking for things to do in Manizales.
10. Cable car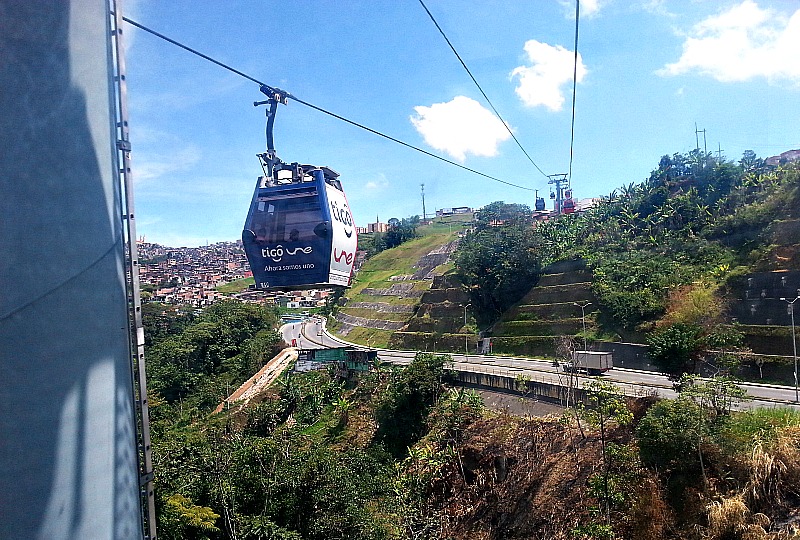 If you catch a bus through to Manizales then one of your options to reach the centre of town is to take the cable car. You could take a taxi up the winding streets up into steep ravines but then you'll miss out on the views. The cable car stopped halfway during our trip up to the top of the mountain and the man we were sharing our carriage with very nearly had a panic attack. All was well in the end, though, and we made it to the top, so definitely a must of things to do in Manizales.
11. Zona Rosa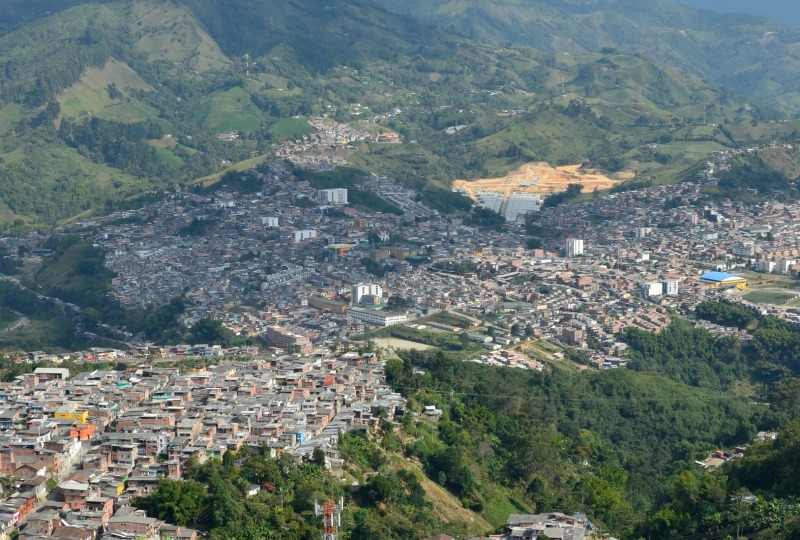 To the south of Manizales is the Zona Rosa, or the main party and dining district in the city. Here you'll find Colombian restaurants, bars and nightclubs, shopping malls, a Juan Valdez cafe and loads of students milling about meeting up with friends.
12. Herveo Tower or 'Torre del Cable'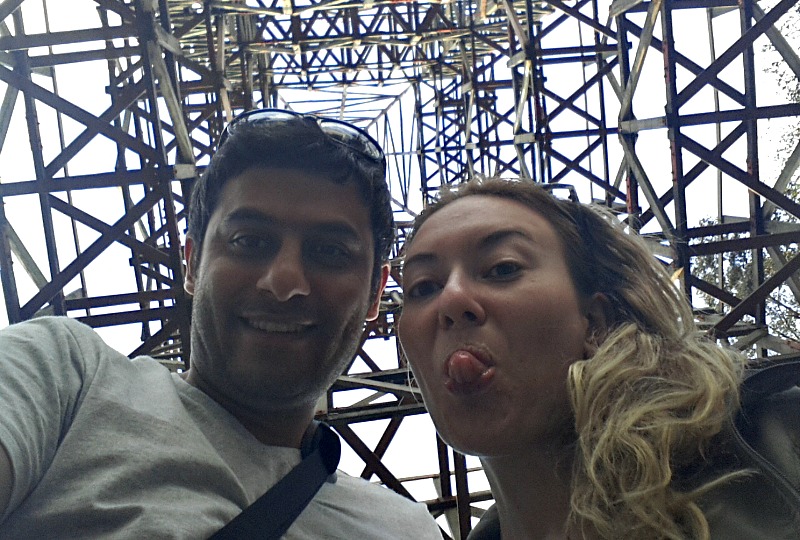 Right smack bag in the middle of the Zona Rosa is the Hevero Tower or what is more commonly known to locals as 'Torre del Cable'. I never understood why the tower was referred to as 'The Tower Cable' until I realised that it was one of 376 towers that carried the aerial cable from Manizales to Mariquita in the mid-late 20th century. Amazingly, these structures were made of wood because the ship in charge of carrying the iron to Colombia was apparently sunk in World War 2 by a German submarine.
13. La Suiza
After walking around looking for things to do in Manizales, no doubt you're going to be ready to put your feet up and enjoy a sweet treat. I know we certainly did! After walking from one side of the city to the other (from Chipre to Zona Rosa) we were ready to refuel with a bit of a sugar hit. Our host Marta, from the hostel we were staying at, suggested we visit  a bakery called La Suiza in the centre of town. It's not a traditional Colombian bakery by any means, but they did have a delicious variety of cakes, desserts and Colombian coffee.
Manizales might have some competition as a tourist destination in the Coffee region of Colombia, but if you do head to this interesting, eclectic and historically significant part of the country, you won't be at a loss for things to do. That's for sure.
Pin this post for later!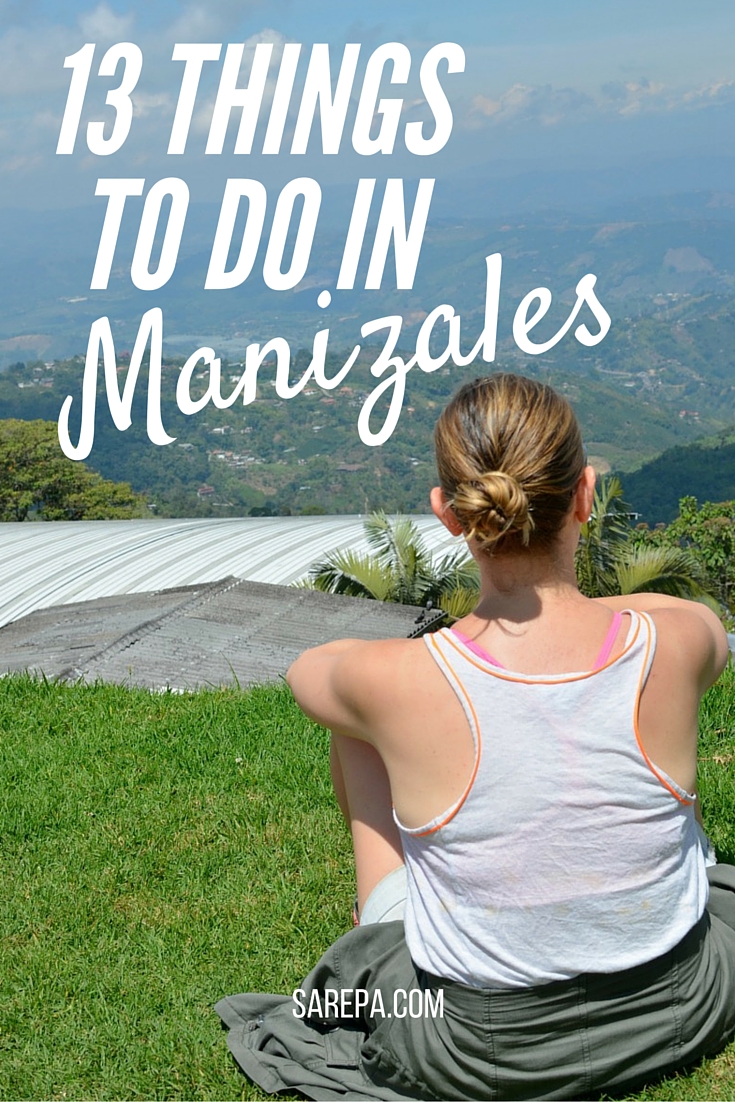 What are your top things to do in Manizales? Have you visited the region before? Share your thoughts and experiences with us below.
Sign up to receive your 15-day Inspire Guide to Colombia