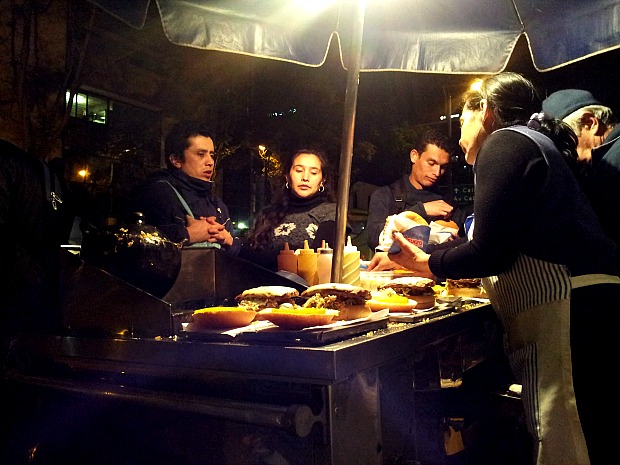 We drive down a dimly lit road in Bogota. The traffic is crazy and drivers weave in and out of lanes, seemingly without checking where they're going. There have been a couple of near misses, but we laugh it off and keep driving.
We pull over and park in front of a university to have dinner.
"Do you guys feel like some street food?" our local friend asks.
Of course we do.
"Don't worry, it's really good," he says.
We walk down the road to a small street vendor. It's owned by a couple, probably in their 50s – they've been selling hamburgers on this same corner for more than 20 years. The woman making the burgers recognises our Bogotano friend, even though he hasn't been here for more than 10 years.
The woman smiles – she's thinking about retiring but the university won't give her a retirement fund, she jokes.
For $4 we get a burger filled with beef, chicken, quail eggs, three or more different types of sauces, cheese, green tomato and a whole bunch of other ingredients I didn't even recognise… oh and a glass of Colombiana soft drink.
Our local friend reminisces about coming here when he was a university student, he would come with his girlfriend and get drunk at the hole-in-the-wall bar down the road, he says. And now, we sit on the same side of the road eating our huge hamburgers, laughing, drinking and creating new memories with new friends.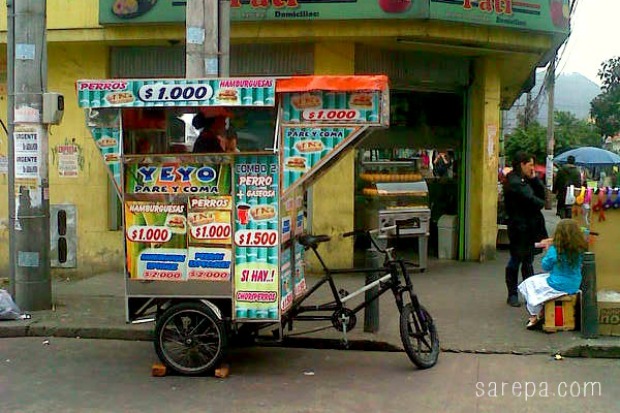 Not quite as established as the burger stand I mentioned above, I walked by this hamburger cart in Bogotá the other day and it got me thinking about how creative people can be here in Colombia, out of necessity, of course. This small space only just fits one woman, and here she sells hamburgers for $1,000COL pesos or about 50 cents and hot dog combos for $1,500COL pesos or 75 cents.
If you have $2 in your pocket in Bogotá you can buy yourself breakfast, lunch or dinner. Ok, it's not going to be the most flash meal you've ever had, you know that, but here are some of the foods available on the streets of Bogotá. Which have you tried?
Hamburgers
Hot dogs
Fried ribs
Pizza
Fruit salads
Fried potato chips
Chorizo on a stick
Fruit juices
Sandwiches
Coffee
Cereal with yogurt
Salchipapa
Stuffed potatoes
Corn
Raspao or snow cones
Empanadas
I am sure I have missed so, so many street food options. Have you come across any gems? Let me know all about it in the comments section below.