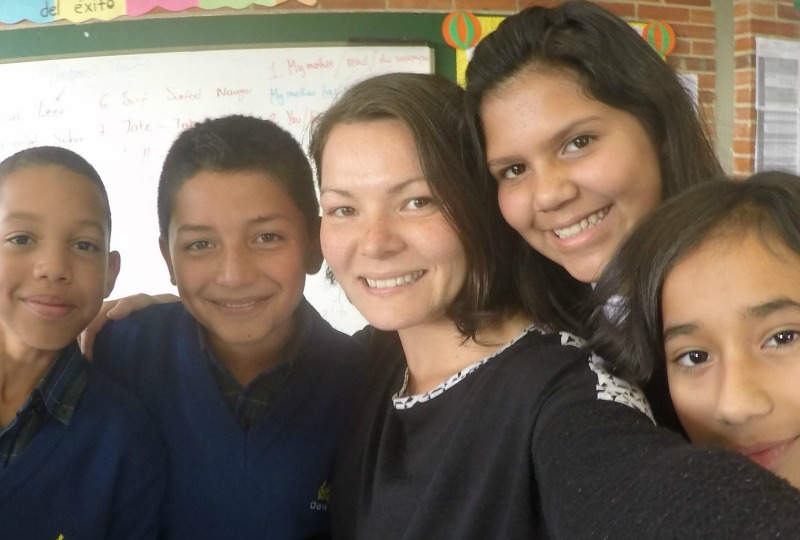 Anna Trigellis-Smith got in touch with me via email not long ago to extend a warm greeting to a fellow Aussie. We are both from Melbourne, Australia, and by some stroke of luck, love and a bit of magic, we had both ended up living in Colombia.
Working as an engineer in Australia didn't quite give Anna the sense of purpose she was looking for, though, so she instead shifted her focus to teaching. Not only does Anna teach at a school in Bogota, but she also offers online classes to Spanish speakers wanting to learn English.
Here is Anna's story about how she ended up living in Colombia and what it's like being a plant-based vegan in a country full of carnivores.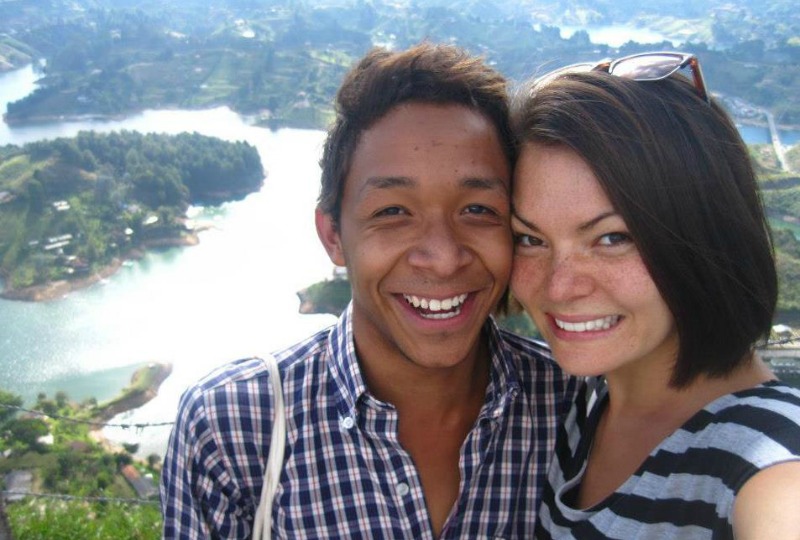 Name: Anna Trigellis-Smith
Country and City of origin: Melbourne, Australia
Where you live in Colombia: Bogotá
Can you tell me a little about yourself and how you ended up living in Colombia?
I first came to Colombia at the end of 2011, backpacking around South America for two months with a friend. Our first stop was Bogotá, and within the first week I met the sweetest guy. I absolutely love dancing, so I immediately fell in love when he led me through a salsa dance, which he did for the rest of the night. Unfortunately our busy schedule of moving through South America stopped me from staying longer, but after graduating university mid-2012, I returned to Bogotá to see him again. After a few months, we moved to Australia for two years, and here we are again in 2015 in Bogotá.
Did your first impression of Colombia match your expectations?
There were two things that I had heard about Colombia. From people that had never been, it was a dangerous country filled with drugs. From people who had visited, it was a beautiful, diverse and lively place. Of course I had the latter in mind when planning my trip, so I was more than excited to discover it for myself. The descriptions I'd heard were indeed correct. The lively atmosphere of the cities was so exciting and the diversity and beauty of the people and landscapes were breathtaking.
You're a plant-based vegan. What inspired you to live this lifestyle? And how difficult is it to maintain in Colombia?
After moving out of home upon graduating university, lo and behold, I was required to start cooking and fending for myself! The thought of buying, bringing home, handling and cooking meat didn't sit right with me, so I simply started cooking vegetarian meals. When seeing my lunch at work, my colleagues would comment, "where are you getting your protein and iron from?" Rather than blindly going back to my old habits, I started researching on the internet what was required for my body.
What I discovered was mind boggling for me. Humans receive every nutrient they need from plant based food. But I didn't stop there. Digging deeper, reasons for becoming vegan for all species of this world, saving the environment, short and long term health and putting a stop to starvation and malnutrition were overwhelming. Reading and uncovering these facts, there was no way I was going back to consuming, using or wearing animal products.
I knew it was going to be more challenging to find vegan food in Colombia than in Australia, but it is absolutely possible. Colombia has an abundance of amazing fruit and vegetables, (more varieties than in most parts of the world!) and grains and legumes are extremely common. What more could a vegan ask for? However, if you're on the run and want to grab a nice warm arepa, empanada or sandwich, it's almost impossible to find ones without cheese or meat. But there are always supermarkets or convenience stores available where you can grab some fruit, crackers or bread.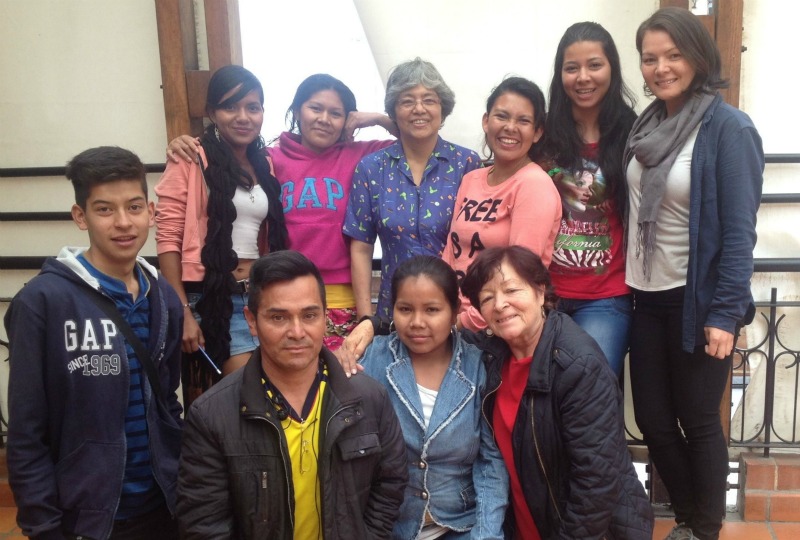 What's one of the more challenging aspects of living in Colombia?
Definitely the traffic and amount of people in Bogotá! Coming from Australia where it's not very densely populated, it's hard getting on an overpacked Transmilenio (the bus system) or being stuck in traffic for an hour. I don't think I'll ever get used to having to let four to six buses pass by because they are too packed to get on, walking five metres a minute because there's too many people to dodge through or taking 90 minutes to get somewhere when at other times it takes 20.
You teach English via your website "Inglés con Anna". How did the idea to create that come about?
I am volunteering in the centre of town in a program called "Alfabetización", where disadvantaged students ranging from teenagers to adults who have not graduated from school attend classes in order to receive a high school diploma.
My role at this program is an English teacher, but because the students have so much interest in my life and culture, the classes are often sidetracked discussing and laughing about various different topics. I see this as a great thing, as I feel the students are taking advantage of this opportunity to learn about culture in other parts of the world.
Because I don't get around to teaching the English language, I decided to start making YouTube videos for them, which they watch for homework. As I focus mostly on pronunciation, I've found that other online learners are enjoying them, too. From the interest being generated, I've taken it one step further to possibly making it a full-time job by teaching private classes online.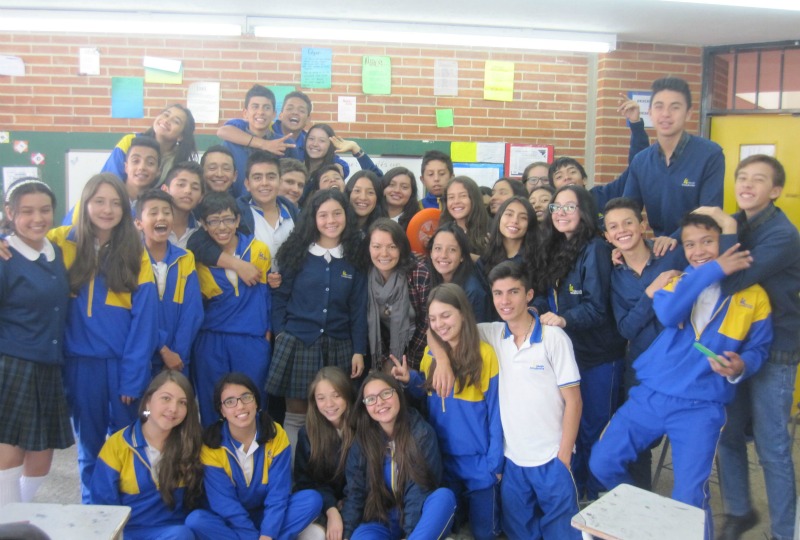 Have you always been a teacher?
Although I'd privately tutored various students in the past in Australia, I had never taught a large group of students, nor at a school. This is my first year working as a teacher, and it has been a joy.
I graduated in 2012 from Monash University in Melbourne in three areas; Chemical Engineering, Finance and Japanese. I absolutely loved the university atmosphere and challenging my mind, so I spent 6.5 years there! Upon graduating, I moved to Brisbane to work as a Chemical Engineer.
However, I was completely disappointed and dissatisfied with the job. After two years, I couldn't bear it any longer and decided to change to a more fulfilling and compassionate career of teaching English in Colombia. At the back of my mind, I always knew that I would become a teacher in the future, and I'm glad that it's happened so soon.
What do you do for fun in Bogota?

On weekends, I like to wind down from the week and take things slow. I like to relax at home, go to my favourite dance classes at the gym, practice yoga, go out for a meal, catch up with friends or continue working on my blog.
Sundays are extremely quiet in Bogotá, because a lot of people are out of town in their finca (house out in the countryside) and/or spending time with their family. We take advantage of this too and spend time with my boyfriend's family, sharing a home cooked meal, playing in the park or playing games.
Where does a vegan eat out in Bogota?

My all time favourite restaurants are "Wok" and "La Hamburguesería"! They are both chains, so the benefits are that there are a number of them around town and they are open all day and night. The menus have a variety of options, which of course include vegan ones.
It is extremely difficult to find good Asian food in Colombia, but Wok has an amazing range of Asian cuisine, from Japanese, Thai, Vietnamese to Chinese. They use authentic ingredients so the flavours are spot on. My favourite dishes are the Khmer curry and Kapa maki sushi rolls.
Sometimes, when I feel like biting into a good, hardy vegan hamburger, I head straight to La Hamburguesería. Their falafel hamburger satisfies my cravings instantly.
What is your favourite type of arepa?
When I first came to Colombia, I wasn't vegan yet so I ate everything. The day I met my boyfriend's family, his mum made us the traditional arepa de huevo (arepa with egg), which I thought was the most delicious thing ever! It is a specialty arepa which comes from the coast and, as his family is from Cartagena, this was a regular meal in the house. It is made with yellow cornflour, with a raw egg dropped in the middle before deep fried in oil. Super healthy!
Now, I'm still able to enjoy arepas – the plain, white ones, which are cooked in the house. These are the same type as the arepa rellena (stuffed arepa) that you see sold in the street, but they are usually filled with meat and cheese. I enjoy mine at home with a few slices of avocado on top.
Do you have any advice for others looking to live in Colombia?
If you're considering going to Colombia but are sitting on the fence, I would say take the leap and just do it! You'll have an amazing experience indulged in a different culture. As with anything, come with an open mind and attitude, and allow yourself to go with the flow. Things might not function in Colombia as they do back at home, so be patient, and understand that you're in a new country with different people and rules. Try and see the positives of all situations and embrace the ride.
If you'd like to find out more about Anna or her online English classes, then be sure to pop over to either of her websites.