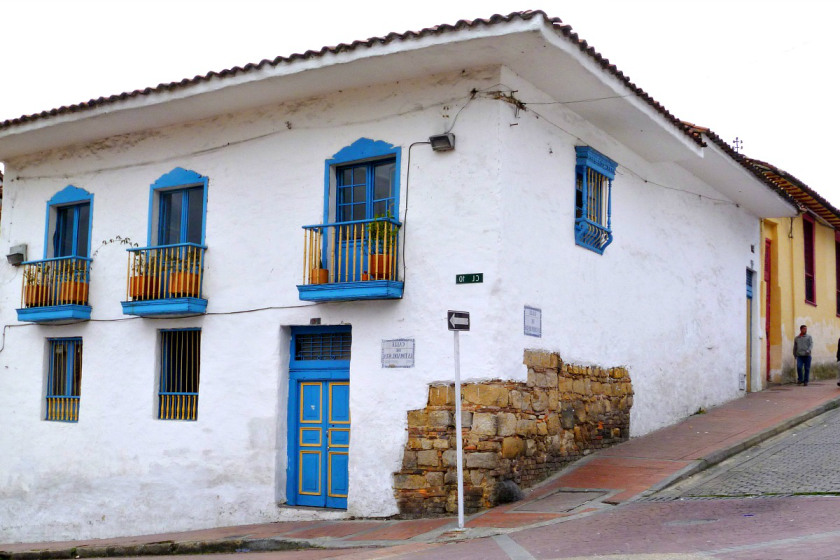 I've had such an amazing time living in Colombia, it's so incredibly different from life in Australia and here's what I've learned and come to appreciate along the way.
1. I am forced to speak and learn Spanish every day.
2. Colombians are some of the most friendly people on the planet.
3. If you're blonde, like me, a full head of foils doesn't cost $200… more like $30!
4. The same goes for a manicure and a pedicure, they don't cost an arm and a leg!
5. I can buy a week's worth of groceries for $10 and the fruit and vegetables are delicious, fresh and there is such a variety to choose from.
6. I discovered the most delicious drink, Cholado.
7. I'm considered different because I look European and have blonde hair.
8. I can dance salsa any night of the week.
9. I can listen to salsa at the shopping centre, in a taxi, on the bus, walking down the street. Salsa music is everywhere!
10. The salsa capital of the world is in Cali, Colombia! And I have danced salsa there, it's fantastic.
11. Here in Colombia there is a thing called Onces, a meal and a time of day to eat bread, hot chocolate and cheese. Yes please.
12. Uh, this view:
13. I get to live out my dream of working as a travel writer in Colombia.
14. I am one of the lucky few working on the Colombia Travel Guide, a comprehensive guide about Colombia, what a lucky girl I am.
15. I get to visit all the places I've read about in Gabriel Garcia Marquez's books
16. Arepas are on the menu all day, every day!
17. The Caribbean is just a hop, skip and a jump away.
18. Apparently having a big bum is a good thing in Colombia. Good news for me.
19. Public transport, it definitely has it's moments but it only costs 75c a trip!
20. Bananas don't cost $15 a kilo, which has been the case in Australia in the past. Oh no, bananas here are more like $1 a kilo.
21. Colombia is becoming the adventure capital of the world, so if you like to scare the crap out of yourself with high adrenaline activities this is the place to be!
22. It is a strangely spiritual place to be. I'm living high in the Andes in Bogotá, and even though the city is chaotic and the traffic is ridiculous, there is a very calm and welcoming energy here that makes me grateful that I call this place home.
23. There is such a wide variety of exotic fruit and vegetables available.
24. Cheese! Everything comes with cheese here, from your hot chocolate to your fruit salad!
25. The countryside is so varied and spectacular. From the Sierra Nevada de Santa Marta to the Cocora Valley, the landscapes in Colombia are absolutely breathtaking.
26. The weather. No matter what type of weather you feel most comfortable in, sure enough there is a place that will have it here in Colombia. From the afternoon chill of Bogotá, to the eternal spring of Medellin, the snow-capped mountains of Cocuy or the sweltering heat of Cartagena. You want it, you got it!
27. Visiting old towns and stepping back in time.
28. The food is always fresh!
29. Colombian Spanish is the easiest to understand and learn. Well, maybe not if you're on the coast!
30. If you run out of credit on your mobile, no worries, there is always some guy on the street who will let you buy minutes from his mobile. Easy.
31. Fauna and flora here are absolutely breathtaking. Colombia is considered to be the second-most bio diverse country in the world.
32. Diversity. You can go from the beach to the mountains to the dessert to the city all within one trip.
33. Coffee! My addiction to coffee has definitely slowed down, but Colombian coffee is something to write home about.
34. There are soooo many public holidays. Only beaten by Argentina, Colombia has the most public holidays in the WORLD. There are 18 public holidays and an average of 15 paid vacation days.
35. The Ciclovia! Every Sunday roads are blocked off in Bogotá so people can walk, run and ride through the city's streets. They also have dance and aerobics classes in local parks.
36. Colombians really know how to celebrate Christmas. From Christmas Carols to amazing Christmas city lights, Christmas is truly celebrated in Colombia.
37. Get ready to party because in Colombia there is a festival for almost every day of the year! From the flower festival to the crazy donkey festival to the Feria de Cali Colombians celebrate everything!
38. Television shows here are hilarious. From the crazy Novelas that EVERYONE watches to the music game shows, they are so awful but so much fun to watch.
39. The street art in Bogotá is mind-blowing!
40. Living in Colombia has given me the chance to meet amazing people from all around the world. From lovely Australian poets and creative party-hardy Englishmen, to hard-working Peruvians to loveable Spaniards, from crazy Scots and American sweethearts, they're all here and I'm lucky to call them my mates.
41. It was here that I spoke to a Kogi in the Colombian jungle!
42. I have travelled around Colombia alone, which means people have invited me into their homes and invited me to be a part of their lives, even if for just a small amount of time. Just beautiful.
43. I got the opportunity to visit the ancient lost city Ciudad Perdida on a four-day trek through the Colombian jungle. Since I got an allergic reaction to mosquito bites, it was probably the most difficult thing I have done here.
44. The music. The music in Colombia isn't just about Salsa, oh no! There is Vallenato, Cumbia, Mapalé and a myriad of different styles to keep your ears happy and your feet tapping.
45. Coconut rice. I love it. It's big on the coast, if I could, I would eat it every day.
46. Avena, one of the most delicious drinks I have ever tasted.
47. The variety of things to do in Colombia can be overwhelming! From rock climbing in Suesca, to doing white water rapids or flying down one of the highest flying foxes in Tobia, there is so much to see and do!
48. Hot springs – there are some really beautiful hot springs around Bogotá including a gorgeous spring close to Chocontá. I just love them.
49. Every day something new and exciting happens and I am reminded that I am exactly where I am supposed to be.
50. I love living in Colombia because I get to see and be a part of its history and its future. Every day there is something new happening here, every day the country grows and every day someone recognises how far the country has come in such little time. I love living in Colombia!
Pin this post and save it for later!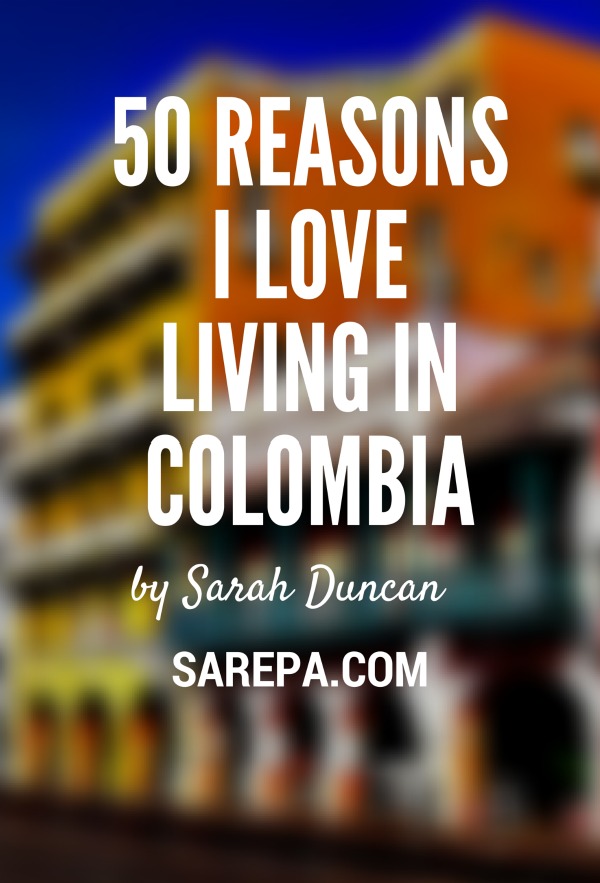 What do you love about living in Colombia? Share your experiences in the comments section below.
Sign up to receive your FREE eBook