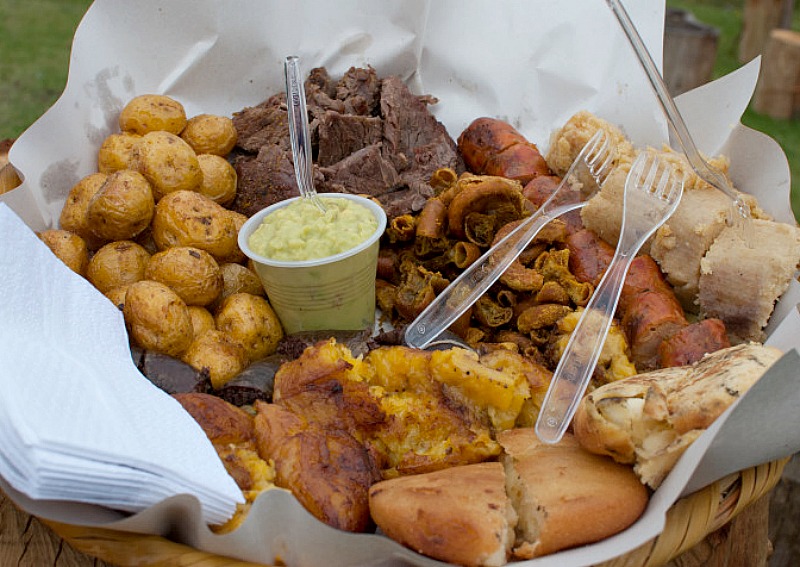 Image: Bogota Foodie/Bogota Food Tours
I can hardly believe it but next year will be my 10-year anniversary since the first time I travelled and lived in Colombia. December of 2006 was my first ever Colombian Christmas, it was the first time I had a buenuelo and natilla or an arepa con quesito! Can you imagine how empty my life was prior to stumbling upon the humble corn disk? Can you?!
Some people (obviously not me!) say that Colombian food can be a bit bland, a bit, how do you say, boring? But thankfully there are people who are trying to highlight that there are some really interesting, comforting and delicious elements to Colombian cuisine.
Loon Lio, of Bogota Foodie, definitely shares my sentiments and has even created food tours in and around Bogota to highlight the fact that Colombian food is simplemente delicioso! I got the chance to chat to Loon this week, who also just happens to be from my hometown of Brisbane in Australia! And if you're in the capital, be sure to look him up and go on one of his Bogota food tours while you're at it!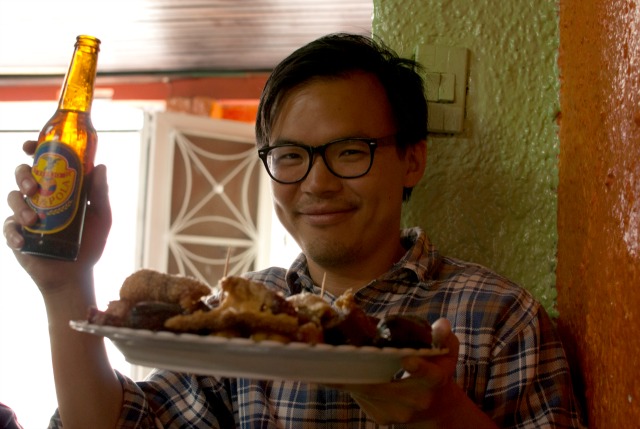 Image: Bogota Foodie
Name: Loon Lio
Country/city of origin: Brisbane!!
Where in Colombia you are living now: Bogota
Tell me a little about yourself and how you ended up living in Colombia?
I quit my corporate job in Australia to explore the world and ended up spending a year in South East Asia, Europe and the United States. My original plan was to settle into a professional job in a big American city like New York or San Francisco but after being in Asia for 6 months, I promised myself that I would never return to working in an office again and would keep going until my money ran out. I had a ticket booked to go home after my time in the States but I thought what a shame it would be to miss out on Latin America seeing I was so close. I had always wanted to learn Spanish so the timing just seemed perfect. On the back of a recommendation by a close friend, I bought a ticket to Cartagena. I ended up living in Santa Marta for 2 months to take private Spanish lessons and enjoy some down time near the ocean before going to Bogota to visit a friend. As my money was running low at the time, I started teaching English at a private language institute. It seemed like a good idea as it allowed me to extend my stay which would give me time to pick up the language. As the months flew by, I started to fall in love with the city and started seeing it as a local rather than just a in-transit traveller. I haven't left since.
What was your first impression of Colombia once you moved? Did it match your expectations?
I really didn't have any expectations before I moved here. I don't like to read too much about the countries I visit and instead try to just keep an open mind about local culture. I'm not going to lie, with the exception of Shakira I knew nothing about Colombia. My first impression was that Colombia has a very lively atmosphere. People seemed to smile and laugh more than any other country I had ever visited. I loved hearing Spanish being spoken everywhere and just being in a Latino country was very exciting to me. Even though Australia is a multi-cultural country, we don't have much of a Latino presence in mainstream culture so being around Latinos was a very new and exciting experience for me.
What projects do you have in the works in Colombia at the moment?
I recently started offering food safaris of Bogota through my website. For some reason, Colombian food gets a bad rep and I have heard far too many times from various foreigners about how bland Colombian food is. My vision is to change that opinion by writing widely about it and feeding people good local food when they are in Bogota. Let's get the word out!
What would you consider to be one of your greatest successes while living in Colombia?
Learning how to speak Spanish has been a dream come true. I never thought I'd be able to converse in Spanish as I always thought I was horrible at languages. I've gained a heap of confidence and met a lot of great people through the process of language learning and hope to learn at least one other language in the future.
What's the best way to make friends in Bogota?
Colombians are very social people and they like to go out in groups either with their friends and family. They love to dance and have fun. My inside tip is to learn how to dance and appreciate latin music like Salsa, Merengue, Vallenato and Reggaeton. With the vast range of social media platforms like facebook and couchsurfing these days, it shouldn't be that difficult to find social activities like dance classes and language exchanges.
What's your favourite plato tipico in Colombia?
That's a tough one…. I would probably say Picada. It's basically Colombian style barbecue. It has a bit of everything. Lots of meat, arepas, blood sausage, papa criolla (a type of yellow potato grown here), envueltos, chunchullo (intestines. Don't hate, they're delicious) and guacamole. There's nothing better than getting a big group of mates together, going out to the country side, getting a big platter of picada and washing it down with a cold beer.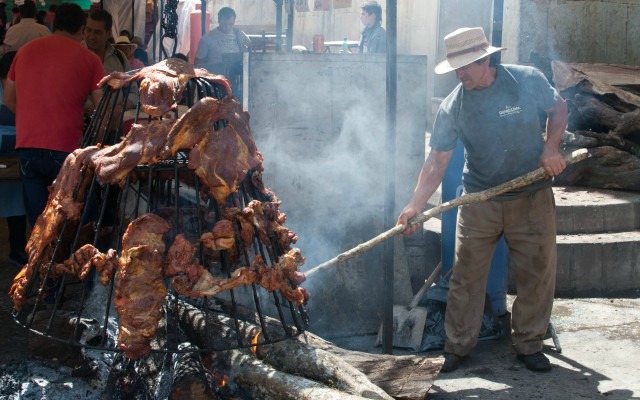 Image: Bogota Foodie
What's your favourite arepa topping?
I feel that arepas are best enjoyed when they are simple. Home made cheese arepa generously lathered with butter is the best.
What's one thing about Bogota (or Colombia) that people might be surprised to learn?
I think there's this stereotype that Colombians just love to drink and party. People would be surprised to learn that there's quite a strong chess culture in Bogota, especially amongst the cachacos (native Bogotanos). If you go downtown in Bogota, you can find people playing chess along the carrera septima.
What's the most challenging aspect of living in Colombia?
I'm a hot climate guy so dealing with the cold and unpredictable Bogotano weather is a daily challenge for me. I'm not used to wearing multiple layers of clothes and putting on scarves all the time. I hate getting out of the shower and feeling the freezing cold air. When the sun comes out, I jump right out of bed like a kid on Christmas day because I know it probably won't last long.
Any tips for someone wanting to work in Colombia and create their own creative projects?
There's loads of foreigners like Sarah who are coming here and doing great things for Colombian culture. Get in touch with them. People are willing to help you out. Don't worry about the logistical stuff like visas and getting an apartment. Ask around and you will find someone who has the answer. My second tip is to learn to speak Spanish competently. If you're going to be working on a project here then at some point you will probably have to interact with a Colombian who doesn't speak English. I have probably missed out on far more opportunities than I care to remember in my first year due to not speaking Spanish.
How can people find out more about you and your tours?
You can read more about my story and my food safaris at www.bogotafoodie.com
Be sure to hit Loon up for a food safari and go ahead and say Hola! via Facebook, too. What's your favourite Colombian food? Share it with us in the comment section below. Go on, like I'm not already hangry enough as it is!