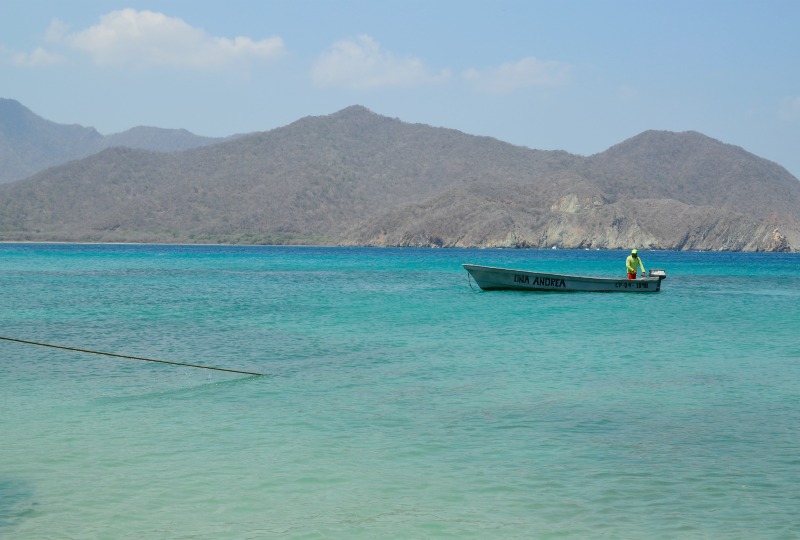 By the time we'd arrived in Santa Marta, my partner, Pej, and I had been travelling around Colombia for three weeks. We'd stayed in budget hostels with lukewarm "air-conditioning", walked our way across Manizales and back again, we'd lugged our backpacks through sleepy towns, we'd hiked mountains and across rivers, and by the time we arrived in Santa Marta we were exhausted. Absolutely stuffed. Knackered. Pooped. Spent.
All we wanted to do was sit in a nice hotel room in air-conditioning only breaking briefly for quick dips in the pool and some food. So, that is basically what we did for our first day in Santa Marta. No sight-seeing, no restaurant loitering, no bar-hopping. Nothing. Just swim, sleep, eat, repeat.
More: Things to do in Santa Marta
After we composed ourselves, regained some energy and reignited our sense of adventure, the beach was next on our list of things to do. See you later, hotel pool. The beach beckons! Thanks to the tour company Daytours4u, Playa Cristal in Tayrona National Park was next on our list.
Tayrona National Park is recognised by the United Nations Educational, Scientific and Cultural Organization (UNESCO) as one of the five most important national parks in the world. It is more than 15,000 hectares of endemic ecosystem and arid landscapes, a distinct contrast to the azure hues of the Caribbean Sea, that's for sure.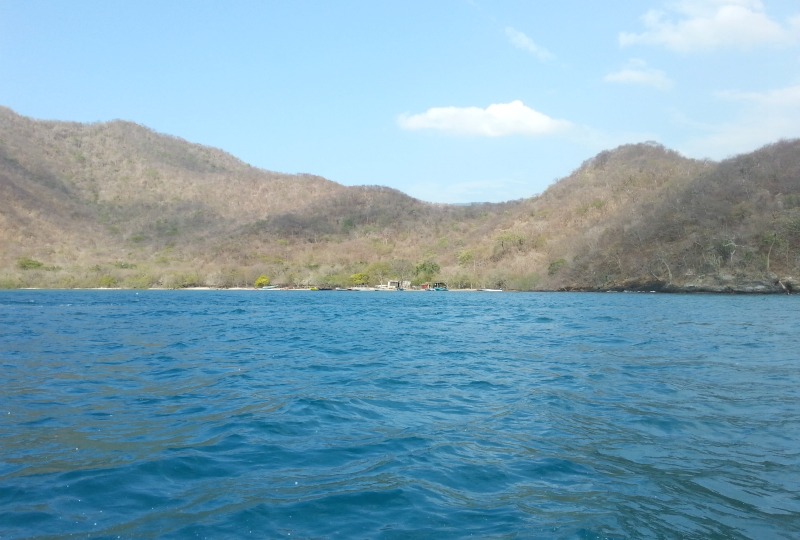 Our air-conditioned bus stops off at the Playa Siete Olas, the Seven Wave Beach, where our group stands to count all the waves we can see (seis, siete, ocho!) before taking some happy snaps at the edge of the cliff before returning to the bus and carrying on our journey. Looking around at the landscape, it is distinct and dry.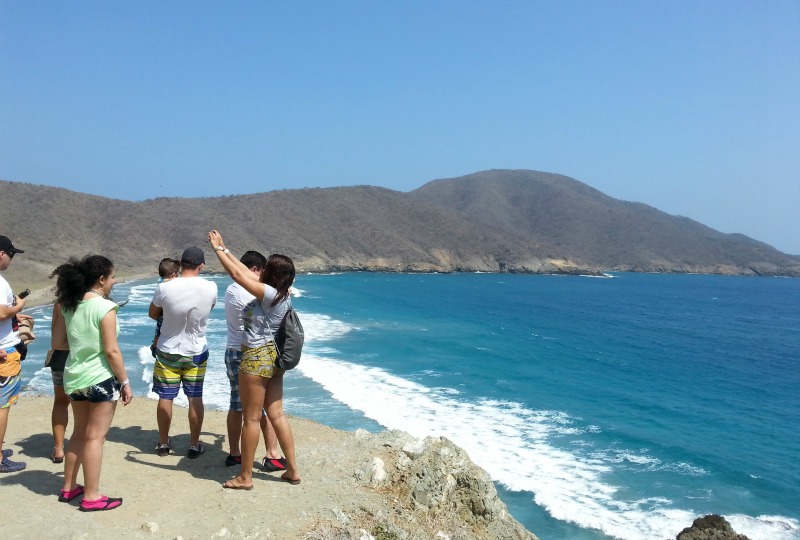 Our guide, Jhon, tells us that it only rains around three times a year here and the trees survive by dropping their leaves so they don't have to absorb nutrients to sustain them. They literally grow over the rocks and stones that cover the area and are able to retain moisture for long periods of time.
I must say, exploring Tayrona National Park is not for the faint of heart, especially if you decide to go it alone and discover it for yourself. Why? Well, for starters, the park is huge.
More: 10 Little-known beaches in Colombia worth a visit
It's about 150 square kilometers in size, meaning getting from one point to the next can be time consuming and physically challenging. The trip from the front gate to the closest camp site is literally a two-hour walk. And since cars aren't allowed past this point, you are going to have one heck of a trek ahead of you.
Lucky for us, though, we had just a short walk from our bus to a small series of boats which took us to Playa Cristal. We were just there for the day, not staying the night at a campsite or the popular EcoHabs, so we didn't have to carry much. Just a towel and bottle of water, really. If you are staying over night and have a heavy backpack with you, there is the option of hiring a horse to carry your goods to lighten the load.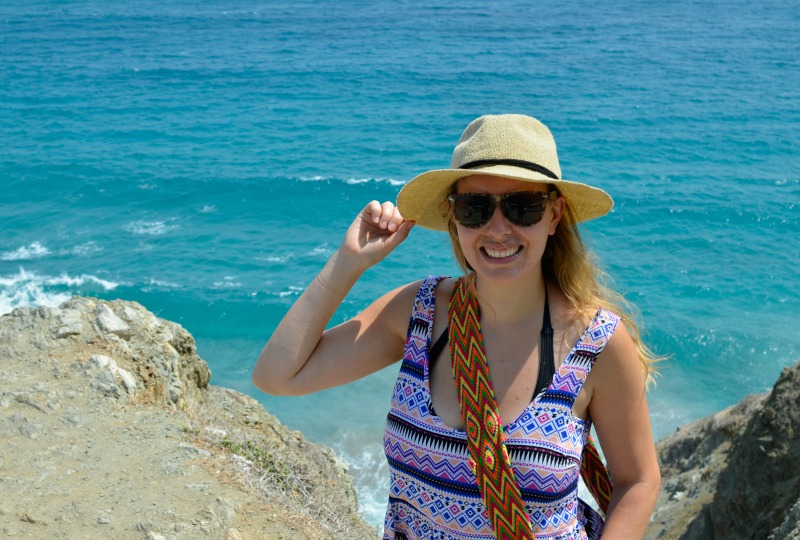 Visitors must pay a tax to enter the park which can be between around $5 and $14 to enter. But once you've made it in, great stretches of sandy beaches and forest await and there are hardly any food, drink or jewellery vendors in sight.
We jump into our boat, popped our life jacket on and within a few short minutes we were sinking our feet into the white sands of Playa Cristal, Crystal Beach. Playa Cristal was actually once known as Playa del Muerto, beach of the dead, because it was once used as a sacred burial site for the local indigenous people. But the name was changed, probably so as not to scare the swimmers off wary travellers.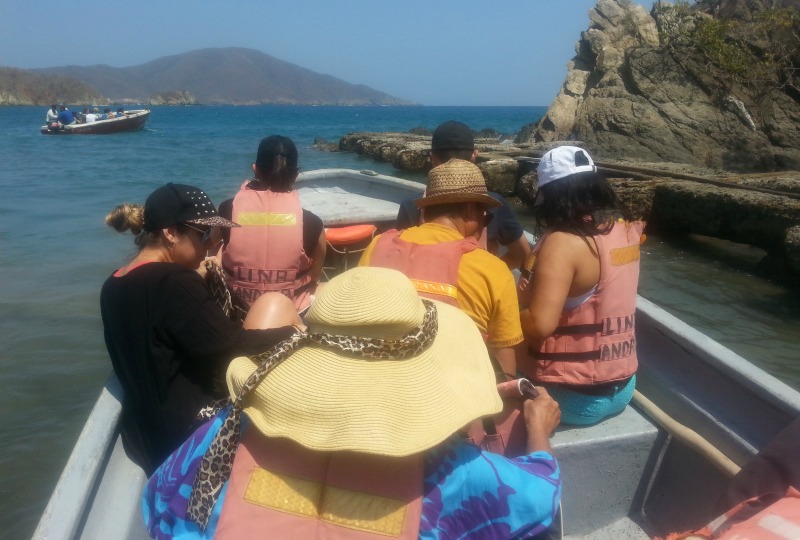 Playa Cristal is just one of many beaches in Tayrona National Park, and it moves at a much slower place than other local beaches in Santa Marta, for example, where you're more likely to listen to a roaming band play Vallenato ballads than the sound of the waves lapping at the shore.
In Playa Cristal makeshift wooden restaurants with long tables and benches line the near end of the coastline where small boats drop visitors off. A group of local indigenous people offer snorkeling tours down the other end of the coastline and can be seen pointing out native fish as their heads bob in the ocean.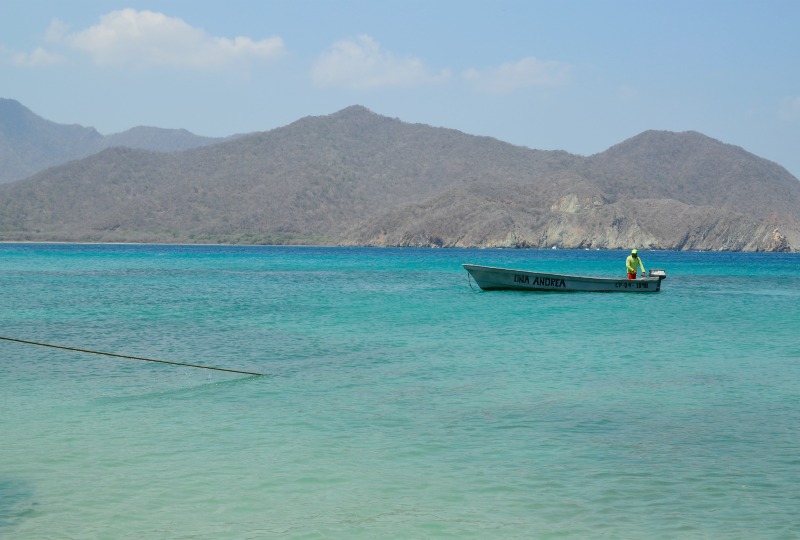 We decided to join in the fun, putting our mask and snorkel gear on before jumping in the water. The snorkeling isn't included in the tour package, but it is well worth the $7 or so dollars expense as there are a variety of tropical fish, coral and even seahorses to spot.
We spend the rest of the day swimming, duh!, eating $6 platters of freshly-cooked fish, salad and local favorites, fried plantain and coconut rice and mostly taking it easy with the sand between our toes before we eventually venture back to our hotel via boat and then bus, getting a chance to have a quick dip in the hotel pool before bed.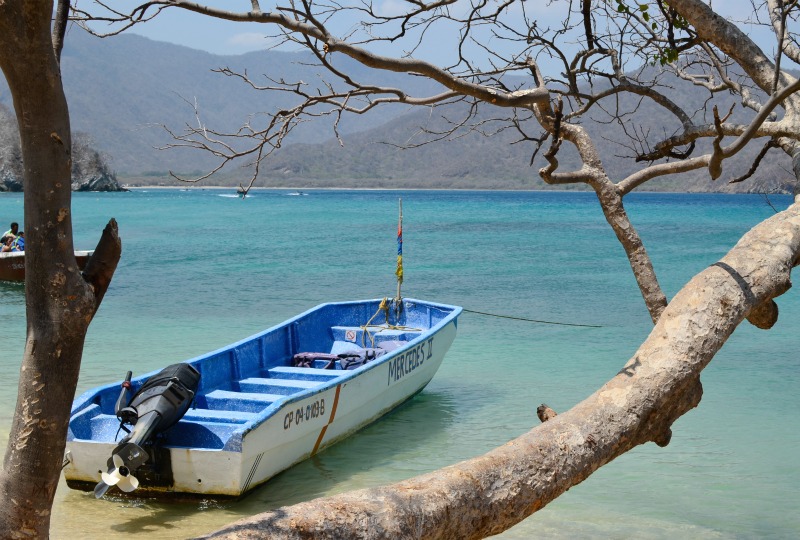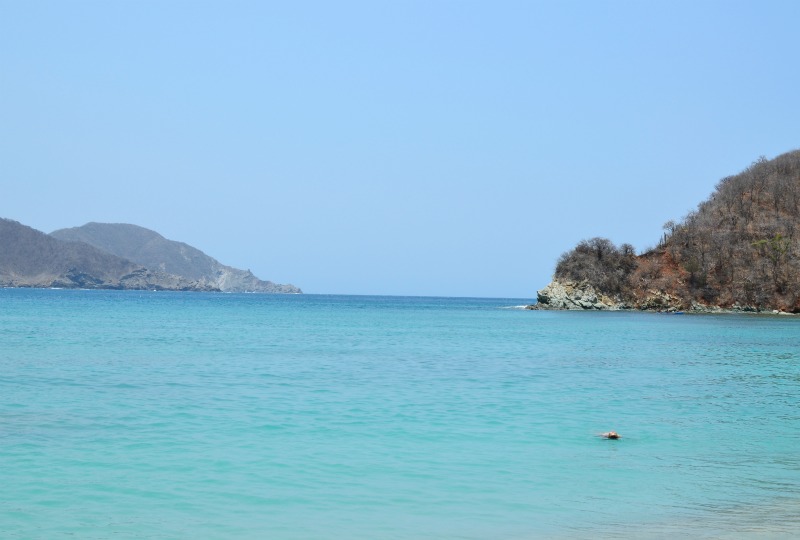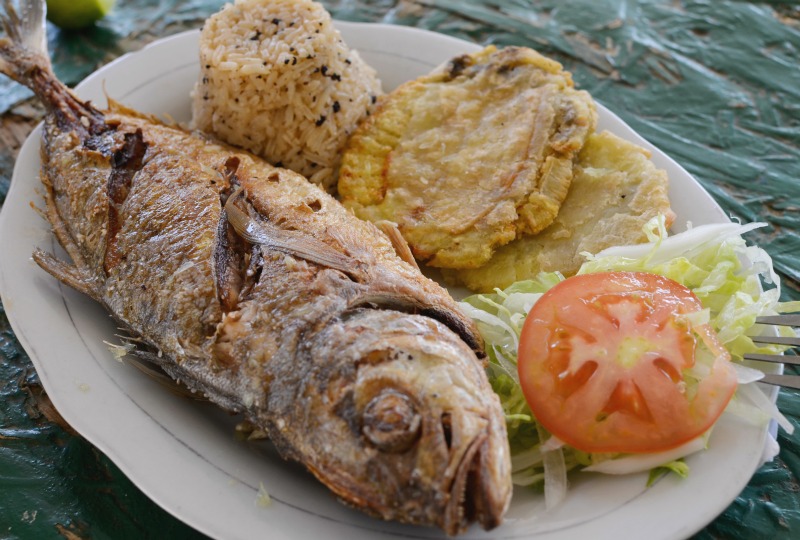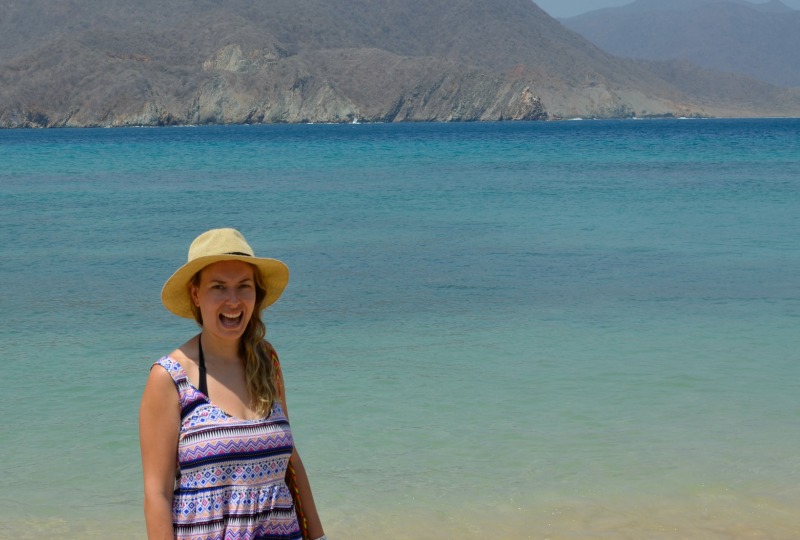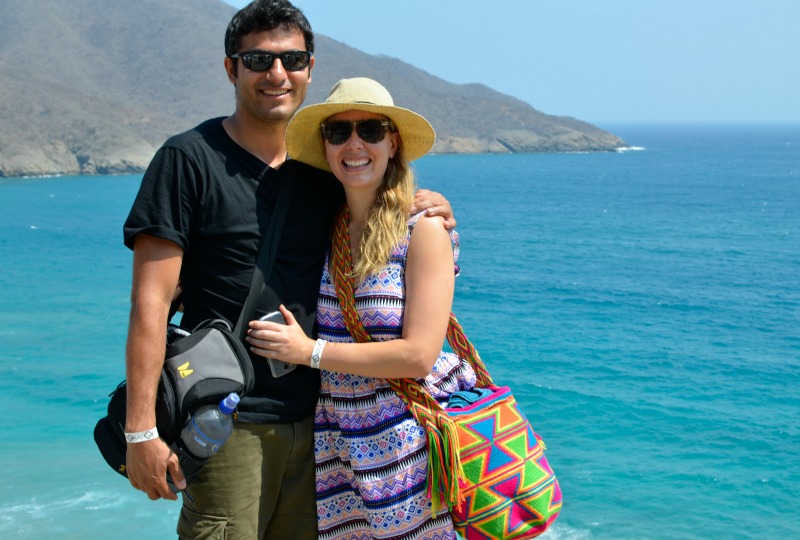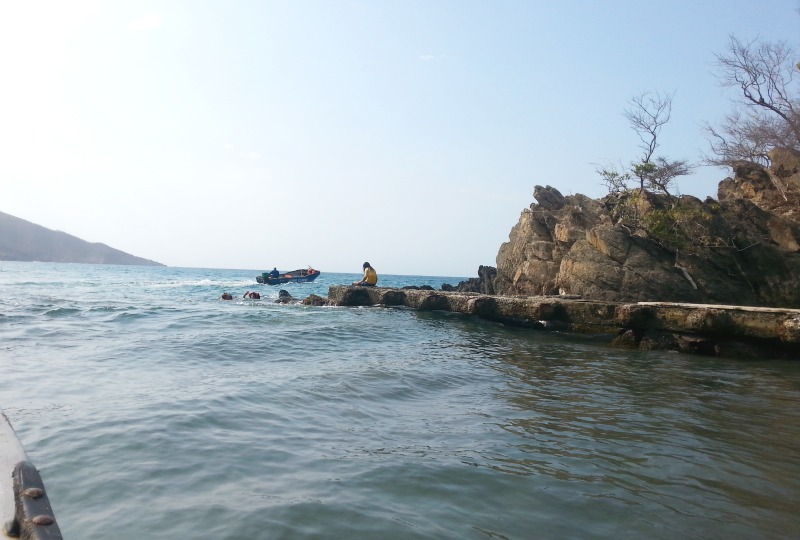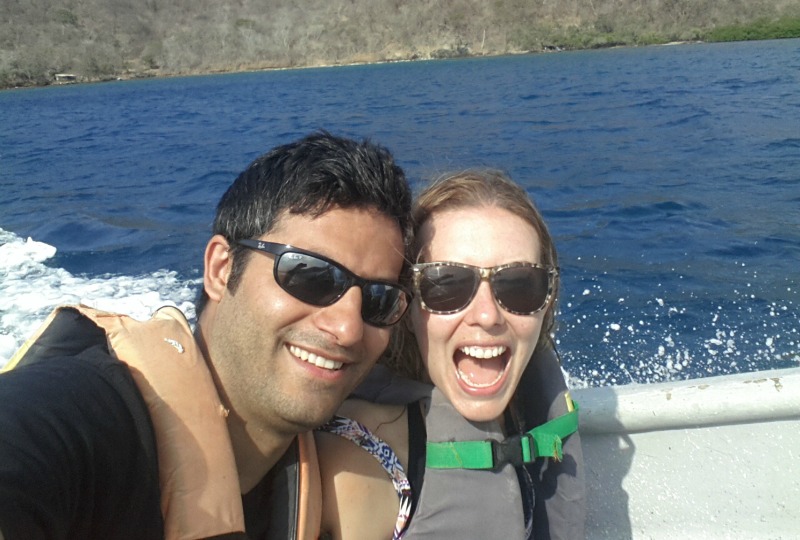 Information about the tour
How long it takes: 9 hours, departing at 9am
My review of the tour: We had done a tour while in Cartagena to the Rosario Islands which we booked through a hostel and it was an absolute disaster. So it was great to visit the beach on a tour that was very well organised. The bus was a bit on the old side, definitely the tiredest-looking one of the other tour operators there. But it was on time and air-conditioned. Someone from the tour company rang us the night before to make sure we were ready for the following day, which was great, but they didn't let us know to bring our passports for entry into the national park. I had completely forgotten about this, since I hadn't been there for many years, but after a little bit of fussing around we were allowed in. Overall we had a great time on all of the tours and they really offer different experiences that would appeal to different people.
Who's the tour for: This tour is great for people travelling alone but who wants to get off the beaten track, it is also perfect for groups and couples.
How much it costs: The Playa Cristal and Tayrona Park tour costs $36USD
More information: For more information or to book your own tour, visit the Colombia4u website.
Things to think about: Make sure you remember to bring your passport, water and toilet paper. If you want to save money while you're there, pack your own lunch.

To note: I was invited to experience this tour as a guest by Colombia4U. All opinions are my own. There are also affiliate links above. If you do decide to book this tour, please consider clicking the links from this website. This means I earn a small but much-appreciated commission which goes towards keeping this blog up and running so I can continue to share high quality information about travelling to and living in Colombia. Thanks so much for your support!
Have you visited Playa Cristal in Tayrona National Park? Let me know all about your adventures below.
Pin this post for later!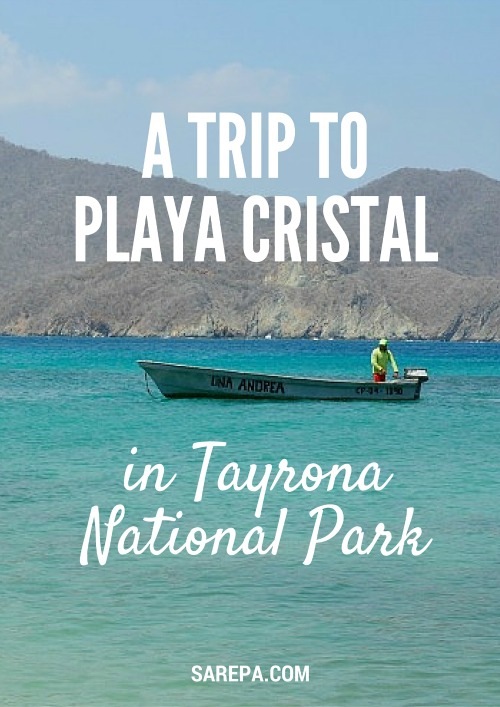 Sign up to receive your FREE eBook