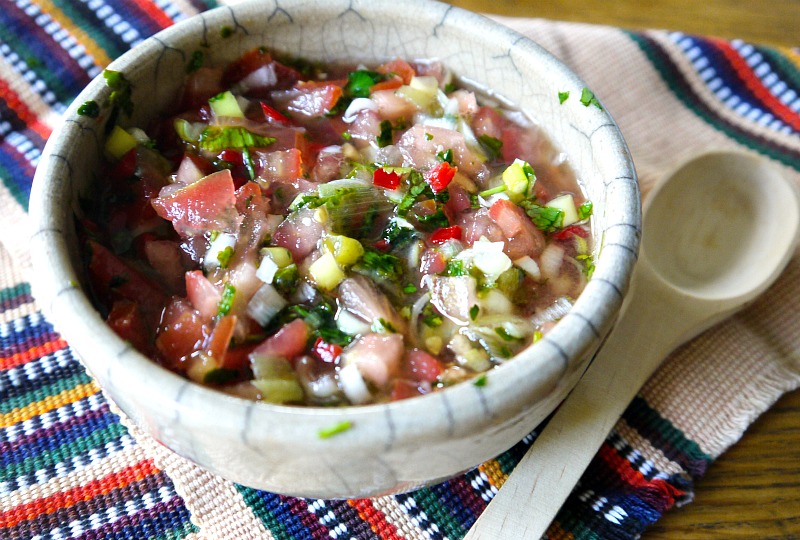 For some, cooking means slapping a couple of pieces of bread together in a rush and calling it a meal. For others, it's a beautiful act of love and sharing. I'm much more of the former, unfortunately, while food blogger and culinary explorer, Simone Riddle, is definitely the latter.
After spending four years living in Guatemala, Simone moved to Bogota with her partner and has since been sharing her food discoveries and recipes on her blog, La Salsa Inglesa. I had the wonderful opportunity of meeting Simone not too long ago in Bogota and have since learnt a whole lot more about her love of food in Latin America through this very interview.
Have a read of our chat below and be sure to keep up-to-date with her food adventures via her Facebook page, too. Food envy awaits!
Name: Simone Riddle
Country/city of origin: Derbyshire, England, UK
Where you live in Colombia: Bogota
Can you tell me a little about yourself and how you ended up living in Colombia?
Prior to moving to Colombia, I spent four years living and working in Guatemala. I had planned to stay for three months but couldn't tear myself away; I was fascinated by the indigenous culture, people's warmth and hospitality, Latin American music, and of course the food! I saw lots of parallels between Guatemala and Colombia, so when my partner was offered a job here in Bogota, I jumped at the chance to accompany him!
What was your first impression of Colombia? Did it match your expectations?
I wasn't really sure what to expect before moving here. I'd heard consistently that people in Colombia are extremely friendly and that the music scene was out of this world; I have not been disappointed on either account.
Colombia is a vast country. One thing that continues to take my breath away is how diverse Colombia is. No two places are the same; even going two hours outside of Bogota and you are transported to a completely different environment. This diversity means there's something for everyone to enjoy: cosmopolitan city life, rural getaways, beautiful coastlines and stunning natural beauty.
Everyone complains about the weather in Bogota but coming from England it's reassuringly familiar, although the altitude can take a little while to get used to!
You have a blog all about food called La Salsa Inglesa, what led to your love of food and creating this blog?
As a little girl, you could find me in the kitchen baking alongside my mum. When I was 15 she became ill, so I started making most of the family meals. I found cooking really therapeutic and it was my way of connecting with people and showing them that I cared. It still is.
In 2010 in Guatemala, eager to explore the local food culture, I bought a book on Guatemalan cuisine with the aim of recreating every recipe in the book. It was a complete failure! I found the instructions difficult to follow (especially in Spanish), and I wasn't familiar with a number of the ingredients or utensils. My most embarrassing mistake was serving a dessert as a main course! That's when I decided to create a food blog, testing and translating the best of Guatemalan cuisine for a non-native audience.
La Salsa Inglesa began earlier this year. It builds on the original blog's theme but includes dishes from all over Latin America.
The blog also champions responsible food consumerism and features sustainable agriculture projects I encounter along my journey.
What is the most memorable dish you've had so far in Colombia?
Tough question! My favourite memories are always based around mealtimes, and being a big eater, there's a lot to choose from. I guess eating freshly caught fish on the beach in Palomino (above Santa Marta) was a highlight. We stayed at Finca Escondida and every night there would be a list of the fish local fisherman had caught that day. The fish was steamed in foil and served with coconut rice, a typical and delicious coastal accompaniment. It was some of the best fish I had ever tasted! Having just watched the sunset over the sea, it was the perfect end to an incredible day.
What's your favourite plato tipico in Colombia?
The food is as diverse as the country. I love stews or soups for Bogota's climate. My favourite dish I've eaten out was probably Caldo Boyacanese in Villa de Leyva. It's a mixture of different kinds of potato, meat and vegetables in a flavourful sauce. I didn't know what to expect but it surpassed my expectations.
I'd recommend giving it a try. I know the Bogota Foodie knows where to find a good caldo in Bogota!
Are there any Colombian recipes that you'd really love to master but haven't just yet?
Shamefully, that would be arepas! They look so simple but I haven't attempted making them at home. There are great places to buy them readymade. They are still on my must-do list. I will give your instructions a try though when I do!
What's the most challenging aspect of living in Colombia?
Thankfully, my time in Colombia has been pretty tranquil. The Transmilenio can be challenging. I've gotten lost several times. Getting comfortable with the system certainly took a while but it's a useful form of transport in Bogota if you can get the hang of it. Avoid rush hour if you can. If you're going to be working in Bogota, try and live close to where you work to avoid long, stressful commutes.
Other than that, I'm a salsera. So, deciding between dancing venues for the weekend fun can be difficult because there's just too many places to choose from!
What's your favourite arepa?
Arepas became my staple in Colombia. When I don't feel like cooking and there's not much in the fridge, my go-to supper is an arepa filled with cheese topped with salsa hogao and a little salsa ají for spice. Arepas boyacaneses are also delicious.
Any tips for someone wanting to follow their food dreams in South America?
Food is very particular to a region. You can learn a lot about regional cultural practices by exploring local cuisine. When arriving in a new place, ask people what the typical dishes are. Trying local specialties will create stronger connections to a place; you'll sample new exciting flavours, become a more adventurous foodie and probably make a few local friends along the way!
Consider taking a local food tour in new cities to sample some of the best cuisine around, too. In Bogota, 5Bogota offer great downtown food tours and the Bogota Foodie runs trips to the gigantic Paloquemao market.
Do you have anything exciting coming up that you'd like to share? And how can people find out more about it?
Since La Salsa Inglesa is still quite new, I'd encourage people to explore the blog. I always welcome readers' feedback! The easiest way to follow the blog and receive the latest recipes and news articles is by liking La Salsa Inglesa Facebook page. But you can also follow us on Tumblr and Pinterest.
If you know of a food-related project doing excellent work anywhere in Latin America, get in touch and we will try and feature the project on the blog! You can see photos from my Colombian adventures on Flickr.
Do you know someone doing amazing things in Colombia (either expats or locals)? Be sure to get in touch and let us know all about them. Remember to go say Hola! to Simone on Facebook, her blog La Salsa Inglesa, or leave her a comment below.