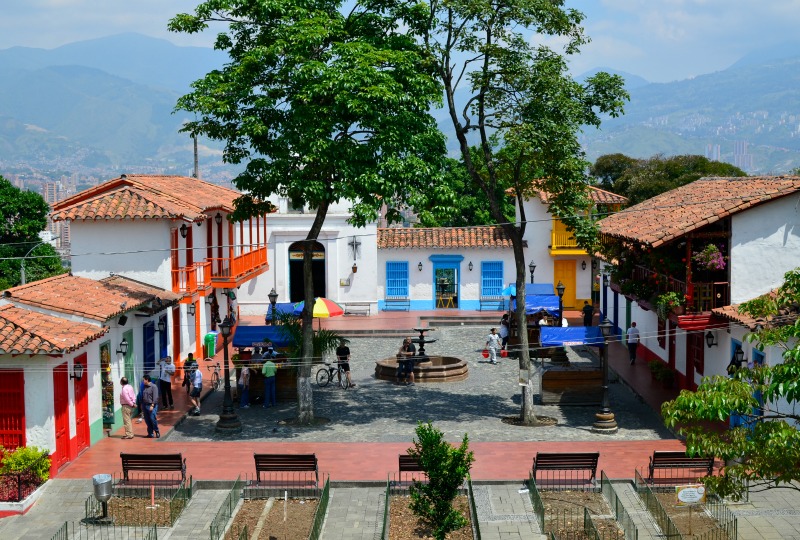 Medellin, the city of eternal spring, with its near-perfect weather all year round, makes for a pretty darned great stop while travelling to Colombia. If you're wondering where to stay in Medellin, then I can hardly blame you from being confused, because there are just so many things to take into account before booking your stay. After visiting the city recently myself and having travelled there several times over the last 10 years, I have some nifty tips that I hope will come in handy when looking for a place to call home in Medellin.
Where to stay in Medellin
From transportation to what hostels and hostels to stay in and even suburbs to look out for, here are my tips on where to stay in Medellin.
1. Public transport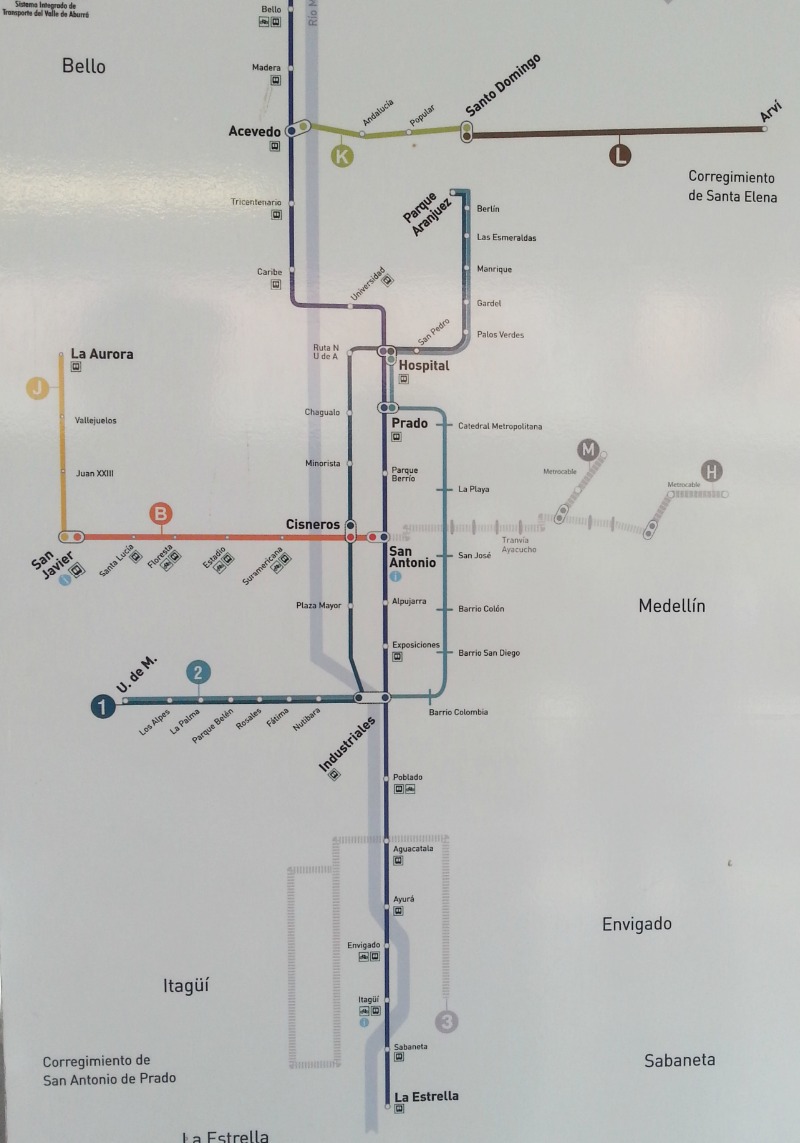 Medellin is known for having a pretty fantastic public transportation system. As well as your regular buses, there is the Medellin Metrocable and also the Metro train system.
If you like to see the city on foot, then I would definitely recommend staying in an area that is close to a train station. I've added a photo I took of the metro lines above and as you can see there are quite a lot of stops throughout the city and inner-city suburbs.
Read more: The Medellin Metrocable tour – the best way to get to know Medellin
But if you don't know the city of Medellin very well, it can be difficult to understand what areas are good or not so good to stay in as a traveller and a tourist. While we were in Medellin, we stayed in a suburb called Estadio, which you can see on the orange line to San Javier.
Our hotel was literally a five minute walk down the road from the station on Carrera 70. Here you can find hostels and hostels as well as restaurants, bars and cafes, perfect for breakfast, lunch or a night out on the town.
2. Suburbs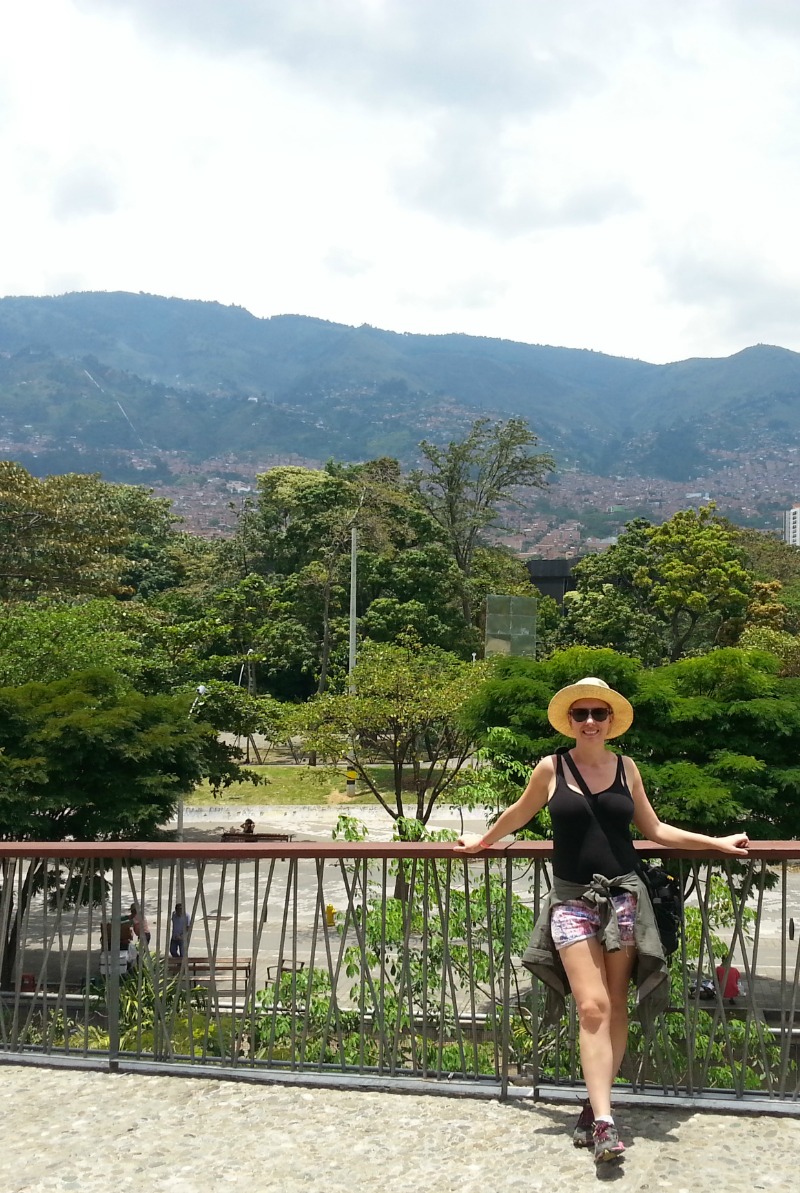 Now, this is where things became interesting. Because Medellin is quite a big metropolitan city with loads of appeal for backpackers, there are a whole lot of backpacker hostels that are all vying for the same crowd.But the thing is, most of the hostels are located in el Poblado, which is a nice suburb but doesn't really showcase what Colombia or Medellin is really all about. Also, the hostels look great, have nice facilities and share a community vibe, but, I was surprised to find out, some actually ended up being more expensive than some hotels.So, instead of staying at, what I thought were pretty expensive hostels, we stayed in a hotel with a private room and private bathroom a few blocks from a train station which meant we could explore and discover the city on foot as much as we wanted, rather than relying on taxis or buses. Instead of staying in El Poblado, we stayed near the Estadio train station, just outside of Laureles.
We were within walking distance from restaurants on Carrera 70, supermarkets, trains and an awesome little place that sold the best empanadas I've had in Colombia so far, called Catedral Empanadas, right near Exito on the corner of 70 and Avenida San Juan. You're welcome!
The hotel  we stayed at is located on a main road, which looks like quite an industrial part of town, but you're literally just around the corner from where the local action is. There are hotels available on main drag, Carrera 70, for around $75,000COP per night, which ends up being around $20 per person for a private room for two people, bathroom, aircon and a television. The Hotel Villa San Juan, where we stayed, was a more basic version of these hotels and was $45,000COP per night, which ended up being around $12 per night for a large room, private bathroom, fans and a television.
3. Hostels and hotels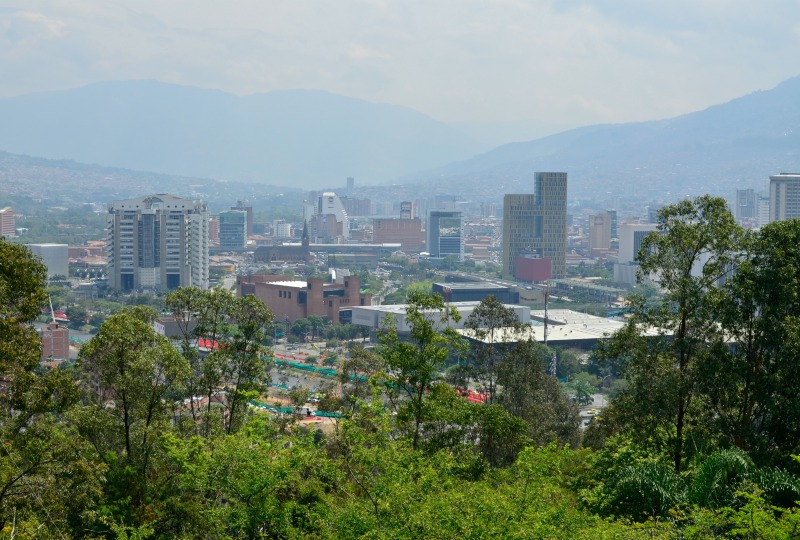 There are loads of hostels and hostels in Medellin, here are just a few I have come across, stayed in myself or heard good things about.
Bambu Glamping House: Bambú Glamping House is located 8km from Medellín town centre and 3 km from Olaya Herrera Airport. It's quite a way out, but a friend of mine stayed here recently and it looked like a nice place to get in touch with nature while in Medallo.
Black Sheep Medellin: Black Sheep Medellin is a 10-minute walk from Poblado subway station and a 15-minute walk from Lleras Park.
Buddha Hostel Medellin: Only a 15-minute walk from Estadio Metro Station, Buddha Hostel Medellin offers rooms with free WiFi. The hostel has a shared kitchen and plenty of common areas. Poblado is a 10-minute drive away.
Hotel Villas de San Juan: A no-frills option in Estadio. Each room has cable TV and a private bathroom with a shower and toilet. They also have tiled floors and a small fan.
Casa Kiwi: Situated in El Poblado, Casa Kiwi has a roof-top terrace at tree-canopy height with great views and a plunge pool, an open-air hammock area, another terrace on the 1st floor with bar service and loads of other facilities.
What are your tips for where to stay in Medellin? Share them with me in the comments section below!
Sign up to receive your 15-day Inspire Guide to Colombia